24 hour contact: 01707 666297
RVC Equine's internal medicine specialists treat horses and ponies with a variety of chronic and acute problems.
These include:
Heart problems

Respiratory diseases

Stomach and intestine problems

Diseases which affect the liver or kidneys
We also deal with diseases which affect the neurological and hormonal or reproductive system. We work alongside specialists in dermatology and ophthalmology to examine and treat horses with skin diseases and eye conditions. The most common emergencies we see are related to colic, which we see on an almost daily basis.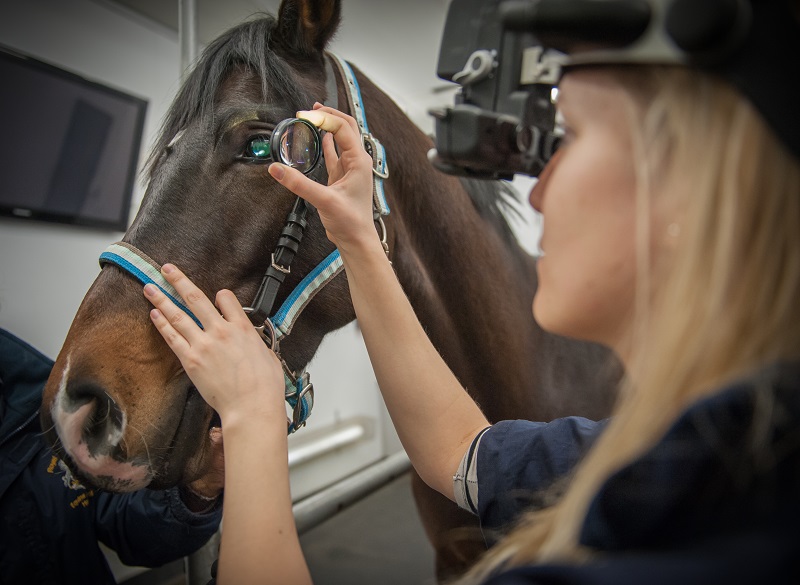 Diagnostic techniques
We use a variety of advanced diagnostic techniques to investigate problems, including a state-of-the-art ultrasound machine, stationary and dynamic endoscopy, a three metre gastroscope, and 24 hour heart rate monitoring electrocardiography (ECG). Our purpose-built diagnostic imaging unit at the Equine Referral Hospital comprises computed radiography, ultrasonography, scintigraphy, computed tomography and MRI facilities - all of which are used for further investigations.
Internationally recognised specialists
All our experts are internationally recognised specialists in Equine Internal Medicine and diplomates of the European College of Equine Internal Medicine and/or diplomates of the American College of Veterinary Internal Medicine. Training new specialists in equine internal medicine and delivering continuing education and assistance with difficult cases for our referring veterinarians is also an important part of our daily work.
The RVC offers a dedicated equine dermatology referral service. Patients can be seen on an outpatient basis or admitted to the Equine Referral Hospital if further investigations, such as intradermal allergy testing, are advised.
Skin diseases in horses can be difficult to diagnose and frustrating to manage. RVC equine dermatology specialists investigate and treat the full range of diseases, including:
Itching, or pruritus

Allergic skin reactions, or recurrent urticaria
Localised or widespread swelling, or nodular diseases
Scaling and crusting (scabs and oozing)
Changes in skin or hair colour, or pigmentary disorders
Skin diseases affecting lower limbs
Our specialists collaborate across disciplines, and this multidisciplinary approach is particularly valuable in cases where underlying or concurrent disease is suspected. The multi-systemic approach at the Equine Referral Hospital benefits patients, referring vets and horse owners, who are reassured that their horse or pony is in the very best hands.
We offer a comprehensive service led by specialist veterinary ophthalmologists.
RVC ophthalmology experts have access to facilities and expertise needed to treat a wide range of eye disorders and to offer medical and surgical treatment as well as pre-purchase examinations and second opinions.
The specialists use a slit lamp biomicroscope, tonography and ultrasonography, to examine all parts of the eye.
Eye diseases are common in horses and conditions like corneal injuries and infections can deteriorate rapidly, despite receiving treatment. Our dedicated team of equine clinicians, veterinary nurses and vets-in-training provide round the clock supervision and intensive therapy of complicated eye cases, including subpalpebral lavage systems to provide continuous medication of the eye.
We have expertise in all types of equine eye disease, including:
Corneal injuries, ulcers and infections

Diagnosis and treatment of glaucoma
Assessment and treatment of cataracts
Recurrent uveitis
Assessment of retinal disease
Treatment of ocular tumours including sarcoids and squamous cell carcinoma
The RVC Equine Referral Hospital is one of the few centres in the UK offering a specialist equine oncology service.
Supported by computed tomography (CT or 'cat' scan), magnetic resonance imaging (MRI) and on-site histopathology, the equine team provide expert diagnosis and case evaluation which determines prognosis and best treatment options.
Advanced techniques
In addition to surgical and medical management options for tumours such as sarcoids, squamous cell carcinomas and melanomas, we offer radiation treatment using iridium 192 brachytherapy, a minimally invasive procedure particularly suitable for periocular sarcoids.
The RVC's Equine Referral Hospital welcomes referrals for evaluation of horses and ponies with suspected neurological and neuromuscular disease.
On admission, your horse will undergo a series of comprehensive and detailed neurological tests in order to determine if a neurological problem is likely to be present, and if so, where it is located - in the brain, spinal cord, nerves or muscle. Our skilled clinicians have access to a very comprehensive range of equipment for further evaluation of your horse.Our state-of-the-art facilities and experience includes:
High powered digital radiography for complete evaluation of horse's necks and backs, including oblique projections

Computed tomography (CT) (performed in the sedated or anaesthetised horse) for evaluation of the skull, cranial nerves and brain
Magnetic resonance imaging (MRI) performed in anaesthetised horses for very detailed examination of the brain and cranial nerves
Cerebrospinal fluid collection and analysis
Cervical intra-articular process joint medication under ultrasound guidance
Myelography – for investigation of spinal cord compression in the neck
Electromyography – for investigation of neuromuscular problems
Brainstem auditory evoked response testing – for evaluation of horses with vestibular and brain stem problems
Ventral stabilisation surgery for horses with wobbler syndrome
Dynamic neck fluoroscopy for evaluating vertebral position during exercise
Electroencephalography – for evaluation of horses with seizures or epilepsy
Muscle biopsy – for histological evaluation of primary and secondary muscle disorders, including tying up
Clinicians work closely with the Comparative Neuromuscular Diseases Laboratory, which offers sophisticated histopathological assessment of muscle biopsy samples, genetic testing and other tests to evaluate equine muscle disorders such as rhabdomyolysis, atypical myopathy, equine motor neurone disease and polysaccharide storage myopathy types 1 and 2.
Our aim is to provide owners with as much information as possible, including the prognosis for the condition, so that you can make informed decisions about your horse and his or her treatment and management. We will also spend time discussing the crucial aspects regarding safety and insurance issues.
Cardiac abnormalities (changes in rhythm and heart murmurs) are common in horses, particularly in athletic horses. Most are not significant and many murmurs in performance horses are simply due to the effect of training and having a large, fit heart.
However, some changes in rhythm and some murmurs are associated with disease and may impact on a horse's athletic ability or safety for ridden work. Some abnormalities can be progressive and result in severe loss of cardiovascular function.
RVC Equine's team of specialists are able to carry out comprehensive cardiac investigations, including resting and exercising measurement of cardiac rhythm by telemetric ECG (electrocardiograph) and a detailed assessment of heart structure and movement, including complete evaluation of murmurs, using ultrasonography (echocardiography).
We assess the heart using a full range of echocardiographic techniques, including two-dimensional, M-mode, spectral and colour flow Doppler echocardiography, to give owners and referring vets accurate diagnostic and prognostic information on the horse's cardiac problem.
We welcome referrals for investigations of murmurs and rhythm changes picked up at pre-purchase examinations, or at routine health checks, in addition to referrals where the cardiac problem is associated with poor performance or illness.