24 hour contact: 01707 666297
At the RVC Equine Referral Hospital we are in the unique position to offer quantitative gait analysis with one of the most advanced sensor based gait analysis systems currently available.
The system – endorsed within a range of scientific articles – is proven to capture small movement deficits that are difficult to appreciate by eye and provides quantitative information about the gait changes observed in lame horses. When conducted in conjunction with a clinical lameness examination or an investigation into poor performance, by our team of leading equine specialists, the readily available output allows for a truly evidence-based decision making process.
What does it involve?
Our equine gait analysis system is the result of many years of scientific research and consists of a number of high accuracy, small and lightweight, wireless inertial sensors strategically attached to the trunk of the horse.
For a typical lameness exam, we will only attach four sensors to your horse: one to the top of the head (attached to the bridle or head collar) and one each over the mid-line of the hind quarters and to the left and right hip – we quantify head nod and hip hike. Wireless data transmission means that there is no long wait, data are readily available and processed on a laptop or tablet computer within seconds of the performed exercise.
With this quantum leap in gait analysis, it is now possible to aid clinical decision making by providing quantitative data about the effect of diagnostic interventions. This helps localise the cause of a lameness through unbiased comparison of gait patterns before and after flexion tests and diagnostic analgesia, freeing our specialist veterinarians to concentrate on the most important thing - your horse.
Uniquely, with the gait analysis system at RVC Equine, we can customise the assessment to each individual horse and accurately measure range of motion of the back and movement of the rider in a poor performance examination.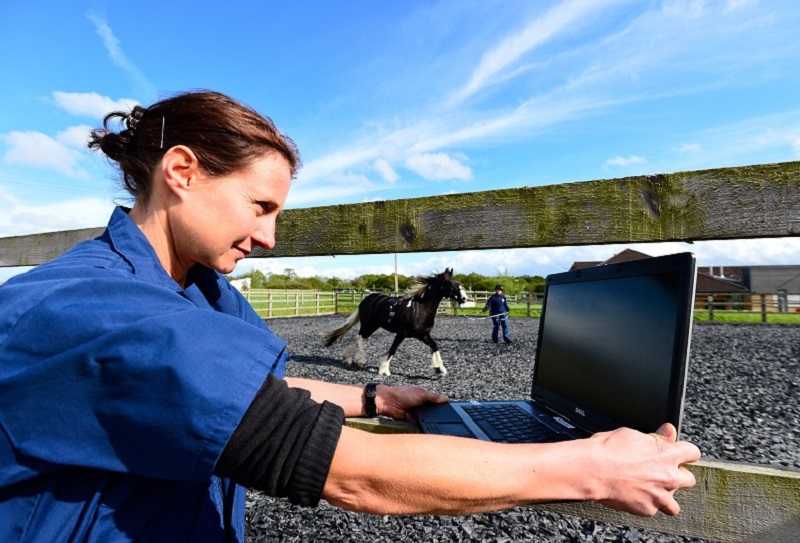 Who is involved?
In a team effort, we combine the expertise of our specialist veterinary surgeons with the knowledge of our biomechanics group to implement a holistic approach to the detection of lameness and diagnosis of its cause(s). Uniquely and critically, interpretation of gait analysis results at the RVC's Equine Referral Hospitals supported by Dr Thilo Pfau, one of the pioneers in sensor based gait analysis in horses. Thilo is actively engaged in research in this area and has published a considerable number of papers on movement symmetry and back movement in horses.
What does it show?
For each exercise – typically trot in-hand, ridden or on the lunge – a summary sheet is produced within seconds of the exercise. This quantifies and illustrates any gait asymmetries.
The illustrations visualise graphically any movement asymmetries present e.g. comparing the up-and-down movement of the head or the hind quarters during the left and right stance phases, the numbers can be compared to the scientific literature.
Asymmetries and in particular changes in asymmetries of a few millimetres e.g. before/after administration of diagnostic analgesia can be captured accurately and precisely to give our specialist veterinarians crucial access to information about any changes in weight support and/or propulsion as a result of any interventions. Providing an unbiased view of changes in the underlying mechanics – hip hike and head nod – most critically, this also allows the RVC equine specialists to give their undivided attention to any other – often minute – gait changes commonly found in horses with poor performance.