The Structure and Motion Laboratory is part of the Comparative Physiology and Medicine Research Programme at the Royal Veterinary College. With state of the art facilities and multidisciplinary expertise, it is perhaps unsurprising that the laboratory has an international reputation for excellence.
The head of the lab is Professor Alan Wilson.
Structure and Motion
We investigate fundamental biomechanical questions, for example, considering how movement is controlled and the limits to performance. Our research encompasses phenomena occurring at different spatial scales, from individual muscle fibre contractions to group dynamics in herds of animals. Temporally, our research is also broad encompassing both rapid mechanistic phenomena and phylogenetic analyses of broad evolutionary lineages. By synthesising this knowledge we can hope to gain a more complete understanding of the science behind structure and motion in animals. We conduct our research using a diverse range of species: domesticated animals such as cats and dogs, invertebrates, and large mammal including elephants and cheetahs. You can find out more about our current research on the Projects page.
A wide range of science and technology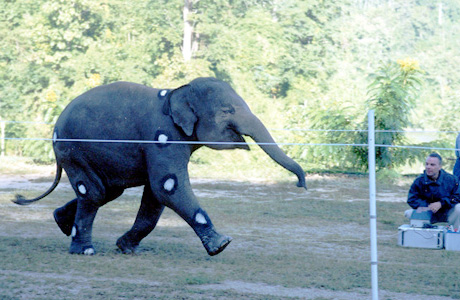 To understand structure and motion in animals can require a consideration of function, morphology, physiology, and habitat. This necessitates a multidisciplinary approach and, consequently, our team includes vets, biologists, palaeontologists, engineers, and computer scientists – supported by technical and administrative staff.
Much experimental research is undertaken in the field, but our research base is a modern 46m x 17m laboratory located at the RVC's Hawkshead Campus in the Hertfordshire countryside. Our huge range of cutting edge equipment, much of which was innovated by our own team, was purchased through a BBSRC grant and other funding awards.
Our gait laboratory equipment includes forceplates, electromyography (EMG), and high speed and motion capture camera systems. We also have specialised facilities for assessing musculoskeletal function. While magnetic resonance imaging (MRI) and X-ray machines are used to investigate evolutionary biomechanics and muscle cell activity, our team often use their technical expertise to pioneer new exciting technologies for the measurement and analysis of movement.
Communicating research
The Structure and Motion Laboratory team take part in many engagement and outreach events. We have an ongoing programme of public engagement activities and contribute to school science events, public exhibitions, television, and radio programmes.