Disability, learning difference & long-term health differences
Advice about dedicated procedures and support for students can be provided by the Disability Adviser.
It is in your interests to declare a disability, learning difference or long term (mental) health condition as early as possible in order that support can be put in into place in timely fashion. Declaring on entry does not mean that support will automatically be put in place. Students are required to register with the Advice Centre and provide appropriate evidence.
Even if you have received support for a learning difference or disability previously, it is important that things are in place for you at the College and you know what kind of support may be available to you. If you are studying on a joint course, please be aware that you will need to inform both institutions of any disability or long-term health condition. Please note that policies for students with disabilities may vary from institution to institution.
Areas covered include:
Applying for extra time or other examination arrangements
Learning difference support; screening, obtaining a new diagnostic assessment and advice on funding available
Information about Disabled Students' Allowance (DSA) and assistance with the application process
Information about course requirements and how these might impact health conditions and learning styles
Referrals for specialist study skills tuition
Mentoring for students with long term mental health problems. You can find more information about mentoring and the service we use at: UMO. This may be funded via DSA if you are a home student. International students should contact the Disability Adviser regarding funding for this
General advice about studying at the RVC with a health condition or disability
Please read these documents in relation to assistance animals on site:
You can find the full policy at: Code of Conduct for Dogs on RVC Premises
Email: disability@rvc.ac.uk
Tel: 020 8051 3500
Camden: Hobday Building, Royal College Street.
Hawkshead: Advice Centre, Wardens House, behind Student Village.
Any information you share with us about will be dealt with sensitively and in confidence. Information about your learning difference disability or health condition is your own and will not be passed onto others without your consent.
Learning, Physical and Mental Health Needs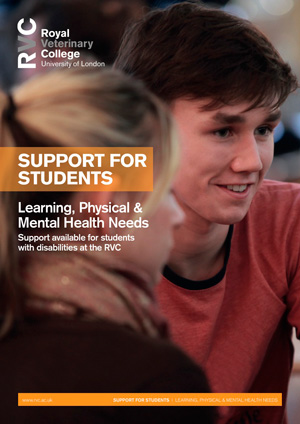 University gives you the opportunity to learn in new and exciting ways. You will gain essential skills that are highly valued in the competitive and fast-changing graduate job market.
Studying with a disability or specific learning difference may require careful planning and, while certain adjustments can be made, students still need to meet the same minimum standards for the profession specifically in relation to BVet Med and Veterinary Nursing.
The RVC can offer you specialist advice and support to help you to minimise problems and succeed on your course. This will allow you to relax more and get the best out of your time as an RVC student.
Postgraduate Students
For information on support for postgraduate students see "Premia - making research education accessible" www.vitae.ac.uk