Online wellbeing and mental health support
Togetherall – Online mental health support for students and staff

Togetherall is a digital mental health and wellbeing support service which is available online, 24/7 via computer, tablet or smartphone
To sign up visit www.togetherall.com
Click 'Register' and then select the 'I'm from a University or College' tile.
You will be prompted to enter your RVC email address and you can then set up an anonymous username.
The site is anonymous and the RVC will not be able to identify anyone using the site.
Togetherall offers a range of activities that allow you to work through what's troubling you.
Share your thoughts and join a 'Talkabout' alongside fellow members to share and discuss what's on your mind, gain support and advice. You can do this with the whole community or form your own groups or one-to-one chats.
Alternatively, make a Brick to express yourself and your feelings creatively through drawing or by uploading your own images.
Join our self-guided support courses covering topics such as anxiety, sleep, and depression to problem solving and Assertiveness training.
Take self-assessments to help you understand more about yourself.
Find a library of information within 'Resources' which can help you understand more about yourself, how you are feeling, set goals and track your progress.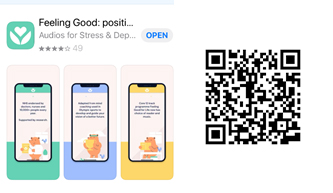 Feeling good app
All RVC students have free access to the Feeling Good app, an evidence based, guided self-help audio programme. It is a mind body programme derived from sports psychology, that takes you through a set of 12 physical and mental exercises. This allows you to switch to a beneficial state of mind and let go of the negative emotional triggers, which underpin distress, whilst simultaneously increasing your concentration and focus.
The techniques build a resilient mind set, encapsulated by successful Olympic athletes who work on the foundation of positive motivations and memories to enable goal focused success.
Benefits:
Immediately helps calm the body and mind
Non-stigmatising sports background
Aids recovery from mental distress as well as developing all round mental wellbeing
12 years evidenced based development from within the NHS
Promotes deeper sleep and concentration
Different to mindfulness as it combines physical relaxation with positive outcome-focused visualisations.
Supports equality
Anonymous
To access the app please download 'Feeling Good: positive mindset' from your app store and use these codes in the app to unlock the tracks:
Username: rvcldnstu
Password: positive
RVC Advice Centre
The Advice Centre has a range of mental health support for students. We have a team of Student Wellbeing Advisers, Counsellors and a Mental Health Adviser who are here to help. To find out more
KickStart
KickStart - Wellbeing online learning unit – This will help you reflect on how you can build and maintain your wellbeing. Please go to Life Skills to Thrive to access the wellbeing unit.
5 Ways to BE Well
5 Ways to BE Well – Check out the full calendar of events and activities to help you take a break, reflect, learn, relax – to support your wellbeing