Creating a Safe and Respectful Community at the RVC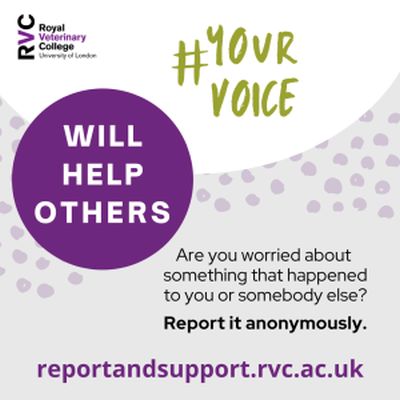 Tackling hate, abuse and sexual violence
The Royal Veterinary College is committed to promoting and providing a safe, inclusive and respectful environment for every member of its community, by challenging bullying, harassment and abuse, underpinned by our Dignity at Work and Study policy and the RVC Student Charter.
#Your Voice will be heard
As part of our commitment RVC Report and Support allows all members of our community to report any concerns they have about any behaviour they have been affected by or witnessed on behalf of themselves or others. Reports can be made anonymously if you prefer or you can request to speak to an Adviser to access support.
Our community expects that all interpersonal relationships and interactions will be grounded upon mutual respect, open communication, and clear consent. When learning of conduct or behaviour that may not meet these standards, community members are expected take an active role to uphold these values.
Hate incidents, gender based or sexual violence can be experienced by anyone regardless of sex, gender, sexual orientation, relationship status, age, disability, faith, ethnicity, nationality and economic status
All RVC students also have access to 'Consent Matters'. Consent Matters is a concise and accessible online course that provides interactive, evidence-based training in sexual consent, communication and relationships, and bystander intervention.