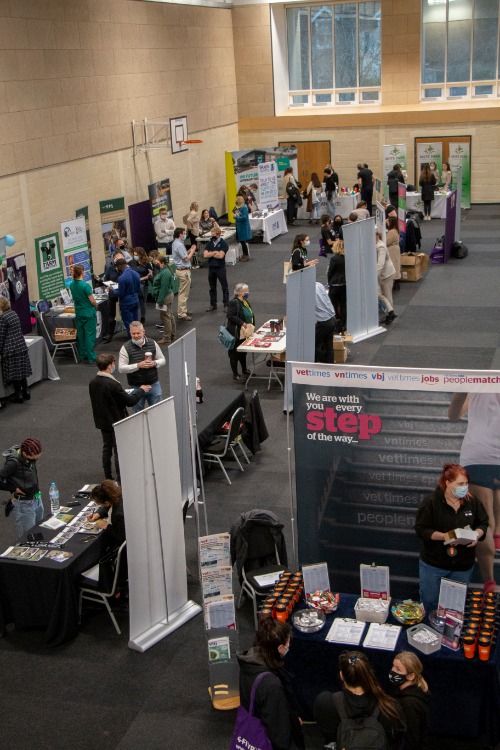 Welcome to the RVC Careers Service. We offer advice and support to current students and recent graduates.
We encourage our students to start thinking about their career options early on and to develop their employability skills during their time at RVC, both independently and through curriculum-based activities. We work closely with the various courses at RVC to offer relevant workshops and also provide individual support for students.
What do we offer?
Relevant, timetabled workshops as part of your course
One-to-one guidance discussions to help you with career decision making and careers questions
Guidance on preparing CVs, covering letters and job applications
Practice interviews and tips on how to handle assessment centres
Support to help you identify your transferable skills
Access to a range of careers & employability resources and software to support you in your career plans, as well as the Job Online jobs board.
You can access a range of different careers resources via the RVC Careers area in the Student Hub on LEARN.
The RVC Careers Service is part of The Careers Group, University of London.


RVC Careers Service
Welcome to the RVC Careers Service – part of The Careers Group, University of London's network of locally provided college careers services.
To view the complete Statement of Service for The Careers Group, our parent body, please visit their website.
Who can use the RVC Careers Service?
You can use the RVC Careers Service if you are:
a current student
a recent graduate who graduated less than two years ago
staff members are seen at the discretion of the service
What we offer you
One-to-one, 20 minute quick queries and occasional longer discussions with a professional careers consultant, who will help you to develop strategies for dealing with your career related queries.
One-to-one CV checking with a careers consultant.
Practice interviews. If you have been invited to a real interview, a practice interview will allow you to experience a real interview situation, get feedback on your performance and tips on how to improve.
Information on choosing your career, job-seeking skills, post-graduate study and specialist professional training in digital and paper formats.
Skills workshops and talks, delivered by employers and careers consultants. Keep up to date with your programme on Learn and hear about upcoming workshops.
Practice Aptitude tests and personality questionnaires.
Access to a range of, predominantly online, vacancy services such as Job Online.
Access to our online tools and resources such as Goinglobal and InterviewStream Internet access for careers usage.
Who we are
Our RVC Careers Consultants work on Mondays, Tuesdays and Wednesdays, dividing their time between the Camden and Hawkshead campuses. You can also book online appointments.
How to provide us with feedback
Client feedback, both positive and negative, underpins continuous, quality improvement of our service and is vital to us. To give us feedback, visit us in person or email us careers@rvc.ac.uk.
Complaints will be dealt with in accordance with The Careers Group Complaints Procedure, available online. Please contact us (careers@rvc.ac.uk) if you would like clarification or a copy of the procedure. In the first instance any complaint should be made to an appropriate member of staff. If you are unwilling or feel unable to approach a member of Careers staff, you should raise the matter with the Advice Centre Manager.
Diversity and accessibility
The RVC Careers Service subscribes to The Careers Group standard of service for the provision of services for users with disabilities. Please ask our staff if you need assistance to enable you to use our facilities and services more effectively.
Contact Information & Opening Times
For details on how to contact us and our opening times, please visit the RVC Careers section on Learn
How to book an appointment
If you would like to book an appointment for a CV check, careers discussion or practice interview, visit the RVC Careers section on Learn or get in touch with careers@rvc.ac.uk.