Veterinary anaesthesia and analgesia
Patients requiring sedation, anaesthesia or analgesic management are cared for by our Anaesthesia and Analgesia team who ensure that each patient has an individually tailored protocol.
The team provides services ranging from post-operative pain control to ventilation and cardiac bypass, working across all our services and is at the heart of RVC Small Animal Referrals.
Members of the Anaesthesia and Analgesia Service are available 24 hours a day to support specialists from the other clinical services. All animals, from the most routine to the most critical, are ensured the highest level of care from the time of pre-medication and preparation through to their recovery in wards or our Intensive Care Unit (ICU)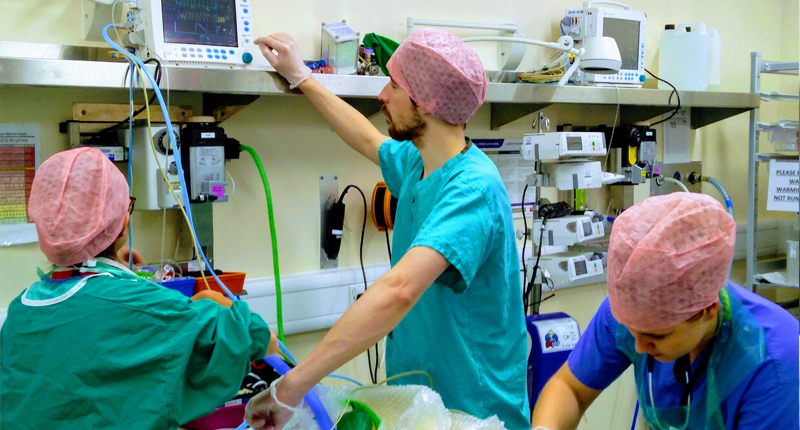 Extensive expertise
Due to the RVC's large and broad caseload of small animal referrals, the Anaesthesia and Analgesia Service has extensive expertise in managing critically ill patients, analgesia, cardiac patients and neurosurgical patients.
As the RVC is one of a small number of veterinary services in the world offering cardiothoracic surgery for dogs with heart problems, the anaesthesia team also has expertise in these highly complex cases.
Pain clinic
The anaesthesia team together with other services such as physiotherapy, oncology, neurology, orthopaedics and diagnostic imaging works as a multidisciplinary team to provide the best management of pain for chronic conditions.
For further information about this service please click Pain Clinic.