Improving long term disease management for cats and dogs - Our Impact
Much like humans, our pets and companion animals suffer from degenerative diseases as a result of the ageing process, as well as long-term diseases influenced by genetics, exercise and diet.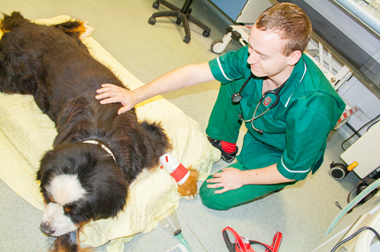 Treatment and management of these diseases is crucial to maximising quality of life of both affected animals and their caregivers and can enable a long and pain free life for our animals. Our teams have also published on the significant impact chronic disease often has on caregivers of dogs with epilepsy and also on other conditions (e.g. feline diabetes research and canine Cushing's research), which is quite unique to RVC
Through understanding how these diseases develop, including genetic and lifestyle risk factors, and investigating better management options that can improve wellbeing, our research teams have made a big difference to managing these chronic conditions.
The RVC has expertise in range of conditions, including diabetes, cardiac conditions, diseases especially affecting older cats, and musculoskeletal conditions including arthritis.
Here we describe two examples of how our work has impacted the treatment and understanding of diseases of animals, which have parallel conditions in humans.
Canine epilepsy
Epilepsy is a complex brain disease which occurs in dogs as well as humans. Over 50,000 dogs are affected by epilepsy in the UK. Fewer than 1 in 6 dogs with epilepsy are seizure-free on standard medication. The RVC research team, focusing particularly on drug-resistant cases, has characterised risk factors for the development of drug-resistance, discovered behavioural and cognitive changes in these patients, as has pioneered new non-drug therapies to add to the epilepsy management tool-kit, to help these often challenging cases.
The work of our team has resulted in changes in the way that vets manage canine epilepsy, leading to more holistic disease management. Our studies have shown that management of the animals' diet, alongside standard medications, can have direct impact on reducing the side effects of epilepsy drugs, improving control of seizures, improving behavioural changes commonly seen in these cases, and improving the overall quality of life for these animals.
To enable the delivery of this dietary support, our research has led to the development of commercial pet food that can be used in the management of canine epilepsy, enabling pet-owners and veterinarians to provide more effective support in managing this long-term condition.
The RVC teams' pioneering work continues, with researchers now developing non-invasive behavioural therapies for drug resistant cases in clinical trials, aimed at controlling both seizures and co-occurring anxiety.
Feline Chronic Kidney Disease
Chronic kidney disease (CKD) is a common problem in cats and dogs, especially in cats as they get older. Feline(cat) CKD is a life-long condition, also linked to the development of other long-term conditions, including disorders of the bone and high blood pressure.
In the 1990s, Professor Jonathan Elliott, in partnership with the animal charity PDSA, set up the RVC Geriatric Cat Clinic, offering free screening, diagnosis and care of elderly cats. Since then, more than 4000 cats have been screened and enrolled in longitudinal studies, including clinical trials.
Our clinical research over the years has led to significant impacts in the field that are relevant to general veterinary practice. Industry has used our findings to develop novel laboratory tests for earlier diagnosis of CKD, special formulations of cat food tailored to the different stages of CKD, and new drugs for the management of this disease and associated disorders. These products are now routinely used by vets all over the world as part of treatment plans for these animals.
Thus, positive impacts on veterinary practice and on animal health and welfare and, concomitantly, their owners' wellbeing, have resulted directly from RVC's research into this condition.
Find out more
Medium-chain triglycerides dietary supplement improves cognitive abilities in canine epilepsy. Epilepsy & Behavior. 107608. Advance online publication. Clinical Connections magazine
RVC Researcher pages