18 Chronic kidney disease (CKD) - Part 1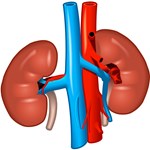 Chronic kidney disease (CKD) is a common problem in cats and dogs, especially as they get older. In this first of two podcasts on CKD we discuss topics such as the anatomy and function of the kidney, why the kidney may become dysfunctional and what the consequences are, some terminology, and causes of kidney disease. In the second part we will look at clinical aspects of CKD in terms of patient approach and management. I am joined for both episodes once again by Dr Rosanne Jepson who is a Lecturer in Internal Medicine at the RVC and also a member of the Renal Replacement Therapy team at the QMHA. Rosanne has a special interest in nephrology in particular.
As always, if you have any comments about this podcast, please get in touch (email sjasani@rvc.ac.uk; tweet @RoyalVetCollege using #saclinpod; or use the RVC's Facebook page).
Please rate the podcasts in iTunes and write a review too! Thanks.
---