Delivering new clinical therapies for "regenerative medicine" - Our Impact
Many adverse health conditions which affect both humans and animals are caused by damage or degradation of body tissues. Conditions which include tissue damage include responses to burns or injury to tendons, and long-term conditions such as arthritis or heart disease.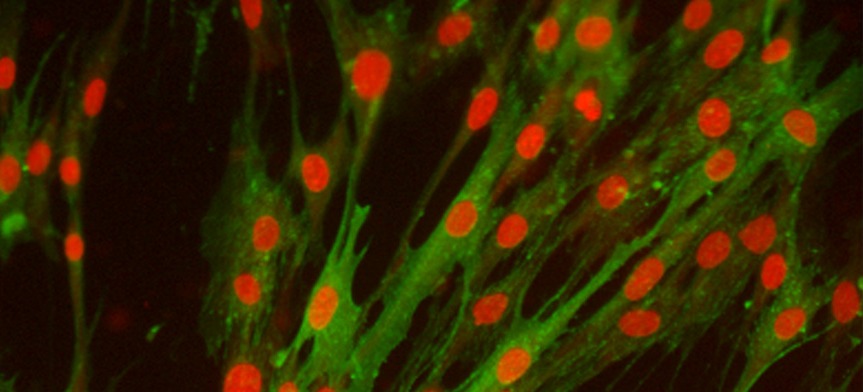 Stem cells are naturally present in the body, where they are necessary for maintaining tissues and organs in a healthy state and for regeneration after injury.
We now know that stem cells can be used as a treatment for certain conditions, by their unique ability to help regenerate tissue.
Researchers at the RVC pioneered the use of stem cell technology to treat horses in the early 2000's. Our early impact was realised through the formation of VetCell a spin out formed in 2002 that pioneered the use of stem cell technology to treat tendonitis in racehorses. By injecting stem cells into injured tendons, we can aid the healing process and reduce the formation of scar tissue, which reduces the chances of re-injury. Injecting stem cells into joints can also lead to improvements in pain and mobility which can last for many months. The RVC's musculoskeletal team continue to undertake new research to understand diseases of humans and animals and the potential for stem cell treatments.
In 2014 the stem cell work in horses by the RVC team was accepted by the Medicines and Healthcare products Regulatory Agency that the equine treatment data provided significant validation for a phase II human clinical trial without further preclinical studies, which is a significant outcome towards the One Health approach that closely connects human and animal health because to the shared environment and similarities in disease between animals and humans.
Our research has led to improvements in the treatment of conditions in companion animals following injury, leading to improvements in animal wellbeing and quality of life. This continues to be realised through treatments delivered at the RVC Stem Cell Centre, where our specialist teams work closely with our clinical colleagues to provide stem cell treatments to horses and dogs following veterinary specialist referral or at general practices. We also continue to enable other vets and colleagues through ongoing sharing of best clinical practice at events including the recent two-day Equine Arthritis: Diagnosis and New Technology conference.
The new Centre for Vaccinology and Regenerative Medicine is part of a multi-million-pound redevelopment plan for the RVC's Hawkshead campus, with the aim to continue to develop impact in veterinary regenerative medicine in orthopaedic diseases as well as cardiac and eye diseases. The new Centre is due to open in 2022, and will include an incubator for small businesses.
Find out more:
RVC Researchers