Improved diagnostics and treatment of heart disease in companion animals - Our Impact
Companion animals can suffer from many diseases which also affect humans, some of which are fatal if not managed. These include degenerative diseases as a result of the ageing process, as well as diseases influenced by genetics, exercise and diet.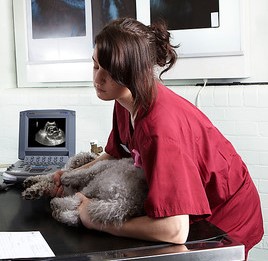 Researchers at the RVC have recently identified better ways to diagnose and treat cardiac conditions in cats and dogs. This example study from our canine team represents a small part of the impact the RVC researchers and clinicians are having on the health of our companion animals. The similarities of these diseases between humans and animals may also have longer term implications on the treatment and diagnosis of human disease.
Canine Mitral Valve Disease
Degenerative mitral valve disease (DMVD), which can lead to congestive heart failure, reduced quality of life and premature death, affects around 1 in 30 dogs
The team at the RVC have been undertaking long term studies of at risk animals since 2004. These trials have provided evidence for the use of drug treatments, and also understanding early diagnostics of DMVD.
Through the RVCs VetCompass network, our researchers are able to undertake studies involving large numbers of patients at local veterinary practices across the UK. Together with international collaborators, we are also able to connect with veterinary practices globally to undertake large-scale trials.
The EPIC trial was the largest prospective, blinded, placebo-controlled, randomised study to be conducted in veterinary cardiology to date, involving 360 dogs recruited by 36 investigators across 11 countries in four continents.
The "EPIC" study has now demonstrated and quantified the benefit of treatment in the preclinical phase, with pimobendane (sold as Vetmedin®), and the RVC is working with pharmaceutical companies to obtain approval for the use of this drug in early cases.
Find out more
Factors associated with disease progression in dogs with presumed preclinical degenerative mitral valve disease attending primary care veterinary practices in the United Kingdom. Journal of Veterinary Internal Medicine.33(2):445-454.
RVC Researcher pages