24 hour contact: 01707 666297
Mobile Equine Diagnostic Facilities
You might be surprised to hear that we can do many diagnostic imaging imaging procedures at your yard or stables.
The ability to undertake mobile (or ambulatory) diagnostic imaging enables many more cases to be seen by the RVC Equine Practice team rather than requiring admission to hospital. We have a high standard of fully portable diagnostic equipment, including digital endoscopy, radiography and ultrasonography.
The RVC equine practice has advanced diagnostic imaging equipment, including state-of-the-art mobile digital x-ray facilities.
The RVC's equine practice has a number of powerful ultrasound machines which allow high quality linear and sector images to be obtained both at your yard and at the clinic.
Diagnostic ultrasound scans are performed to look at the horse's soft tissues including: tendons, ligaments and muscles for tears or strains; the abdomen for causes of colic and other abdominal disease; the chest for lung disease; the eye for causes of pain, inflammation or loss of sight; the heart for the investigations of heart function or a heart murmur and the reproductive tract for artificial insemination, reproductive problems and pregnancy diagnosis.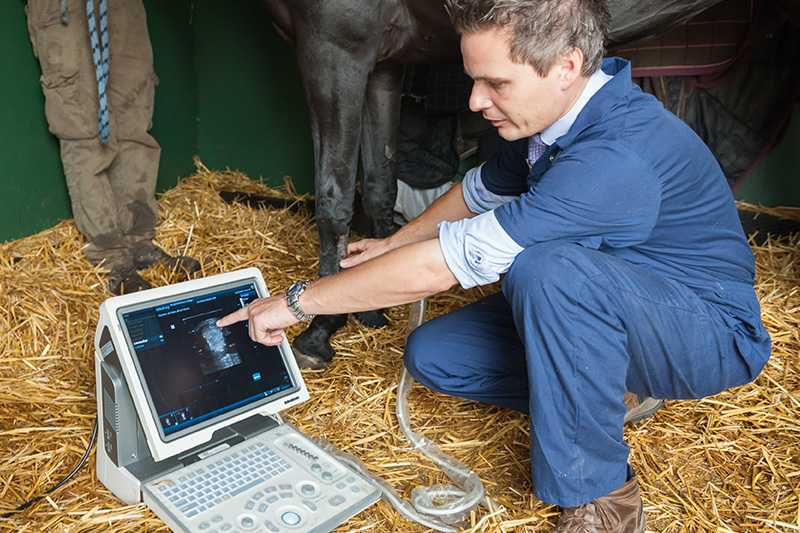 An endoscope is a small flexible camera that we can use to visualise internal problems within the horse, typically in the respiratory tract but also involving the digestive or urogenital tracts.
The RVC's equine practice team has a variety of portable endoscopes for investigation of different respiratory diseases from nose bleeds to allergic conditions such as RAO. Standard flexible endoscopes are used when the horse is at rest in the stable to evaluate the nasal passages, larynx, pharynx, guttural pouches and the trachea.
Samples and washes can be collected from the trachea and lungs via the endoscope and submitted to our laboratory for the identification of infectious, inflammatory and neoplastic conditions.
Endoscopy is also an extremely useful tool in investigating poor performance issues or abnormal noises arising from the upper respiratory tract encountered at exercise. Some conditions such as laryngeal neuropathy or cysts can be identified from endoscopy at rest in the stable. However, many of the airway conditions encountered in athletic horses during exercise are dynamic in nature, meaning that they only occur when the airway is stressed and the horse fatigued. As a result, the airway can appear completely normal at rest.
Specialists at the RVC have been instrumental in progressing the technology necessary to overcome this difficulty. The end result is that endoscopy can now be performed during ridden overground exercise, exactly simulating the conditions under which the horse displays the abnormal noise or poor performance.
We are now able to bring our mobile endoscopy equipment to you, and can perform endoscopy on your horse during exercise, rather than simply at rest. The endoscope we use is very similar to that used during resting endoscopy, but the video is recorded on the horse, with wireless technology used to confirm endoscope positioning during exercise. This gives us the best possible opportunity to visualize any abnormalities of your horse's upper respiratory tract.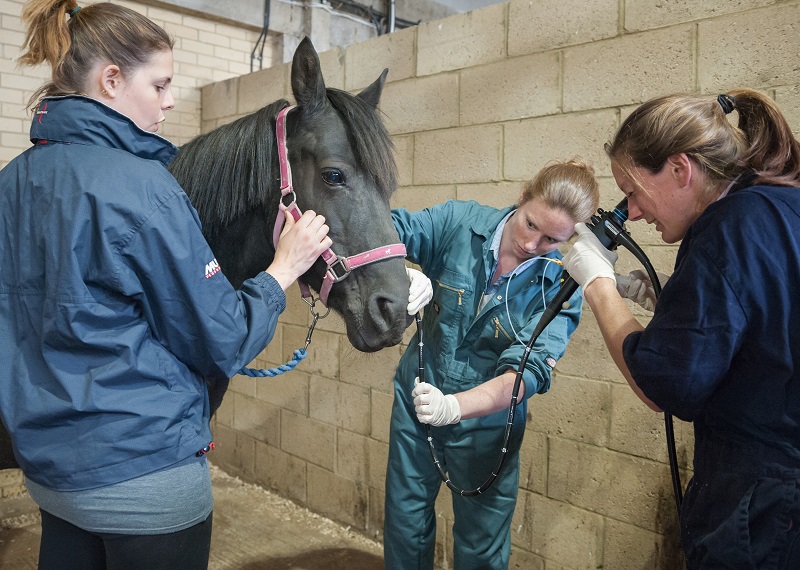 Extracorporeal Shock Wave Therapy (ESWT)
ESWT has been used in human medicine for a number of years to treat a variety of orthopaedic conditions such as tennis elbow and Achilles tendonitis.
The technique has been used more recently in equine orthopaedics to treat conditions such as proximal suspensory desmitis, suspensory branch injuries, tendon injuries, collateral ligament desmitis, carpal valgus in foals, and kissing spines.
The shockwaves are created, emitted and directed onto the injured area. When the shock waves meet interfaces of different impedance (i.e. bone/soft tissue interface) changes within the tissue are created. These include an increase in blood flow, direct cellular effects, activation of osteogenic factors (the process of laying down new bone) and a direct analgesic effect.
The treatment can be useful in cases of both acute injury and chronic pain that have been refractory to conventional treatment and typically involves three treatments at 7-14 day intervals.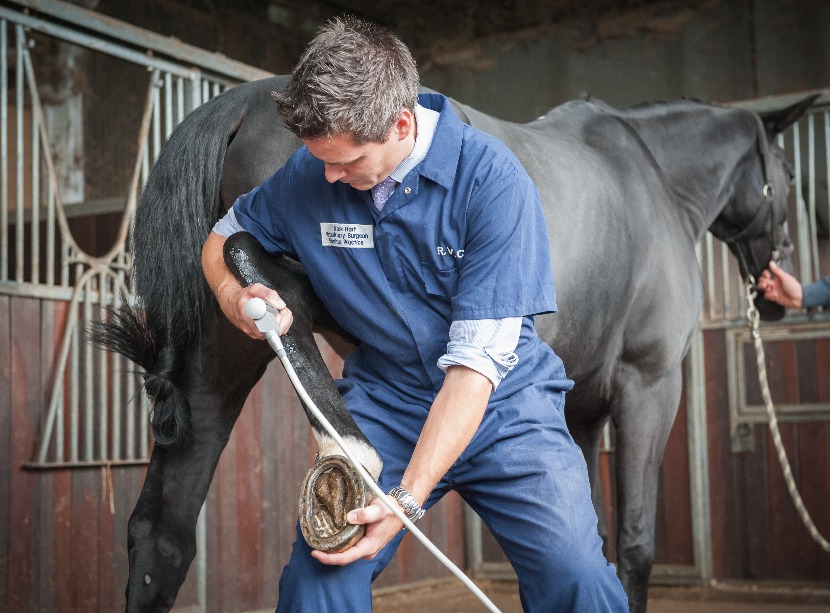 Mobile Equine Gastroscopy
A specially trained RVC Equine expert can be booked to come to your premises to conduct the procedures in your horses' familiar surroundings (and saving you the hassle of organising transport)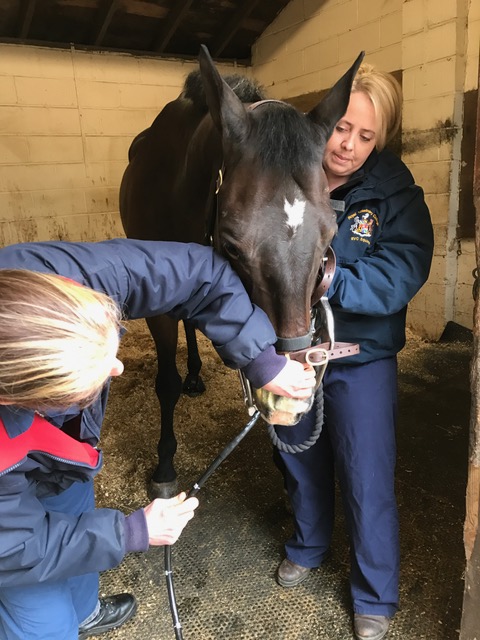 Why does my horse need a gastroscopy ?
It is the only accurate way of diagnosing horses' gastric ulcers and also the only way of knowing whether treatment has been successful.
How much is gastroscopy for horses?
One horse : £310 plus a visit fee (Visit fees are from £34.50 depending on the distance from the RVC Equine hospital in Hertfordshire)
For three or more horses at same yard a reduced price can be offered.
For an equine gastrocopy price quote. Please enquire with our reception team on 01707 666297 or email us equinereception@rvc.ac.uk
Does my horse need to be 'nil by mouth' prior to the gastroscopy ?
For the gastroscopy to be effective – we have to inspect all areas of the stomach.
• Horses must be starved for 16 hours prior to the procedure
• This is a strict starvation so if your horse eats bedding – it will need to be muzzled
• Water must be removed 2 hours before the procedure
Does my horse need to be sedated?
Yes – although the procedure is not painful – it can be uncomfortable and unnerving for the horse so we do sedate to reduce the stress to your horse.
How long does an horse gastroscopy take?
It normally takes between 15 and 30 minutes.

How long does it take for my horse to recover from the gastroscopy?
It takes approximately one hour for your horse to recover fully from the sedation. No box rest is needed and the horse can be ridden after this recovery period. We would recommend you feed them first.
Equine gastroscopy prices vary according to the number of horses being examined on one site; and the location of the site
For further information : call us on 01707 666297 or email us at equinereception@rvc.ac.uk