24 hour contact: 01707 666297
We recognise that the stable environment is vital for the well-being of your horse. The RVC's Equine Referral Hospital has stabling for up to 35 patients.
All our stabling is in well lit, well ventilated American barn stabling. While staying with us, your horse will be cared for by our dedicated team of equine technicians who will take care of your horse's feed, bedding, stable and grooming needs.
On admission you will meet the technician who will be looking after your horse who will ask you about your horse's feed preferences and your requirements for rugs and your horse's other needs. All our stables are large with rubber flooring and are bedded on high quality shavings. We feed best quality meadow hay and adjust our routines to suit the needs of horses with respiratory problems, such as recurrent airway obstruction.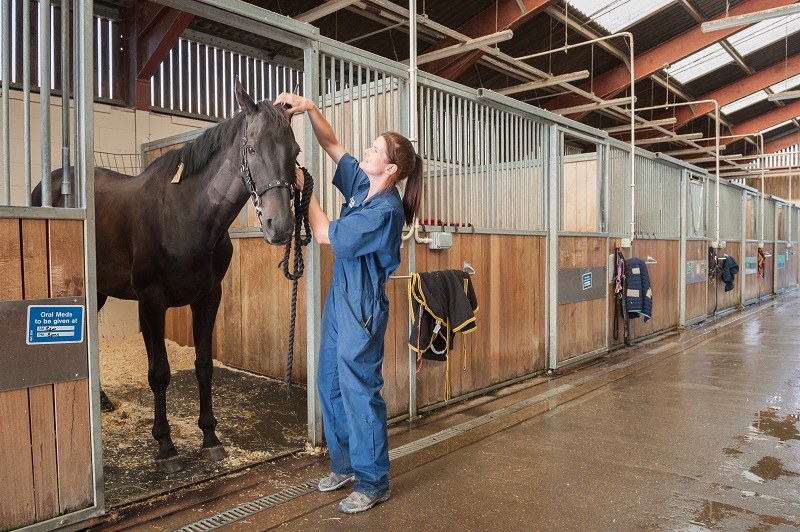 We ensure that your horse will be able to see and hear other horses to reduce anxiety. All horses are checked regularly round the clock and we provide genuine 24 hour nursing care, including continuous care if required, of all our patients through our specialist-led clinical teams.
In addition to our main barn stabling, we have a separate intensive care corridor where our most vulnerable and sick patients are stabled. We take biosecurity very seriously and have a separate, dedicated isolation facility located away from the main barns. We operate strict protocols to protect the health and welfare of in-patients and ensure that any horse with suspicion of infectious disease is housed in the isolation area.
Horses referred with suspected or confirmed infectious disease are admitted direct to the isolation area where we are able to care for them under the higher levels of biosecurity required to prevent spread to other horses. We have a dedicated area for mares and foals with two large, quiet boxes, both of which access our neonatal foal intensive care unit where critically sick foals, for example with septicaemia, receive round-the-clock, continuous care from our clinical teams.
Access to grazing and turnout is vital for some patients and we have two paddocks for supervised turnout or in-hand grazing.
Intensive Care Unit (ICU)
Our Intensive Care Unit (ICU) has six stalls and a dedicated nursing area, which enables us to deliver the very best patient care and supervision.
Each stall is equipped with facilities to allow delivery of continuous intravenous infusions of electrolyte solutions and colloids. Large volumes are provided via gravity flow while small volumes or medications that require precise amounts to be administered are given via a fluid pump, which delivers an exact amount of medication over a fixed time period.
Our ICU is connected to an oxygen generator which allows generation of air containing up to 90% of oxygen. It can provide a wide spectrum of oxygen flow rates to allow delivery and tailoring of oxygen flow to patients in need of supplemental oxygen.
The ICU contains a special stall designed for patients with neurological disorders. The walls and floor of the stall are padded with soft rubber material to prevent injury, and a sling and hoist allow us to assist horses that are unable to stand.
A central nursing area is stocked with medications and equipment. All equipment that may be used in an emergency situation, such as a blocked airway, sudden cardiac arrhythmia, cardiac arrest or a generalised seizure, is localised in one portable cart (crash box). Therefore everything needed in an emergency is on hand.
The RVC's Equine Referral Hospital is one of the few equine hospitals with a purpose-built isolation unit. This means we are able to treat horses and ponies suspected of having contagious diseases, while also preventing the spread of disease.
Horses housed in the Isolation Unit receive round-the-clock monitoring and intensive care. They also are supported by state-of-the-art diagnostics.
Strangles and diarrhoea are two of the most frequent reasons that horses will need to be housed in isolation units. These contagious diseases can cause severe illness in horses and require that they receive intensive care and management.
Although mild diarrhoea is often associated with a change of feed or a stressful episode, severe diarrhoea can be a life-threatening disease in foals and horses. These are often our most critically ill patients, and require intensive care and treatment. Some of the causes of diarrhoea, such as salmonella can be passed from horse to horse, and also from horse to person, so it is essential that these horses are housed in Isolation to prevent transmission of disease.