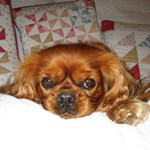 People: Jennifer Summers, David Church, David Brodbelt, Dan O'Neill
Vet Compass Project Type: Dog
This project explored the frequency of disorders recorded in Cavalier King Charles Spaniels and Chow Chows attending primary-care veterinary practices in the UK. The project also looked at the feasibility of linking Kennel Club pedigree data with VetCompass data.
People: Jennifer Summers, David Church, David Brodbelt, Dan O'Neill
Vet Compass Project Type: Dog
This study aims to create an evidence-based prioritisation list of inherited health disorders to underpin reforms of canine health and welfare.