BVetMed Graduate Accelerated
The Bachelor of Veterinary Medicine (BVetMed) programme is renowned throughout the world for its rigour and excellence, and if you are already a graduate or in your final year of a biological sciences degree, you can apply for the Graduate Accelerated programme.
The four-year programme enables you to supplement your existing skills, adding to the preclinical science information covered by a previous biological science degree. On this course, you will complete an introductory graduate transition year, where you will study the principles of animal form and function, infections and responses, and animal husbandry. On completion of the transition year, you will be fast-tracked on to the BVetMed course at the start of the third year.
The Bachelor of Veterinary Medicine course is delivered across both of our campuses. If you are studying the Graduate Accelerated programme, you will be primarily based at our Hawkshead Campus.
---
Annabelle Loustric, Graduate Accelerated Bachelor of Veterinary Medicine
Starting the Graduate Accelerated Bachelor of Veterinary Medicine at the RVC was a dream come true. The course is taught using a combination of lectures, directed learning sessions (a fun way to get to know your peers as well as your lecturers), laboratory practicals and dissections. The dissections are incredibly hands on and really help me integrate what I learn in class with what I will see in practice once I graduate. Faculty are enthusiastic and always open to questions during and after classes. The Camden campus has also recently been refurbished and provides several social and quiet learning environments to suit every student's needs.

When not in class, I enjoy playing handball with students from the University of London. I am also one of the publications managers for the International Veterinary Student Association Committee on One Health. This involves reporting on One Health-related activities and news, such as World Rabies Day or antimicrobial resistance. There are so many opportunities to get involved and definitely something here for everyone!
---
Kyle McCreash, Graduate Accelerated Bachelor of Veterinary Medicine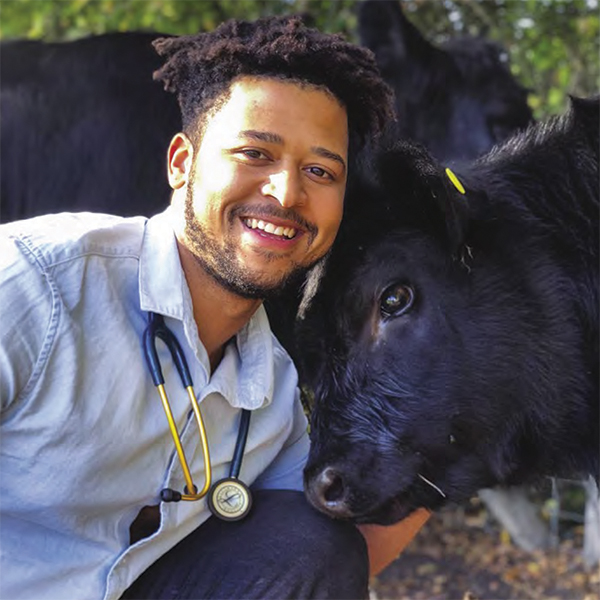 The professors are usually lecturing you on their research, their enthusiasm is infectious, and you end up not just learning but having fun in a lecture theatre!

I really enjoyed the directed learning sessions where you use the lecture material to solve real world cases and begin to develop the thought processes of a Veterinarian.
---
Jennifer Barnhard, Graduate Accelerated Bachelor of Veterinary Medicine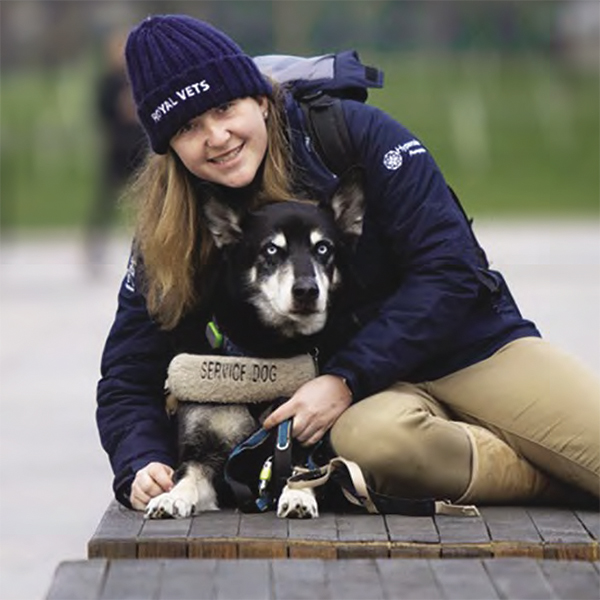 My favourite part of the graduate accelerated program has been getting to explore the different viewpoints of my classmates and being exposed to wider perspectives gained from integrating our varied international educational backgrounds.




---
Sharron Lee, Graduate Accelerated Bachelor of Veterinary Medicine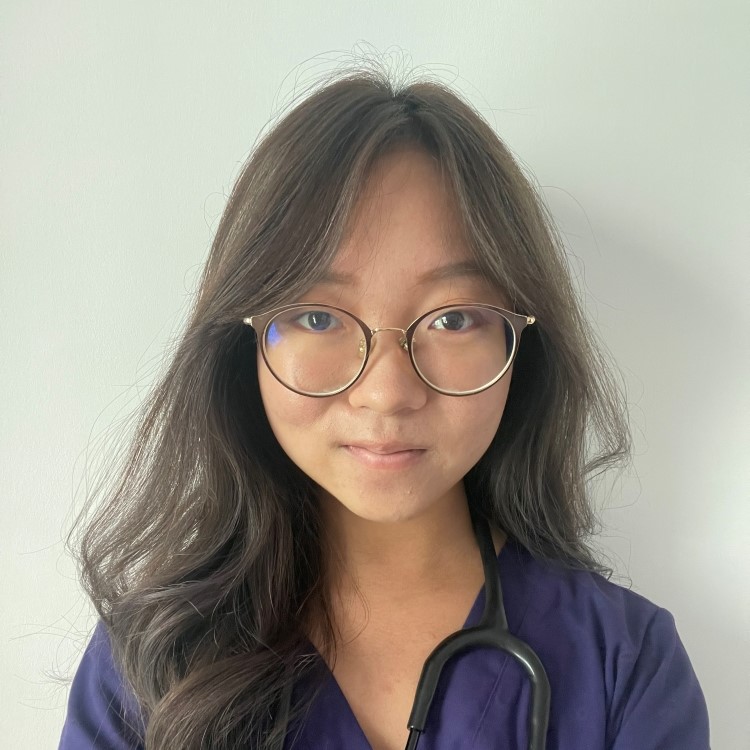 I enjoy the freedom this course allows. I can choose practical time slots and certain electives that I'm most interested in, and I feel that this makes the RVC experience uniquely special for each student.

I particularly enjoy the flexibility students get academically as it allows me to streamline my interests and start steering towards a specific field earlier on in the degree. I am personally quite interested in small animals and exotics and have just chosen a ferret-based research project, which I'm very excited about. I also had the freedom to request three rotation options apart from the compulsory blocks and am looking forward to the cardiology block that I've chosen.
---
Accreditation
We were the first veterinary school in the world to achieve full accreditation by the European Association of Establishments for Veterinary Education (EAEVE) and the American Veterinary Medical Association (AVMA), and full recognition by the UK's Royal College of Veterinary Surgeons (RCVS), as well as a reciprocal arrangement between the RCVS and the Australasian Veterinary Boards Council Inc (AVBC). Currently we hold full recognition or accreditation from RCVS, AVBC and AVMA and conditional from EAEVE.
What does this mean for you? It means that when you graduate in veterinary medicine at the RVC, you will be qualified to practise in Europe, North America and many Asian and African countries, as well as Australia and New Zealand – a real advantage for those looking to develop an international career.
---
Sign up to hear more from RVC
If you're interested in studying this course, and would like to stay informed, sign up to our RVC For Me mailing list to receive relevant information about upcoming events, students stories and life at the Royal Veterinary College.
---
Our BVetMed programme and graduate transition year follows a 'spiral' curriculum. This means that key concepts are presented repeatedly to you as you progress through the course, at deepening levels of complexity and in different contexts.
The progression of knowledge and understanding from preclinical basic concepts to clinical knowledge and reasoning skills is achieved by revisits to each strand at different stages of the course.
For example, when learning about the kidney, you will learn basic anatomy and physiology during the preclinical phase of the course and then learn about the common diseases of the kidney and how they are diagnosed and treated during the clinical phase. This is then enriched by working with animal patients presented with kidney disease in our first opinion and referral hospitals, or other practices, during clinical rotations and extra-mural rotations.
In Year 4 and 5 of the course, you will undertake intramural clinical rotations. These rotations will focus on:
Observation, discussion and practical experience as a member of the clinical team in the College's hospitals, and in clinical enterprises in which the College is a collaborating partner
Placements in veterinary practices
Attendance at lectures, seminars and workshops
Completion of a major research project
Year 1 (Graduate Transition Year)
Extra-mural studies
Principles of animal form and function
Animal husbandry
Infections and responses
Year 2
Alimentary
Population medicine and veterinary public health
Reproduction
Cardiovascular and respiratory
Skin
Locomotor
Neurology and special senses
Lymphoreticular and haemopoietic
Principles of science
Professional studies
Intramural clinical rotations
Year 3
Lymphoreticular and haemopoietic
Urogenital: renal
Endocrine
Population medicine and veterinary public health
Rotation preparation
Year 4
Professional studies
Intramural clinical rotations
Animal Husbandry Extra-Mural Studies (AHEMS)
AHEMS placements are designed to help you consolidate your learning about animal husbandry, develop animal handling skills and learn about animal industries. You must complete 12 weeks of AHEMS before entry to Year 3 of the course, comprising:
Two weeks on a lambing enterprise
Two weeks on a dairy cattle farm
Two weeks at a commercial pig operation
Two weeks of equine experience
Four weeks of your choice
A maximum of six weeks of previous animal husbandry experience towards the 12 week AHEMS requirement can be submitted for approval prior to entry on to the course. This experience is limited to activities completed within the 24 months leading up to the start of the course.
Clinical Extra-Mural Studies (ClinEMS)
ClinEMS is the time dedicated to gaining practical clinical experience in the latter years of your veterinary medicine programme to support your learning and clinical experience.
ClinEMS will allow you to gain experience in a variety of different clinical and other veterinary-related organisations where you will consolidate your learning about diagnoses and management of animal diseases, enhance your practical clinical skills and acquire greater understanding of how veterinary organisations operate.
You will undertake ClinEMS placements in your third and fourth years of the programme, totalling 26 weeks of placements.
Learning
This course is delivered through whole-class lectures, small group tutorials, group work in directed learning classes, computer-assisted learning, demonstrations, practical work in laboratory and dissection classes, practical classes utilising live animals, directed and self-directed reading, directed and self-directed practice in the Clinical Skills Centre, self-evaluation, animal husbandry placements, placements in veterinary practices, and production of project reports.
Self-directed learning
Outside of your timetabled lectures and practical sessions, you are expected to undertake self-directed learning. Typically, this involves reading journal articles and books, working on individual and group projects, undertaking research in the library, preparing coursework assignments and presentations, and preparing for examinations.
Teaching staff
The RVC has three outstanding academic and clinical departments. Lecturers in each department are not only world-class researchers and clinicians who are passionate about their field; they are highly qualified teaching professionals. All RVC students are assured teaching of the highest standard.
Assessment and feedback
In the final year of your course, your assessment will comprise:
Assessment of knowledge, problem solving and professional behaviour on clinical rotations
Examination of practical skills through OSCEs (objective structure clinical examinations)
Completion of a 4000-word research project
Written examination testing clinical and professional decision making
You will need to fulfil our requirements in each of the following areas to be considered for interview.
UCAS applicants:
Note: In order to be considered for the 5-year BVetMed programme (D100), you will need to make a separate application specifically to that programme. You are welcome to apply to both versions of the course (D100 and D102) but note this will take up two of your choices on UCAS. You are able to apply to up to four veterinary medicine or medicine programmes on UCAS.
Academic qualifications
The standard academic requirements for entry to the BVetMed Accelerated Programme are outlined below.
Degree (in addition to GCSEs)
At least an upper second class (2:1) honours degree in an appropriate biological science subject such as, but not exclusive to:
Anatomical Sciences

Biochemistry

Biological Sciences

Biology

Biomedical Sciences

Bioveterinary Sciences

Physiology

Veterinary Nursing

Zoology
We also welcome applicants with MBBS degrees, and candidates from any of the RVC's BSc programmes.
Non-listed degrees
Animal Science is a broad discipline and can vary greatly in content. We are happy to accept courses that are heavily science-based; we would advise those studying this to check with Admissions before applying.
Where your degree is not listed, we would recommend emailing Admissions with a copy of your transcript or link to your course page prior to applying. Science degrees that specialise in particular species or body systems, applied science/agricultural degrees or certain specialised degrees can be too narrow or not scientific enough for D102; we are very happy to check these for you and advise further.
There are no specific A Level requirements for this programme. However, successful applicants will be studying alongside students who typically have A Level Biology and Chemistry and an understanding of topics covered in these qualifications may be expected at points in the course.
Please note: If you will not be able to provide confirmation of degree award by late-August in the year following application, you will not be considered for a place. This includes if you later need to re-sit/delay your studies during your final year.
Masters degrees
If you are currently studying for a Masters degree we will only consider your application for deferred entry, as receipt of the Masters results and proof of the completion of the degree occurs too late to enrol on a new course in the same year calendar year as the Masters degree is completed.
GCSEs (only in addition to a degree)
Applicants must have a grade 4 (C) or above in:
English Language

Mathematics
All candidates applying via UCAS must declare their secondary school/high school grades in their application.
International and EU applicants
North American College Students
Graduates/Seniors from US or Canadian universities must apply through the VMCAS application system and not through UCAS. The application deadline is 18 September 2023.
We look for both an Overall GPA and Science GPA of at least 3.4 but all applications are given due consideration.
Students with two to three years of pre-vet can be considered for the five-year programme depending on the content studied and performance.
Applicants in the final year of their degree or graduates will normally be considered initially for the Graduate Accelerated BVetMed provided they have taken an appropriate biological sciences-based degree. Applicants at the pre-interview or post-interview stage who are unsuccessful in gaining a place on the four-year programme may be considered for our five-year BVetMed programme.
Prerequisite classes
Required at upper level (e.g. 300-400 level):
At least 9 upper-level semester credits in Biology/Biological Science. Examples include but are not limited to, 300+ or equivalent in the following: Immunology, Anatomy/Physiology, Parasitology, Histology, advanced Microbiology or advanced Genetics.
Also required (3 semester credits each):
Biology (e.g. Principles of Biology, Introductory Biology) - AP credits accepted for this requirement
Mathematics -

AP credits accepted for this requirement

Anatomy/Physiology
Organic Chemistry
Biochemistry
Where your institution uses a different credit system and you're not sure of the conversion/equivalencies, feel free to contact us in advance of application. Canadian universities: where classes are typically 0.5 credits, these are directly convertible to the equivalent of 3 semester credits as above.
Where your institution works on a quarter-credit system, we work on a conversion of one semester credit being equivalent to 1.5 quarter credits.
VMCAS Supplementary Form
VMCAS applicants are also required to complete an online VMCAS Supplementary Form five days after the date that their application is imported from VMCAS to the RVC. The form will be available in our application portal and applicants will be given access to this, and notified of the need to complete the form, via email on receipt of their application. The form must be submitted independently of, and in addition to, the VMCAS application and the RVC will not email applicants reminding them to submit the form before the deadline given. Applications will only be imported once verified by VMCAS and there may be a small delay between your application submission to VMCAS and you receiving your email notifying you to complete the form.
The RVC uses email as the primary method for contacting applicants about their application. Emails may be sent from either admissions@rvc.ac.uk or myapplication@rvc.ac.uk and applicants are strongly encouraged to take the necessary steps to ensure emails from these addresses do not end up in spam or junk inboxes, as the RVC cannot accept responsibility for any applications that are unsuccessful as a result of missed information or deadlines.
[Please note the RVC does not require the GRE or any other external entry exam.]
International and EU applicants (excluding North America)
We welcome applications from graduates with European or International qualifications where their degrees are equivalent to a UK BSc (Hons) Second Class, Upper Division or higher. Candidates must meet the entry requirements by means of the prescribed qualifications listed or other acceptable alternative qualifications.
For advice on the acceptability of your qualifications, please send a transcript or a link to the course page of your degree(s) to admissions@rvc.ac.uk ahead of application.
All students (except North American college students) should apply through UCAS.
Note: International applicants already holding a Veterinary Medicine degree who are seeking to practise in the UK are not eligible to apply for this course and should refer to the registration department of the RCVS.
Work experience
To apply for the BVetMed you will need to have prior work experience in order to have developed animal handling skills and obtained an insight into the work of veterinary surgeons. Before you apply, you must have completed the minimum requirements:
A total of 70 hours (e.g. 10 full days) of work experience (paid or voluntary) in one or more veterinary practices
A total of 70 hours in one or more non-clinical working environments with live animals (

excl. the home environment/family business/pet ownership

).
The above 140 hours must be obtained within the 18-month period directly preceding the application deadline. Earlier experience is welcome but will not count towards the 140 hour requirement.
We encourage you to think creatively about these environments and are interested to hear about any experiences that have helped to give you a sense of the veterinary role in the wider world. Examples of suitable non-clinical environments might include, but are not limited to: kennels, cattery, animal shelter, rural or city farm, stables, pet shop, lambing, intensive livestock, abattoir, animal research laboratory, wildlife park, zoo, etc. You do not have to have gained experience in all these areas.
NB: References will be required - we recommend collecting these as you go.
Work experience: Applicant Supplementary Form
All applicants applying through UCAS must complete the Applicant Supplementary Form. The form will be available in our application portal and applicants will be given access to this, and notified of the need to complete the form, via email on receipt of their application. The form must be submitted independently of, and in addition to, the UCAS application and within five days of your application being received by the RVC. The RVC will not contact applicants reminding them to submit the form before the deadline given.
The RVC uses email as the primary method for contacting applicants about their application. Emails may be sent from either admissions@rvc.ac.uk or myapplication@rvc.ac.uk and applicants are strongly encouraged to take the necessary steps to ensure emails from these addresses do not end up in spam or junk inboxes, as the RVC cannot accept responsibility for any applications that are unsuccessful as a result of missed information or deadlines.
Mitigating circumstances
If you wish to make us aware of any mitigating circumstances related to your application please see our guidance on mitigating circumstances here: www.rvc.ac.uk/mitigatingcircumstances
Interviews
All applicants to this course must attend an interview if invited and cannot receive an offer without attending an interview. All UK interviews for this course will be held in December (US interviews to be held in November/December and Asian interviews to be held in December/January). Our interviews are held in person. If invited, it is often not possible to rearrange an interview for a different date, so applicants must ensure they are available for interview before applying and inform us by email of any specific days within this time period when they are unavailable
All applicants invited to interview will need to provide their passport (in some cases another valid form of ID will be acceptable), original degree certificate (if already completed) and reference letters (see example) to cover the minimum work experience requirements as stated above.
Please note that if you apply to more than one of our Veterinary Medicine courses (excluding the Bachelor of Veterinary Science) and your application progresses to the interview stage, you will be invited to attend one interview only which will be used in our assessment of each of your applications.
English language requirements
IELTS (Academic) score of 7.0 or above with minimum 6.5 in each component
All applicants must have an acceptable English Language qualification. Please see our English Language Requirements page for a list of qualifications we accept as alternatives.
How are applications assessed?
We have put together a document with advice on our process of selecting Veterinary Medicine students, from initial screening of applications through to making offers post-interview. This can be downloaded here.
What will I be able to do with my qualification?
You will be entitled to practise as a veterinarian as soon as you have earned your BVetMed degree and registered as a Member of the Royal College of Veterinary Surgeons (RCVS).
Our graduates go on to enjoy a wide range of careers in veterinary medicine, including positions in:
Small animal practices
Mixed practices
Equine practices
Farm/livestock environments
Wild animal environments
Wildlife conservation
Military support
Industry
Research
Government
Academia
Global careers
The RVC's accreditation status with the European Association of Establishments for Veterinary Education (EAEVE) and the reciprocal arrangement between the RCVS and the Australasian Veterinary Boards Council Inc (AVBC) allows BVetMed graduates to register to practise in Europe, Australia and New Zealand without requiring any further qualifications.
In addition, the American Veterinary Medical Association (AVMA) will recognise your degree as equivalent to those awarded by veterinary colleges in the United States. Some of the USA's major veterinary employers recruit actively among our final year students. Please note, however, that you will still be required to sit the North American Veterinary Licensing Examination (NAVLE) if you intend to work in North America after qualifying, as you would if qualifying from a US vet school.
Tuition Fees
The tuition fees for students commencing the course in 2023/24 are as follows:
| Home Tuition Fees including Island Fees (Channel Islands & Isle of Man) | International Fees |
| --- | --- |
| £9,250 | £41,500 |
The UK Government has confirmed that EU/EEA and Swiss national students who have started an eligible course in the 2020/21 academic year or earlier academic years remain eligible to pay the "home" rate of tuition fees and claim any financial support for which they are currently eligible for the duration of that course.
EU/EEA and Swiss national students starting studies in the 2021/22 academic year or later academic years may no longer be eligible to pay the "home" rate of tuition fees and claim any financial support for their studies - but this depends on your personal circumstances (including immigration status and residence history in the UK) and UK government rules which are currently being developed. For further information on this emerging situation, please visit UK Council for International Affairs Brexit pages.
Tuition fee amounts are subject to increase each academic year, please be aware of this when making your calculations and planning how much money you will require.
Students from

countries outside the UK who wish to undertake full-time study at the RVC are required to pay the international fee for their programme of study (please see

Fee status

section).
Information on Fees & Funding can be found here
UK

students considering studying on the

BVetMed Graduate Accelerated

or the

BVetMed as a second degree are entitled to a variable means tested living cost loan and RVC bursary. P

lease see

Maintenance Loan and RVC Bursary.

Please note

BVetMed Graduate Accelerated and students studying BVetMed as a second degree

are not eligible for tuition fee loans so

please consider how you will pay the tuition fees for each year before enrolling.
The following course-related costs are included in the fees:
Student membership

of the

British Veterinary Association

for course duration

Access to books and journals essential to your course (print and digital)
Open access and bookable IT equipment such as PCs and laptops
Largely paperless curriculum plus £10 p.a. printing allowance

Annual membership of College gym (both campuses)
The following course-related costs are not included in the fees:
Specialist clothing and equipment c£600

Travel to AHEMS and EMS placements
Some AHEMS and EMS placements will also require students to pay for board and lodging
Travel to tracking rotations
Accommodation and living costs are not included in the fees. Our Housing Advice pages provide further information on College and private housing.
The Royal Veterinary College is not involved in processing your application for a loan, however we can confirm your student status; please direct your queries to the Financialaidoffice@rvc.ac.uk
For an overview of the financial aid process for Canadian students, please visit the Campus Access website
Students should apply through their provincial student assistance office or website. When you apply for a loan, you are considered for funding by both the Provincial and Federal Government, meaning you only have to apply once for funding for the year. Federal loans are processed via the National Student Loans Service Centre and provincial loans through the provincial governments and student aid branches.
The RVC participates in the Direct Loan Program in which federal financial assistance is made available from the US Department of Education to US students studying at the RVC. The purpose of this page is to inform you about the process of applying for financial assistance.
The RVC College will originate Direct Stafford loans and Direct Graduate and Parent PLUS loans and full-time students from the USA who are attending at the RVC are normally eligible for funding. The RVC also participates in the VA Educational Benefits programme.