24 hour contact: 01707 666297
Equine Client Lecture Evenings 2018 - Designed for horse riders & owners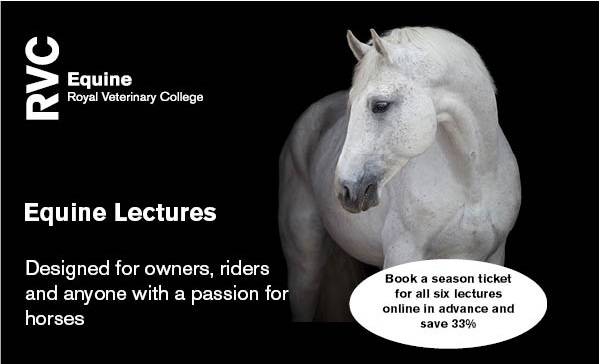 The Royal Veterinary College Equine team, in conjunction with The British Horse Society Hertfordshire, organise a series of popular talks for all horse riders and owners.
They are a great forum for discussion and advice on a variety of horse diseases and disorders.
Who should attend ? These evenings are designed for horse owners, riders and anyone with a passion for horses.
Where are the lectures? The Royal Veterinary College, Hawkshead Lane, North Mymms, Hatfield, Hertfordshire AL9 7TA
How much are the lectures? They cost £10 per person per lecture
Season Ticket Saving !
You can save over 33% on the cost of attending all sessions if you book in advance.
Simply go to the booking site - add ALL the equine lecture 2018 events into the shopping basket and when you check out - your saving will be applied.
If you book all six events at the same time (worth a total of £60) - you will only be charged £40 instead of £60
When are they happening ?
All the talks take place on Wednesday evenings. Check out the booking pages or RVC Equine Facebook events page for more detailed information
February 7th - Equine Sarcoids
April 4th - Strangles, Equine Herpes Virus and Yard Biosecurity
June 6th - Itches, Lumps & Bumps - Equine Skin Issues Uncovered
August 1st - 'My horse has colic' ...
October 3rd - Equine Sports Medicine and Rehabilitation
December 5th - Equine Anatomy - an Interactive Workshop
What time do they start ? Refreshments & Registrations from 7pm. Lectures start at 7.30pm and expected to finish by 9.30pm
How to book :
Tickets must be purchased in advance online and before midday on the day. Book here
Please note we cannot accept payment at the door - only credit/debit card payments are accepted in advance of the lecture.
Can we access the talks online ?

We realise that sometimes people are unable to attend but would still like to access our equine client lectures.

If you have booked and paid for your lecture - you will be able to view this after the event has happened online

online lecture access If you are having difficulty accessing the online lecture, please call 01707 666865.