24 hour contact: 01707 666297
Equine History of the RVC
The health and welfare needs of horses drove the establishment of the Royal Veterinary College, and these have remained at the core of the College's activities over the centuries.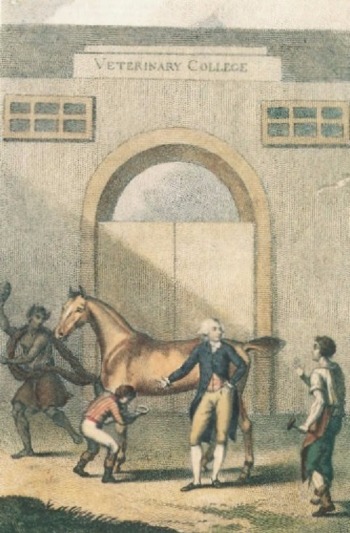 In the decades before the College was established, in 1791, there was great concern about the welfare of horses and a resultant movement to provide farriers with a grounding in science. At the forefront of this was the Odiham Agricultural Society, a group of gentry alarmed at the impact on equine health and welfare of what they perceived to be quackery.
The establishment of the Veterinary College, London (as the RVC was initially called) marked the establishment of the veterinary profession in Britain. The foundation story of the College is linked to the death of a notable racehorse, Eclipse, who had dominated the racing seasons of 1769 and 1770. After retiring from racing, in 1770, he stood at stud until his death - in 1789.
The fame of Eclipse was such that there was a desire among the public to understand the cause of his death and the secret of his racing success. Veterinary expertise was required for this, and Frenchman Charles Benoit Vial de St Bel, who was in England at the time, carried out the post-mortem. St Bel had been in England to lobby support for his plan to establish a British veterinary school. He subsequently became the first principal of the College.
The importance of horses to the military and the value of vets to the country was emphasised in the early 19th Century, when Prime Minister William Pitt (the Younger) sought to ensure that every cavalry regiment had veterinarians. This was to reduce the losses of horses in Britain's war against France. The RVC retains a strong relationship with the Royal Army Veterinary Corps.
The combination of an equine referral hospital, doctoral and post-doctoral equine research and the existence of internationally respected specialists at the RVC have enabled the College to remain at the forefront of developments in equine medicine. Stem-cell based treatments and breakthroughs in gait analysis and recurrent laryngeal neuropathy are just some of the areas where RVC experts have been at the forefront of equine science and practice.
As well as a referral hospital, the RVC has an Equine Practice based in Hertfordshire, which covers surrounding counties. The 24-hour and 365-day-a-year service is led by highly experienced and knowledgeable equine vets. The practice team is committed to client education and holds regular educational lectures to pass on information about new treatments and management of different conditions.
Not only do horses and their owners benefit directly from RVC breakthroughs, but veterinarians trained at the College and their future clients also benefit from the knowledge-base they are immersed in. This expertise also filters out to practices around the world via research papers, books and presentations at national and international conferences and congresses.