RVC Wildlife Health - Projects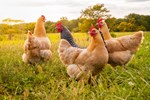 The sustainability of poultry meat and egg global production, paramount to respond the worldwide demand for food, is challenged by poultry enteric diseases such as coccidiosis and necrotic enteritis.
his project aimed to develop a vaccine platform based on Eimeria parasites to protect chickens against pathogens of different origin. The first use to generate a prototype and evaluate a specific product against the re-emerging disease necrotic enteritis is expected to have future applications that could have a direct impact in human health by the targeting of zoonotic organisms that transfer disease from chickens to human, and which have importance in both high income and low-and-middle income countries (e.g. Campylobacter, Salmonella).
---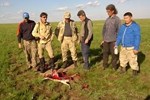 The saiga project is a long-term contribution from RVC to research into understanding of the causes of mortality of the saiga antelope. This species ranges in the Steppes of Asia, in a few localities but is classified as critically endangered by the International Union for Conservation of Nature red listing process. The study findings to date provided unique information on the cause of mass mortality of saiga and the impact of PPR on saiga antelope.
---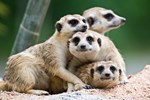 Research project by the Royal Veterinary College investigating the epidemiology of Tuberculosis in meerkats in the Kalahari Desert in southern Africa.
Meerkats (Suricata suricatta) are social mammals that live in groups. A potential disadvantage of being social is that infectious diseases are more likely to spread. Tuberculosis (TB: a bacterial infection) was first detected in wild meerkats in southern Africa in the late 1990s.
---