24 hour contact: 01707 666297
What role do horse blood donors play at the RVC?
Most people understand the role blood donors can have in saving human lives. However, few realise the number of horses lives that are also saved by blood donors.
Although there is no national blood bank for horses, The Royal Veterinary College (RVC) keeps four horse blood donors who perform a vital role donating blood and plasma each month.
The RVC first started keeping blood donors over 20 years ago, but as equine critical care has advanced their role has become even more important.
The RVC's Equine Referral Hospital service emergencies, such as victims of road traffic accidents, and provide lifesaving critical care services – all of which rely on blood donors. Considering the hospital is always open, regardless of time or day, these blood donors could be called upon at any time.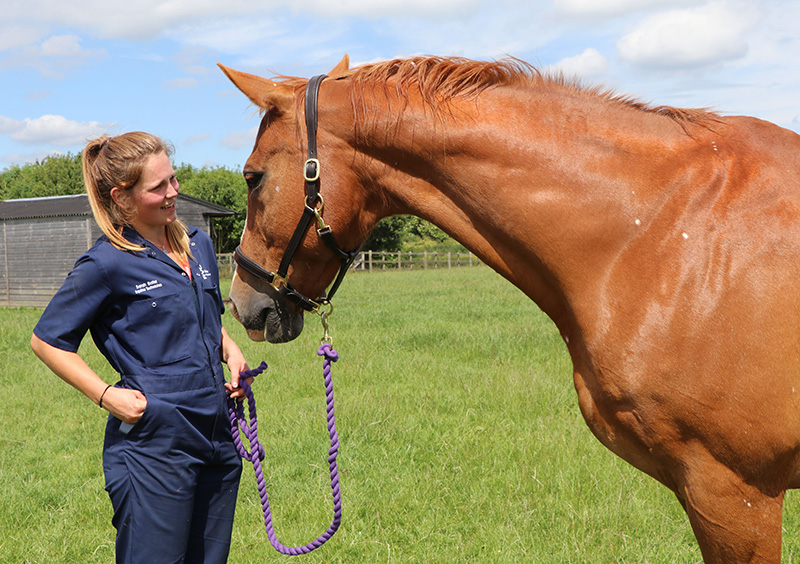 What are the benefits of horse blood donors?
Blood is a vital part of the clinical armoury for treating critically ill horses. It is especially important when treating horses that have had colic surgery or have severe problems with their intestines, such as colitis.
Donated blood is important to the recovery of horses because it:
Provides the best possible and most efficient support for blood circulation; and
It is highly effective in replacing lost blood proteins
Donated blood can also be used to treat horses that have experienced significant blood loss from haemorrhages or because of destruction of red blood cells through disease.
Equine blood donations are a critical part of the RVC equine veterinary service, as they enable them to facilitate high levels of emergency care as well as cutting edge surgical and clinical procedures. It is vital that horse blood is collected and used immediately, because it cannot be stored. That is why having horse blood donors on site is so important.
Which horses make the best donors?
The RVC has had lots of offers of horses to join its blood donor herd and they are currently in the process of making their selection. Ideally, they will be looking for horses that are:
Over 550kg in weight
A gelding – a castrated horse or another equine, such as donkey or a mule – as they are calmer and better behaved
A mare (an adult female horse) that has not had a foal. During foaling there is usually some mixing of the foal's blood with the mare's, which means that the mare's blood will contain antibodies other than her own. This can complicate blood group matching and increase the risk of transfusion reactions.
How many blood types do horses have?
Horses have two main blood groups: A and Q. Like in humans, the ideal donor does not have either of the major blood groups so that the recipient is unlikely to develop a transfusion reaction to the donated blood.
In humans, the ideal blood donor is AB negative, but in horses the ideal donor is AQ negative. In an emergency, especially the first time a patient receives a transfusion, blood group matching is not critical. Therefore, blood from a horse with any blood group combination will provide life-saving therapy for a seriously ill horse.
---
Press Office Contact
Uche Graves / Zoe Chadwick
T: 0800 368 9520
E: uche.graves@plmr.co.uk / zoe.chadwick@plmr.co.uk
Notes to Editors
The Royal Veterinary College (RVC) is the UK's largest and longest established independent veterinary school and is a constituent College of the University of London. The RVC offers undergraduate, postgraduate and CPD programmes in veterinary medicine, veterinary nursing and biological sciences, being ranked in the top 10 universities nationally for biosciences degrees. It is currently the only veterinary school in the world to hold full accreditation from AVMA, EAEVE, RCVS and AVBC.
A research-led institution, in the most recent Research Excellence Framework (REF2014) the RVC maintained its position as the top HEFCE funded veterinary focused research institution.
The College also provides animal owners and the veterinary profession with access to expert veterinary care and advice through its teaching hospitals; the Beaumont Sainsbury Animal Hospital in central London, the Queen Mother Hospital for Animals (Europe's largest small animal referral centre), the Equine Referral Hospital, and the Farm Animal Clinical Centre located at the Hertfordshire campus.
RVC Press Release 14 June 2017
See other Press Releases.