24 hour contact: 01707 666297
The Royal Veterinary College and Penn Vet New Bolton Center Launch new MARS EQUESTRIAN™ Veterinary Scholarship Programme for Equine Research
The Royal Veterinary College (RVC) – together with the University of Pennsylvania's School of Veterinary Medicine (Penn Vet) and MARS EQUESTRIAN™ – has launched a new, international scholarship programme aimed at advancing the health and welfare of the horse while providing an unparalleled learning experience for one aspiring veterinary investigator.
Through its interdisciplinary, mentorship-based approach, the MARS EQUESTRIAN Veterinary Research Scholar Programme offers the unique opportunity to conduct research alongside internationally-renowned experts in equine health and veterinary welfare while pursuing two advanced credentials: the Graduate Certificate in Animal Welfare and Behavior at Penn Vet during year one, followed by the Master of Research (MRes) program at the RVC in year two.
Building upon Penn Vet's MARS EQUESTRIAN Early Career Investigator Program launched in November of 2020, this new format offers the candidate an exclusive opportunity to refine critical research skills and expand animal welfare knowledge while learning on location at both the RVC in England and Penn Vet's New Bolton Center in Kennett Square, Pennsylvania, United States.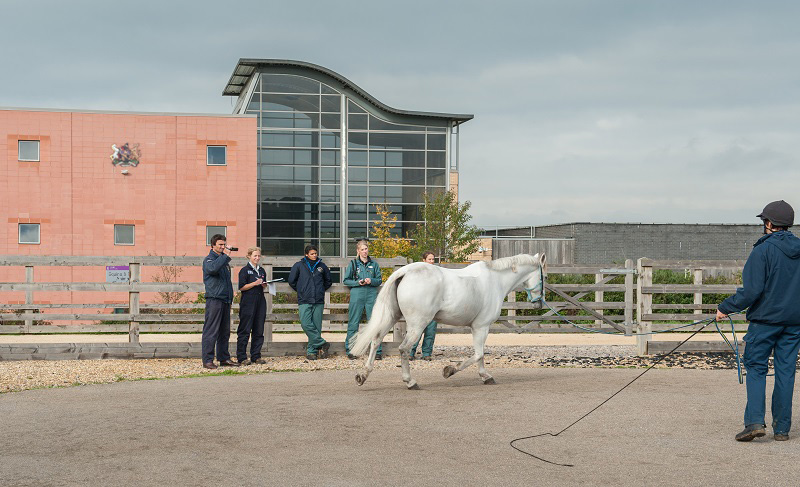 The RVC's MRes programme gives students the chance to develop into scientists who can work well across interdisciplinary teams, tackling problems of practical relevance to veterinary and medical science. Many of the courses' graduates go on to work in some of the world's leading scientific research institutes, as well as within industry and government.
Professor Richard Bomphrey, Interim Vice Principal for Research at the RVC commented, "I am delighted that the RVC is able to support this new transatlantic initiative for veterinary graduates following a generous donation from MARS EQUESTRIAN. It strengthens the ties between the RVC, the University of Pennsylvania and MARS EQUESTRIAN while providing an outstanding training and research opportunity. We look forward to welcoming the successful scholar and helping them to make an impact in equine research."
Penn Vet's Dr. Kyla Ortved, Assistant Professor of Large Animal Surgery at New Bolton Center, will serve as the primary mentor for the programme's embedded research project. She commented, "There are two fundamental components to a successful career in the veterinary medicine field: exceptional mentorship and the continuous pursuit of applicable knowledge. The multidisciplinary approach of the MARS EQUESTRIAN Veterinary Research Scholar Programme is set to provide both of these cardinal elements through an experiential learning environment that will ultimately culminate in delivering meaningful advancements that will have a very real, positive impact on the lives our equine partners."
Dr. Bridgett McIntosh, Director at MARS Equestrian, added, "MARS EQUESTRIAN is thrilled to support this truly unique and innovative international program unlike anything else offered in veterinary medicine training," said, "Our goal is to continue to drive the field forward in creating a better world for horses by engaging and training the next generation of veterinarians."
The MARS EQUESTRIAN Veterinary Research Scholar program is open to interested UK, US and international candidates holding a veterinary degree (DVM/VMD/BVSc or equivalent). The chosen candidate will receive an annual stipend and tuition as well as travel expenses. The programme will commence in September 2021 in the United States before moving to the UK in October 2022 until its conclusion in September 2023.
The deadline to submit applications for consideration is June 30, 2021 or until an acceptable candidate is identified. Applications should be sent to the Penn Vet's Dr. Kyla Ortved at kortved@vet.upenn.edu.
---
Notes to Editors
For more information please contact:
About the RVC
The Royal Veterinary College (RVC) is the UK's largest and longest established independent veterinary school and is a Member Institution of the University of London. It was the first in the world to hold full accreditation from AVMA, EAEVE, RCVS and AVBC.
The RVC is ranked as the top veterinary school in the world in line with the QS World University Rankings by subject, 2021.
The RVC offers undergraduate and postgraduate programmes in veterinary medicine, veterinary nursing and biological sciences.
In 2017, the RVC received a Gold award from the Teaching Excellence Framework (TEF) – the highest rating a university can receive.
A research led institution with 79% of its research rated as internationally excellent or world class in the Research Excellence Framework 2014.
The RVC provides animal owners and the veterinary profession with access to expert veterinary care and advice through its teaching hospitals and first opinion practices in London and Hertfordshire.
About MARS EQUESTRIAN™
MARS EQUESTRIAN™ Sponsorship, funded by Mars, Incorporated is the link between our iconic brands and the equestrian community. For generations, Mars has celebrated a rich equestrian heritage, and through purposeful partnerships, MARS EQUESTRIAN is committed to the sport and building an enduring legacy. From world-class competitions across all equestrian disciplines, to stewarding the power of horses on society and sustainability, the MARS EQUESTRIAN Brand is dedicated to our purpose to improve the lives of horses, pets, and the people who love them. For more information please visit www.marsequestrian.com and join us @marsequestrian.
About Penn Vet
Ranked among the top ten veterinary schools worldwide, the University of Pennsylvania School of Veterinary Medicine (Penn Vet) is a global leader in veterinary education, research, and clinical care. Founded in 1884, Penn Vet is the first veterinary school developed in association with a medical school. The school is a proud member of the One Health initiative, linking human, animal, and environmental health.
Penn Vet serves a diverse population of animals at its two campuses, which include extensive diagnostic and research laboratories. Ryan Hospital in Philadelphia provides care for dogs, cats, and other domestic/companion animals, handling nearly 35,300 patient visits a year. New Bolton Center, Penn Vet's large-animal hospital on nearly 700 acres in rural Kennett Square, PA, cares for horses and livestock/farm animals. The hospital handles nearly 5,300 patient visits a year, while the Field Service treats more than 38,000 patients at local farms. In addition, New Bolton Center's campus includes a swine centre, working dairy, and poultry unit that provide valuable research for the agriculture industry.
Learn more by visiting www.vet.upenn.edu.