24 hour contact: 01707 666297
RVC study reveals multitude of indicators of equine insulin dysregulation and therefore laminitis risk
A new study from the Royal Veterinary College (RVC) has determined new factors that can indicate insulin dysregulation (ID) in ponies. The study findings confirm that physical observation (i.e., looking at the external characteristics of the individual animal) alone is not a wholly accurate predictor of the condition which is associated with an increased risk of laminitis.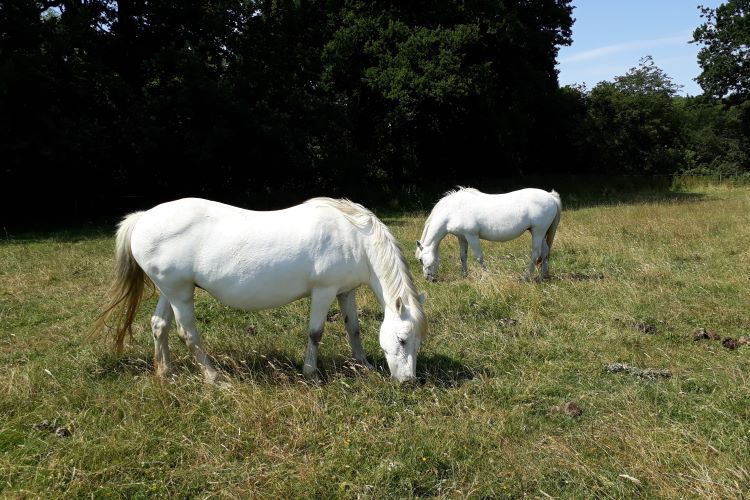 The research, conducted in association with the WALTHAM Equine Studies Group and the SPILLERSTM brand, found that ID may occur in ponies across a wide range of body conditions, ages and levels of exercise, not just in those that are overweight. In addition, the study demonstrated that ID was less common in ponies that undertook more exercise including low-intensity exercise.
These findings will impact the variables considered by equine health professionals when targeting ponies for ID screening, helping to ensure that early indicators of increased risk of laminitis are not missed. The impact of even low-level exercise as identified in the study on reducing occurrence of ID is also an important consideration for horse owners as exercise can be modified.
Insulin is a hormone which controls the rate by which cells, largely in muscle and liver tissue, absorb glucose (sugar) from the blood. ID describes a high 'resting' level of insulin in the blood and/or an exaggerated insulin production response to the consumption of sugars as well as tissue insulin resistance, a failure of cells themselves to respond to insulin. The association between ID and laminitis, a common but extremely painful condition which affects the tissue in hooves, is well established and early detection of ID is likely to be useful in preventing laminitis.
To determine the predictors of ID, researchers from the RVC performed a total of 1,763 oral sugar tests (OST) on 367 non-laminitic ponies every spring and autumn over four years. The OST measures the concentration of insulin in the blood of ponies before and 60 minutes after they were given a sugar syrup by mouth (orally).
This study builds on the RVC's previous work examining the predictor of laminitis development which was recently awarded the Peter Rossdale Equine Veterinary Journal Open Award 2023 at BEVA Congress. The paper was written with other RVC researchers namely Profs Nicola Menzies-Gow and Jonathan Elliott, and Dr Ruby Chang in collaboration with Dr Pat Harris of the Waltham Petcare Science Institute (WPSI). The work was supported by a grant from WPSI and a bequest to the RVC from the Paul Mellon Trust. The award was presented by HRH the Princess Royal and is given for the paper that best achieves Equine Veterinary Journal's mission to publish articles which influence and improve clinical practice and/or significantly to the scientific knowledge that underpins and supports veterinary medicine in relation to the horse.
Nicola Menzies-Gow, Professor in Equine Medicine at the Royal Veterinary College and co-author of the study, said:
"Laminitis is a painful and potentially devastating conditions affecting horses, ponies and donkeys worldwide. Our studies focus on trying to identify those individual animals that are at a high risk of developing the condition so that preventative strategies can be implemented before the disease occurs."
Edd Knowles, lead author on the paper, said:
"Our work has shown that while physical and owner-reported features can be used to identify ponies with a higher risk of ID, veterinarians should not limit testing for ID to ponies in which these risk factors are present. Doing so would miss identifying ponies at moderate to high risk of laminitis.
We are honoured to receive the Peter Rossdale Equine Veterinary Journal Open Award. The paper builds on a large body of previous work at the RVC and around the world and applies this knowledge to a large group of ponies kept under a variety of management conditions in the South East of England.
We aimed to provide information that can be used by vets and owners to identify ponies that are at the highest risk of laminitis. We hope that this will help to identify these cases and intervene to prevent laminitis before severe and painful hoof damage occurs."
---
Notes to Editors
Reference
Knowles EJ, Harris PA, Elliott J, Chang Y-M, Menzies-Gow NJ. Factors associated with insulin responses to oral sugars in a mixed-breed cohort of ponies. Equine Vet J. 2023.
The full paper is available online at DOI: https://doi.org/10.1111/evj.13983
Knowles, E.J., Elliott, J., Harris, P.A. Chang, Y.M. and Menzies-Gow, N.J. Predictors of laminitis development in a cohort of non-laminitic ponies. Equine Vet. J. 2023: 55 (1) 12-23
The full paper is available online at DOI: https://doi.org/10.1111/evj.13572
Media enquiries
For media enquiries, please contact:
About the RVC
The Royal Veterinary College (RVC) is the UK's largest and longest established independent veterinary school and is a Member Institution of the University of London.
It is one of the few veterinary schools in the world that hold accreditations from the RCVS in the UK (with reciprocal recognition from the AVBC for Australasia, the VCI for Ireland and the SAVC for South Africa), the EAEVE in the EU, and the AVMA in the USA and Canada.
The RVC is ranked as the top veterinary school in the world in the QS World University Rankings by subject, 2023.
The RVC offers undergraduate and postgraduate programmes in veterinary medicine, veterinary nursing and biological sciences.
The RVC is a research led institution with 88% of its research rated as internationally excellent or world class in the Research Excellence Framework 2021.
The RVC provides animal owners and the veterinary profession with access to expert veterinary care and advice through its teaching hospitals and first opinion practices in London and Hertfordshire.
The SPILLERS™ Brand
The SPILLERS Brand is a proud partner in care and strives to lead, support and communicate research to continually expand knowledge and improve horse health worldwide. Having produced the first ever compound feed for horses back in 1958, the SPILLERS Brand now has feeds to suit all types of horses and ponies, including fibers, balancers, Laminitis Trust approved products and a superior range of thoroughbred breeding and racing feeds.
All SPILLERS products are underpinned by science from the Waltham Petcare Science Institute, a world-leading authority on pet nutrition and home to the WALTHAM™ Equine Studies Group, led by Professor Pat Harris, MA, PhD, VetMB, DipECVCN, MRCVS.
About the Waltham Petcare Science Institute
The Waltham Petcare Science Institute is Mars Petcare's pet research center. Our work focuses on the nutritional and behavioral needs of pets, as well as preventive health. We use this knowledge to support development of innovative products and services, advancing science to deliver our Purpose: A BETTER WORLD FOR PETS™. The WALTHAM™ Equine Studies Group, which is headed by Professor Pat Harris, MA, PhD, VetMB, DipECVCN, MRCVS, is dedicated to advancing the science of horse nutrition and provides the scientific support for MARS Horsecare globally including the BUCKEYE™ Nutrition, SPILLERS™, and WINERGY™ brands. By collaborating with key research institutes and universities around the world its work remains at the forefront of equine nutritional science.
The SPILLERS Brand is part of Mars, Incorporated, who put quality at the heart of everything.