24 hour contact: 01707 666297
RVC Professor accepts award from the International Hoof-Care Summit
The Royal Veterinary College (RVC) was pleased to welcome Carl Bettison, Past Master of the Worshipful Company of Farriers, to present Professor Renate Weller with an award on behalf of the International Hoof-Care Summit.
The award was given for Professor Weller's talk, "The pros and cons of various systems in quantifying foot movement", at the 2014 International Hoof-Care Summit. Her presentation was among the top four as voted for by the conference attendees. With over 2000 international delegates, the Summit is the biggest meeting of farriers in the world.
In her talk, Professor Weller pointed out how quantifying hoof movement is essential in clinical as well as research work. She also discussed the pros and cons of different methods of identifying movement, ranging from low-end solutions to high-end research lab systems.
Her talk centred around practical tips for farriers on what to consider recording during horse movement.
Renate, Professor in Comparative Imaging and Biomechanics at RVC, said "I'm delighted that my presentation was so well-received. My aim was to inform the farriery profession of the pros and cons of various methods of identifying movement. For example, smartphones, whilst they are easy and to-hand – they are not ideal as they easily fool the human eye. I wanted to convey my research into practical tips for farriers on things to consider in their everyday work."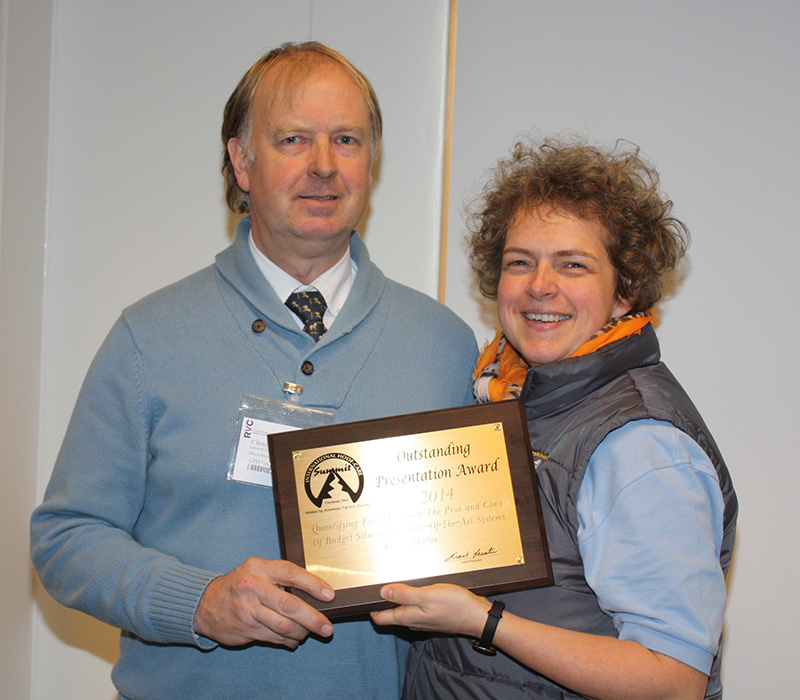 On presenting to Renate, Carl Bettison said, "I was lucky enough to attend the 2014 International Hoof Care Summit and listen to Renate's presentations. Renate's style of lecturing, which I would describe as relaxed, good humoured and informative, allows her to connect with farriers and communicate the important "take home points" which the farriers can benefit from.
"This award confirms my view at the time, that her presentation went down extremely well with all the delegates, I expect that Renate will be invited back very soon."
Her award was presented at a half-day course on laminitis for farriers and apprentices at the RVC's Hawkshead Campus. Academics from the RVC presented on both the pathogenesis and bio-mechanics of the disease and the event culminated in a discussion on the latest practical applications for treatment and case studies. The RVC has a long tradition of farriery research and is home to the largest animal locomotor research group in the world in its Structure and Motion Lab.
The RVC continues to lead the way in laminitis research and is currently home to the pasture-associated laminitis research programme. The programme aims to identify which individual horses and ponies are at an increased risk of suffering from pasture associated laminitis. The project is supervised by the RVC's Nicola Menzies-Gow, MA, VetMB, PhD, Dipl. ECEIM, CertEM (Int.med), FHEA, MRCVS, and Jonathan Elliott, MA, Vet MB, PhD, MRCVS, Dipl. ECVPT.