24 hour contact: 01707 666297
New research investigates how different horseshoes and surfaces influence hoof motion in galloping racehorses
New research from the Royal Veterinary College (RVC) examining the impact of different horseshoes and surfaces on hoof kinematics in galloping racehorses has been published in Animals, a leading veterinary science magazine. The findings from the research could help lower the risk of musculo-skeletal injuries, optimise gait quality and improve performance in galloping racehorses, during both training and racing.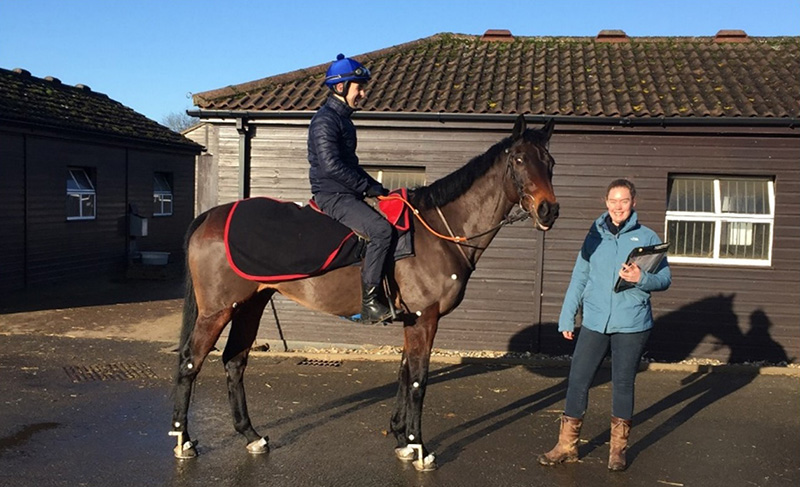 In the stride cycle of a horse, there is a period of time when the hoof pushes off from the ground surface and rotates through an angle of approximately 90 degrees before it is lifted off. This time period is known as hoof 'breakover'.
As a part of a project funded by the Horserace Betting Levy Board, equine locomotion experts Dr Kate Horan and Dr.-Ing. Thilo Pfau and professional farrier Peter Day from the RVC worked with the British Racing School and farriers in Newmarket to identify if the breakover period was impacted depending on whether horses are left barefoot or shod in aluminium, steel or GluShus (aluminium-rubber composite shoes).
The shoeing conditions selected were assessed on both turf and artificial (Martin Collins Activ Track) training surfaces at a range of gallop speeds. Leading and non-leading fore and hind limbs were also compared. Breakover duration was found to increase on the turf surface compared to the artificial track for all limbs. The first limb to contact the ground surface after the suspension phase (the non-leading hindlimb), was additionally sensitive to shoeing condition and an interaction that occurred between shoeing condition and speed.
Breakover duration was also found to decrease as speed increased and, intriguingly, the researchers found this trend was more marked in the hindlimbs compared to the forelimbs at speeds greater than approximately 45 km/h. Further investigation will be required to identify how individual horse variation might bear relevance for breakover times.
James Coburn, the lead farrier on this project, commented:
"For many years racehorse trainers have had varied opinions on running their horses on turf or all-weather surfaces shod or unshod. Some suggest that horses should be shod all round, just with front shoes or none at all."
"Over the past few years, the British Horseracing Authority (BHA) has implemented new rules encouraging horses to be shod for safety reasons. It has sparked some controversy and divided opinions amongst trainers who have their own training methods."
"As a farrier, I was keen to see how breakover was affected by different shoeing and surfaces, and it was brilliant to be part of project that combined traditional farrier techniques with a scientific approach and modern technology."
---
Notes to Editors
Reference
Reference: Horan, K.; Coburn, J.; Kourdache, K.; Day, P.; Harborne, D.; Brinkley, L.; Carnall, H.; Hammond, L.; Peterson, M.; Millard, S.; Pfau, T. Influence of Speed, Ground Surface and Shoeing Condition on Hoof Breakover Duration in Galloping Thoroughbred Racehorses. Animals 2021, 11, 2588. https://doi.org/10.3390/ani11092588
For media enquiries, please contact:
Jasmin De Vivo (jasmin.devivo@plmr.co.uk) or

rvc@plmr.co.uk
Press Line: 0800 368 9520
About the RVC
The Royal Veterinary College (RVC) is the UK's largest and longest established independent veterinary school and is a Member Institution of the University of London. It was the first in the world to hold full accreditation from AVMA, EAEVE, RCVS and AVBC.
The RVC is ranked as the top veterinary school in the world in line with the QS World University Rankings by subject, 2021.
The RVC offers undergraduate and postgraduate programmes in veterinary medicine, veterinary nursing and biological sciences.
In 2017, the RVC received a Gold award from the Teaching Excellence Framework (TEF) – the highest rating a university can receive.
A research led institution with 79% of its research rated as internationally excellent or world class in the Research Excellence Framework 2014.
The RVC provides animal owners and the veterinary profession with access to expert veterinary care and advice through its teaching hospitals and first opinion practices in London and Hertfordshire.