Hertfordshire is just a 20-minute train journey from central London but a peaceful change from the bright lights of the city.
It is a relaxed place in which to live and study and offers an alternative to the fast pace of London life, whilst remaining easily accessible.

Hawkshead Campus
The Hawkshead campus is situated in Hertfordshire, close to Potters Bar, and is a short train journey from London King's Cross Station. A free shuttle bus also runs between the station and campus.
Officially opened in 1959 by Queen Elizabeth II, the College has recently invested heavily into the Hawkshead Campus, and it now boasts unrivalled facilities. A newly-built student village, refectory, and leisure facilities mean the campus is quite self-contained. You will benefit from our state-of-the-art clinical and scientific facilities. The Centre for Excellence in Lifelong and Independent Veterinary Education (LIVE) will benefit your studies. This is the only veterinary-themed Centre for Excellence in Teaching and Learning in the UK, established in 2005 following an award of £4.9 million. It aims to enhance veterinary education through the development of novel approaches to learning through methods such as the Clinical Skills Centre, which was the first of its kind in the UK. This centre allows you to practice the day one skills needed to treat animals with confidence when you graduate.
The RVC Hertfordshire campus is also home to The Mill Reef Pathology Building. This complex accommodates a modern post-mortem hall with annexed containment and specialised areas, a 200-seat lecture theatre with direct video links to the main hall, and a series of pathology service and research labs.
Other fantastic clinical facilities on campus include:
The Queen Mother Hospital for Animals: a high quality animal referral hospital providing state of the art clinical services in a wide range of specialities.
Equine Practice: a first opinion practice serving Hertfordshire and other local areas, carrying out work in yards or stables.
The Equine Referral Hospital: referral clinical services to equine practices and horse owners throughout the south of England.
These clinical facilities provide students with the opportunity to be exposed to around 20,000 cases each year, allowing them to develop and practice their clinical skills.
Potters Bar has all the amenities that one would ever need and the Hertfordshire Campus itself has a student bar (the "Buttery"), a lovely and cheap way to relax after a day of studying. The beautiful 575-acre campus, provides the opportunity to enjoy the heart of England's fine countryside.
RVC INSIDER
Charlotte Harris, BVetMed student
The RVC really builds up your ability and confidence to problem solve in a logical manner. The clinical skills centre is absolutely fantastic – you get to practice real veterinary skills like suturing and setting up anaesthetic machines but in a relaxed learning environment. Regardless of whether you hope to go into farm, equine or small animal practice, you never know what your next patient may be! So being able to approach a clinical problem in a structured way and break it down makes diagnosing and treating the animal a less daunting prospect!

The facilities at the RVC are superb. The café and restaurant serve delicious food, the onsite gym makes working out really conveniently and the extensive library and computer facilities are fantastic for studying. What's really nice at the RVC is that you're always asked for feedback and they genuinely act upon it and are always looking for ways to evolve further.

For me, being taught by academics and clinicians that are genuinely passionate about what they do is really engaging and truly inspires you to learn more.

I have thoroughly enjoyed my time at RVC. It's been interesting, fun and challenged me beyond what I thought was possible! No two days are the same and I couldn't recommended the course more highly.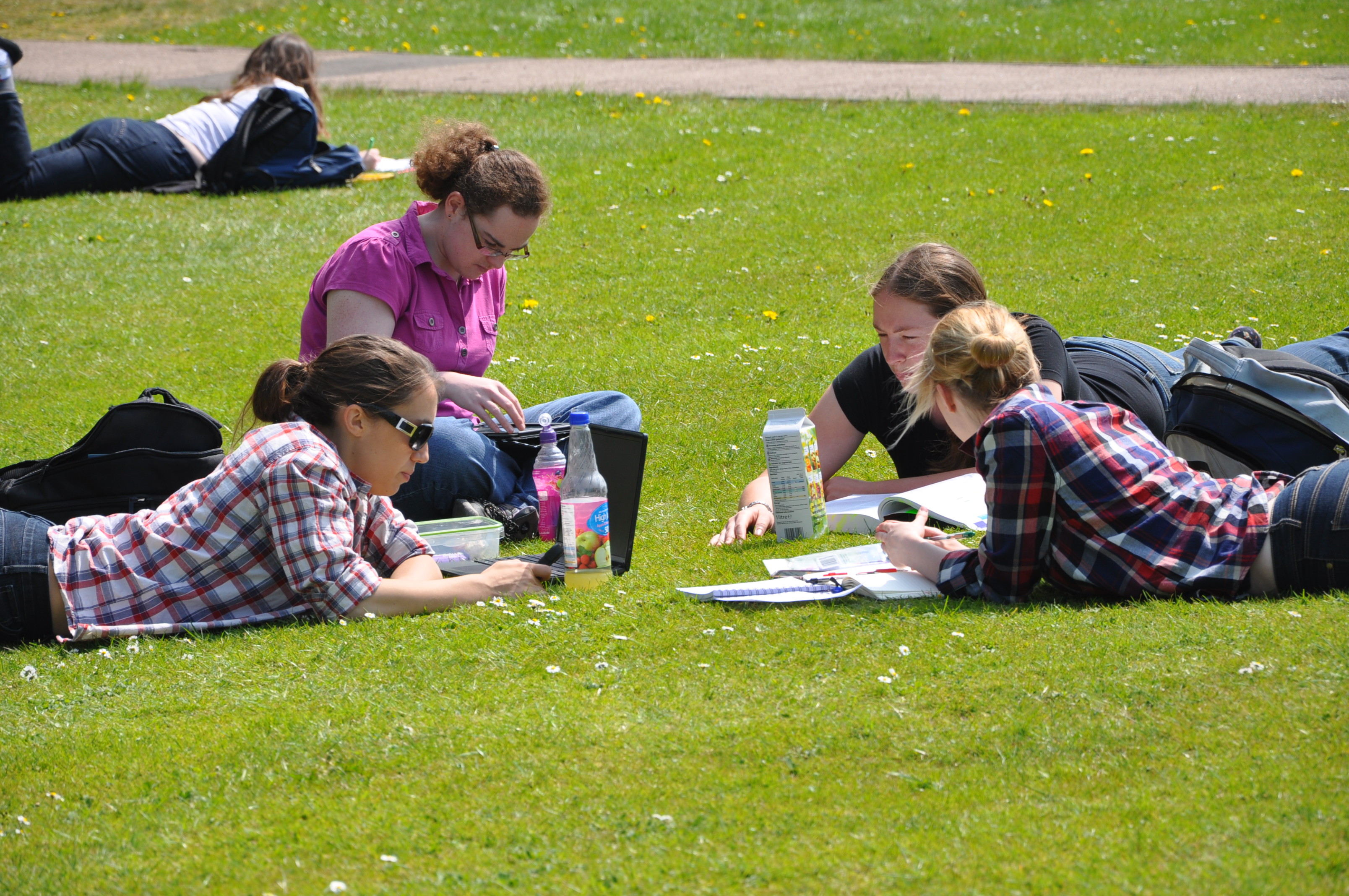 Life at our Hawkshead Campus
Life outside the hustle and bustle of the big city has many advantages and our Hawkshead Campus certainly has its perks. The local area is packed full of fun places to explore and things to do. As well as being able to enjoy the fresh air and countryside lifestyle, there are many things our students can get stuck into while living in Hertfordshire.
Health and Wellbeing facilities and resources are available at the RVC to help you keep your body and mind healthy, allowing you to make the most of your student experience.
The Sports and Wellbeing Centre (SAWC), located at our Hawkshead Campus, opened in 2017 and combines the facilities of a regular gym alongside a nine-metre climbing wall, a sports hall, a dance and aerobics studio, and a fitness room.
For those who are less competitive, the centre offers health walks, music therapy, and dance. You can also access complimentary health treatments, ranging from sports therapy and massage, as well as holistic treatments such as Indian head massages and Reiki. Facilities offered include:
A sports hall for badminton, netball, basketball, football and more
Gymnasium
Dance and aerobic studio
Climbing wall
Changing rooms and team changing rooms
Social areas including a table-tennis table and Batak
London city centre is only 20 minutes from Potters Bar station by train. Discounted prices are available to holders of any of the following cards: 16-25 Railcard, 26-30 Railcard, and your 18+ Oyster card can be connected to the aforementioned railcards for further discounts. Trains run frequently and late into the night on both weekdays and weekends. This opens up access to the whole city and means travel to the city is quick and easy. The free shuttle bus service that runs between the station and campus makes getting into the city centre even easier.
A popular pastime of our students is walking and hiking around the local area. What better way to enjoy the countryside and get a dose of fresh air than to explore the countryside on foot. There are multiple routes and trails around the Potters Bar area, which are a great way to explore the peaceful surroundings of the Hertfordshire campus. The RVC even has its very own nature trail on campus, which features a toxicology and medicinal garden.
Social life is essential to the great student experience you will have at the RVC - crucial to this is the opportunity to join our many clubs and societies. There are currently over 600 regular participants in our diverse range of sports clubs ranging from wakeboarding to badminton. Despite the fact that the RVC is a relatively small and specialist college, it is well known for punching above its weight when it comes to sporting success!
Aside from sport, the RVC Student Union supports a vast range of clubs and societies as well as various training courses. Examples of just some of our many societies and clubs include:
Animal Welfare Society
Ice Skating
Mountaineering
Performing Arts Society
Boat Club
Vegetarian and Vegan Society
Wine Tasting Society
Asian Society
Yoga & Meditation
Choir
Ultimate Frisbee Club
Art Society
A more comprehensive list of our societies, events and more can be found on our RVC Student Union website.
The Buttery is our pub and the very heart of the Hawkshead campus. Part of the RVCSU, The Buttery has been a place for RVC students and staff place to catch up over a pint since 1958. It also offers live sport and music. The pub is equipped with draught beer and cider as well as wine, spirits and snacks at student friendly prices. Those who wish to spend some time off campus can enjoy a range of pubs in Potters Bar, such as the Admiral Byng, where you will find RVC students on any given Friday or Saturday night.
Potters Bar is the closest town to the Hawkshead campus and is where most of our students end up living when they move out of student halls. It is a town on the outskirts of London which dates back to the 13th century, and local establishments include Wyllyotts Theatre, Jain Temple, and Oakmere Park. Potters Bar also boasts a good number of restaurants and independent shops as well as churches of various denomination. GoApe is also popular amongst our more adventure-minded students.