The Students' Union provides a range of services, support, social activities and student development opportunities.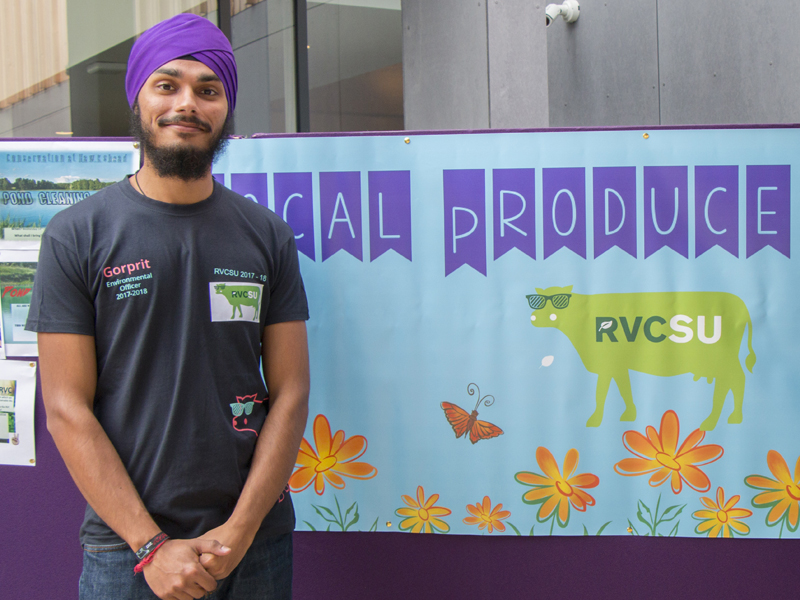 As soon as you start your course at the RVC, you can get involved with everything the Students' Union offers, from sports clubs, societies, volunteering opportunities, student support, nights out, and advice. The Students' Union is a big part of life on campus, providing opportunities to get involved whatever your interests.
The Students' Union represents students across the RVC. This includes promoting students' views, liaising and working with staff to improve student life and generally making your time at the RVC the best it can possibly be.
Our Students' Union support and participation is available to students on all courses, and covers a wide range of issues, including environment, welfare, sports, entertainment, fundraising and more.
Find out how you can get involved on the RVC Students' Union website.
---
Meet the Students' Union President
The Students' Union encompasses three main goals at its core: enrichment, support, and representation surrounding the RVC Student Body and their overall experience while at university. Your SU Team contains an eclectic mix of officers from different backgrounds and year cohorts each bringing a unique perspective to their position. Our roles span across activities, welfare, equality and diversity, international issues, vet nursing, and more! We also have dedicated staff members working behind the scenes overseeing the operational capacities of our group. You can find us on both campuses always ready to serve along with our social meetup points: the SU Shop, the Haxby and Buttery, and our permanent offices. Regular office hours are always in place and sign-posting to a plethora of resources are always on hand to help you.

My favourite part about the Students' Union is their consistency and constant drive to grow our community on campus and advocate for change when needed. Working alongside the RVC, they work to adopt fair policies, outline areas for improvement, and most importantly, have fun. Here at RVC, we aim to have options for every single student to get involved be it a sport, society, or wellbeing activity no matter your schedule or degree you are embarking upon. Our community aims to follow the initiative: 'By Students, For Students' so everyone can feel at home and supported during this new chapter which sometimes can be a little daunting. We look forward to welcoming you to our family and hope that you will think RVC is the right choice for you to continue your journey!"

- Legend Thurman, RVCSU President 2022-23
---
Clubs and Societies
RVC societies are run by current students and The Students' Union. They allow you to get to know people outside the lecture hall who share similar interests – whether that be a sport, hobby, an academic interest or a shared culture.
Wednesday afternoons are typically reserved for you to socialise with your club or play sport with your team. Currently we have 13 sports teams that compete weekly in the BUCS (British University College Sport) and/or LUSL (London University Sport League) leagues, with other sporting events and competitions also open to enter throughout the year. The season typically runs from October to March, with the RVC playing university teams from in and around London. The RVC sporting year concludes with Varsity, where teams from the Camden and Hawkshead campuses compete against each other to determine who is the superior campus.
Remi Munn, Bachelor of Veterinary Medicine
There are lots of clubs and societies on offer here at the RVC. I have been part of the hockey, polo and gymnastics clubs since I have been here. As well as all the fantastic sports on offer, there are also lots of non-sporting societies.
Eriyn Earnshaw, MSci Biological Sciences
I settled in instantly thanks to the RVC having such a vibrant and welcoming community. The RVC Welcome Week for all new students was packed full of fun activities, informative talks and, of course, the incredible Freshers' Fair. With such a variety of societies to join, it has been great to sign up and take part. I most recently attended the 'Evolution of Bats' talk delivered by a guest speaker as well as a pumpkin carving competition held by the RVC Zoological Society!
Paula Vilcu, Bachelor of Veterinary Medicine
So far, I have joined the Student Small Animal Veterinary Society (SSAVS), Student Veterinary Emergency and Critical Care Society (SVECCS), and the Royal Vets Surgical Society (RVSS). These societies offer opportunities to learn about different aspects of clinical practice, even if you're still in your pre-clinical years – it's never too early to learn more about what you'll be doing on the daily as a vet!

For example, I got to participate in a dental extraction practical through SSAVS and a suture practical that was jointly run by SVECCS and RVSS, which were both surreal experiences as they were my first time using the tools that until then I only got to clean as a veterinary assistant.

In addition, I am part of the Canadian Society, which has been amazing at helping me feel more at home here at the RVC! They host an annual Thanksgiving where Canadian and non-Canadian students alike can gather to enjoy a traditional Thanksgiving dinner – they have been great opportunities to meet other students on the same journey as me and make new friends!