The Royal Veterinary College is at the forefront of the veterinary application of interventional radiology (IR). IR provides state-of-the-art solutions for debilitating and life-threatening conditions using minimally invasive techniques.
By facilitating minimally invasive techniques IR helps to reduce discomfort for animals and the amount of time spent in hospital.
We have some of the most advanced diagnostic imaging equipment available at any veterinary service in the world. This enables our specialists to view the anatomy of animals in great detail before planning and performing treatments. Our imaging facilities include ultrasound, fluoroscopy, CT and MRI scanners.
As IR has numerous applications, clinicians in our interventional radiology team come from a range of specialties and this fosters a multidisciplinary teamwork approach. IR facilitates the treatment of diseases throughout the body, including those of the heart, kidneys, liver, urinary tract and lungs.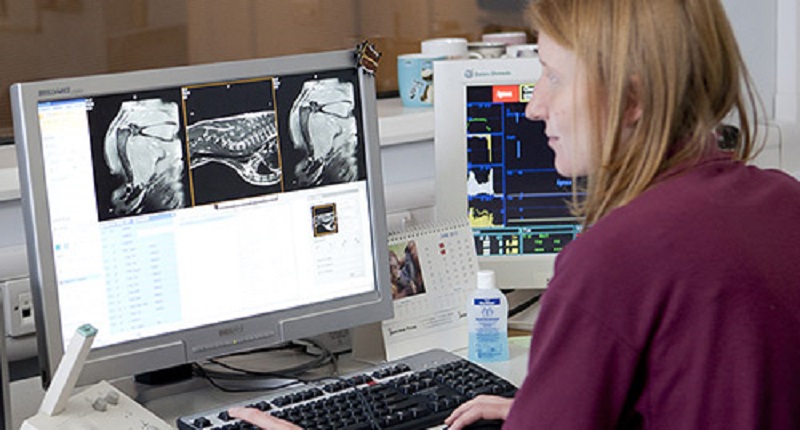 Examples of innovative techniques, facilitated by IR, that have benefited our patients include:
Fluoroscopically-guided anterograde guidewire placement, allowing urethral catheter placement in cats with urethral rupture. This means cats can be managed for this life-threatening injury without surgical intervention.
Urethral stenting, using laser-cut self-expanding nitinol stents, can be used for management of benign or malignant urethral strictures, overcoming urinary obstruction.
Intraluminal tracheal stenting can be used for management of intra-thoracic tracheal collapse, allowing patients to breathe comfortably and be able to enjoy exercise again.
Stenting of the nasofrontal ostia and the management of nasopharyngeal stenosis
Balloon valvuloplasty for congenital narrow heart valves
Amplatzer occlusion of patent ductus arteriosus
Transvenous cardiac pacemaker implantation