Extracorporeal Therapies (Dialysis and Plasmapheresis)
The RVC's small animal referral hospital is the first veterinary hospital in the UK to offer advanced extracorporeal therapies, including dialysis and plasmapheresis (therapeutic plasma exchange).
These are pioneering blood purification treatments that are used in both dogs and cats with kidney failure, immune mediated disease and toxicities. Both of these therapies have been used to treat cutaneous renal glomerular vasculopathy (CRGV) or Alabama rot.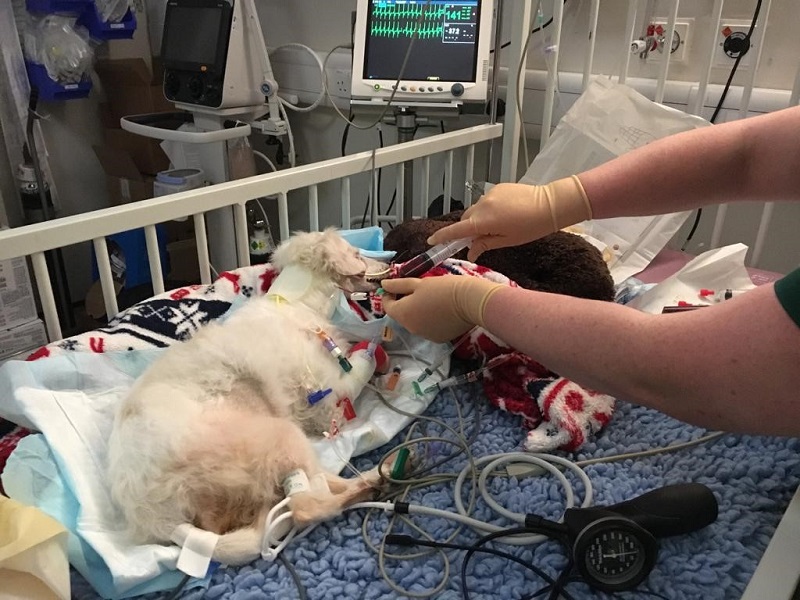 Dialysis
At the QMHA we are able to provide dialysis (blood purification) for dogs and cats with acute kidney failure using a form of treatment called continuous (CRRT) or prolonged intermittent (PIRRT) renal replacement therapy. 'Dialysis' allows removal of toxins that are normally processed by the kidneys using a special filter and allows time for the kidneys to hopefully recover. At this time, we are not able to treat dogs and cats with chronic kidney disease.
If you have a dog or cat with acute kidney failure then prompt referral for examination is important. All potential dialysis cases will be seen via the Emergency and Critical Care team. Further information about dialysis for pet owners and referring veterinary surgeons can be found in our fact sheet area. If you think that your pet would benefit from 'dialysis', please ask your veterinary surgeon to contact us to speak to a member of the extracorporeal therapies team.
Therapeutic Plasma Exchange
We also offer therapeutic plasma exchange for dogs. This is a treatment that can be used for some immune mediated conditions (where the immune system attacks the body) where conventional immunosuppressive drug therapy is not effective. It has been used to treat dogs with:
Immune mediated haemolytic anaemia (destruction of red blood cells)
Immune mediated thrombocytopenia (destruction of platelets)
Myasthenia gravis
Polyradiculoneuritis
Cutaneous renal glomerular vasculopathy (Alabama rot)
During therapeutic plasma exchange blood is purified by separating plasma which contains molecules from the immune system (e.g. antibodies) and replacing with healthy donor plasma.
Toxins and toxicology expertise
The availability of 'dialysis' and therapeutic plasma exchange strengthens our position as a leading centre of expertise in toxicology as these therapies can be used for both drug and toxin removal.
Toxins that can be removed by dialysis and/or therapeutic plasma exchange
| | | | | | |
| --- | --- | --- | --- | --- | --- |
| Acetaminophen | Acetylsalicylic acid | Amanita ingestion | Aminoglycosides | Baclofen | Barbiturates |
| Carprofen | Chloramphenicol | Cisplatin | Diclofenac | Digitoxin | Digoxin |
| Ethylene Glycol | Ibuprofen | Meloxicam | Thyroxine | Tricyclic antidepressant | Vincristine/ Vinblastine |
We are able to offer dialysis for ethylene glycol (anti-freeze) toxicity but patients must be referred within ~two hours of ingestion. The table above contains only some of the drugs/toxins that can be removed so please get in touch with the Emergency and Critical Care team if you need to discuss management of a toxin or overdose patient.