Rabbit Neutering (spaying and castration)
What is rabbit neutering?
Neutering is a surgical procedure to spay or castrate your rabbit to ensure they are no longer able to breed.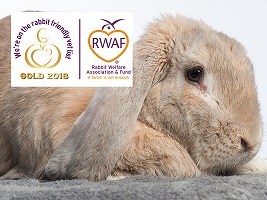 What is rabbit spaying?
Spaying your rabbit involves the surgical removal of the ovaries and uterus. This procedure is called an ovariohysterectomy, or spay.
What is rabbit castration?
Castration is the removal of the testes' functionality. Surgical castration is the removal or excision of both testes. Chemical castration uses pharmaceutical drugs to deactivate the testes. Pet castration is used for both birth control and behaviour management purposes.
What happens when my rabbit is neutered?
Your rabbit's neutering operation is performed under anaesthesia. Your pet is then carefully monitored after surgery by our highly-qualified and registered veterinary nurses.
What is the best age to have my rabbit neutered?
We recommend
castration of male rabbits from 4 months of age
spaying of female rabbits from 5 months of age.
Earlier neutering may be considered for some animals and this can be discussed with your vet.
How long does a rabbit neutering operation take?
Your rabbit will be admitted for the procedure in the morning and the surgery will be completed that day. We recommend keeping your bunny hospitalised overnight after neutering to ensure they are well supported in recovery and can be provided with additional pain relief if needed.
Why is rabbit neutering important?
Spaying of female rabbits prevents unwanted litters, aggressive behaviour and most importantly uterine adenocarcinoma (cancer). Up to 80% of unneutered female rabbits have been found to suffer from this painful fatal condition (which will be totally prevented by spaying). Castration of male rabbits prevents fighting, urine spraying, breeding and other undesirable behaviours.
Where can I get my rabbit neutered?
Here at the RVC Beaumont Sainsbury Animal Hospital, we offer a full pet neutering service across a wide variety of species.
Why choose RVC ?
RWAF Gold Standard in Rabbit Medicine and Surgery
It is is hard not to worry when your pet is having a anaesthetic and undergoing a surgical procedure.
As pet owners ourselves, we understand this.
Rabbit anaesthesia in particular is associated with more risks than dog and cat anaesthesia.
Reassuringly, Beaumont Sainsbury Animal Hospital has achieved Gold Standard in Rabbit Medicine and Surgery awarded by The Rabbit Welfare Association and Fund.
This means your rabbit will be in the hands of experienced rabbit vets and nurses and receiving exemplary care from people who understand they are not just little dogs and cats!
When can I get my rabbit neutered?
We run spay and neutering clinics Monday to Friday (advance booking required).
How much does rabbit spaying/neutering cost?
Your pet spay/neuter costs will vary according to the type of neutering involved and your circumstances.
Standard rabbit spay cost: £200
Standard rabbit castration cost: £150 (*Prices quoted as at December 2022)
What does the rabbit neutering price include?
The price includes:
A full pre-operative physical examination
The anaesthesia and surgery
overnight hospitalisation for ongoing pain relief, treatment for gut stasis and supportive feeding
a discharge appointment with a qualified nurse who will answer any of your questions
5 days of pain relief
5 days of medication for gut stasis (a common occurrence in rabbits post operatively)
two post operative examinations
How do I book a rabbit neutering appointment?
Firstly, your pet needs to be registered with us.
Once your pet is registered – we can book your rabbit neutering appointment