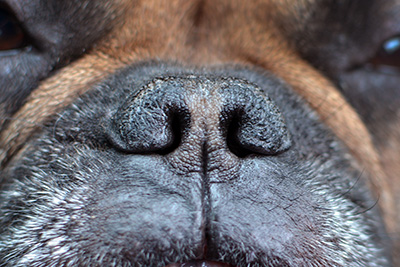 The Dermatology Service at the RVC treats a wide range of skin and ear problems in dogs of all breeds referred to RVC Small Animal Referrals.
Over the past 12 months, the proportion of dogs belonging to markedly brachycephalic breeds (those with facial skin folds) represented 20% of all patients seen by the service, with English and French bulldogs accounting for 83% of these.
These breeds are recognised to be predisposed to allergic (atopic) skin disease, affecting the face and ears, in addition to other body sites. The brachycephalic conformation, causing facial folds and narrow ear canals, favours chronic skin infections that cause discomfort and significantly complicate the successful, long-term management of allergic skin disease.
Even markedly brachycephalic dogs that do not have allergic skin disease still frequently require intensive home skin care protocols to manage skin fold dermatitis.
Brachycephalic conformation also promotes the progression of chronic or recurrent ear canal infections to middle ear disease, and is associated with a high prevalence of middle ear effusion, both of which may lead to neurological signs.
The most common brachycephalic dog breeds predominantly present to our service with problems that result from a combination of a predisposition for life-long inflammatory skin disease, conformational factors relating to brachycephaly (facial folds, ear canals, middle ear/nasopharynx), as well as conformational factors not relating to brachycephaly (feet, tail fold).
These problems are welfare-relevant because they are common in those breeds, chronic, usually associated with significant discomfort, and because they may not be detected early enough to allow intervention to prevent progression. Their management is time-intense and carries a lifelong cost burden.
As the popularity of brachycephalic breeds is increasingly reflected in our referral caseload, we are monitoring their treatment needs and outcomes.