Beaumont Sainsbury Animal Hospital (BSAH) is an RVC veterinary hospital in Camden, London, close to Kings Cross station. We offer a full range of services for your dog, cat, rabbit, reptile, bird or other small animals, from vaccinations and neutering to medical diagnosis and life-saving operations.
Our dedicated team of vets and veterinary nurses are committed to providing excellent care and treatment. Each member of our team has a special interest in particular fields, such as dentistry, diagnostic imaging, medicine, surgery and exotic species. This means all species receive expert treatment by genuinely interested and caring practitioners.
As an RVC teaching hospital, final year veterinary students participate in consultations under the close supervision of experienced veterinary surgeons. This means that, as well as getting exceptional care, clients and patients who visit us assist with the development of the vets of the future.
Highly trained and experienced veterinary nurses play a key role at the hospital and the BSAH is a leading centre for veterinary nurse training. Student veterinary nurses are supervised by qualified veterinary surgeons or experienced registered nurses at all times. All BSAH nurses are registered, some also hold advanced nursing diplomas and all hold accreditation as a clinical coach.
The BSAH is fully accredited under the Royal College of Veterinary Surgeons' Practice Standards Scheme. This recognises the high level of care and facilities provided by the hospital. For more information about the scheme, visit the RCVS website.
What we offer routine pet healthcare as well as pet emergency services such as:
New Pet Introduction Visits – A free initial consultation with one of our Nurses to meet the team and discuss lifelong care plans
Vaccinations
Neutering
Pet Microchipping
Parasite control (flea and worm treatments)
Annual Health checks – including advice on keeping your pet healthy
Unwell pet appointments – you can be reassured that your pet is in great hands with our caring and experienced team
Pet travel advice and pet passports so ensure you keep your pet healthy whilst travelling
Emergency care – for serious or life threatening illness and injuries, call us and come straight in
Award-winning vet clinic
We are proud to hold both the International Society of Feline Medicine Gold level 'Cat Friendly' clinic status. A leaflet explaining how that makes us different is available here Download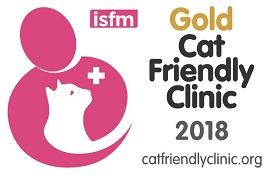 We are also a Rabbit Welfare Association & Fund (RWAF) Gold standard clinic. This is highest possible endorsement awarded by the RWAF and signifies the best standards in rabbit care and wellbeing at a veterinary surgery or hospital.