Our work and volunteering in the community
Our staff and students are the RVC's ambassadors and champions. They work throughout our communities in both Hertfordshire and London.
Here are just a few of the ways we get out and about in the communities we work in:
Cleaning up the local area – Litter picking walks
Staff and students have recently come together to kick-start a monthly litter picking initiative as part of our environmental stewardship role and ongoing commitment to support the local community.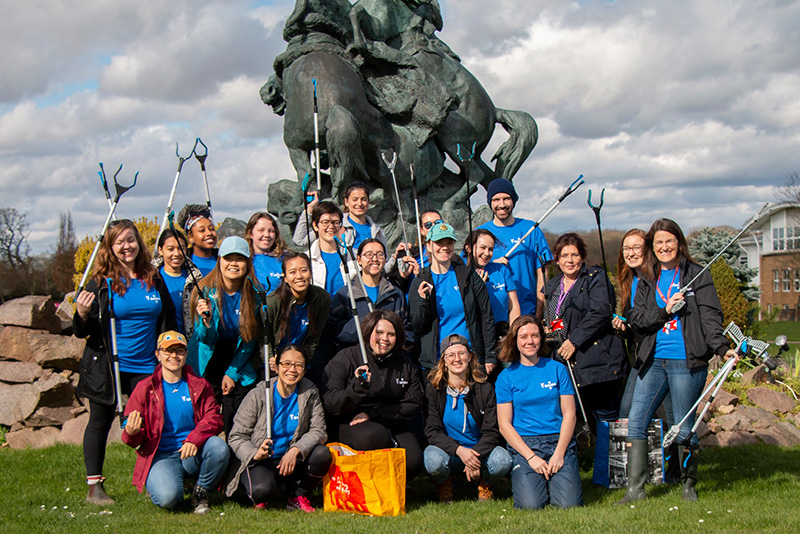 The Community Relations team joined forces with two of our SU Clubs and societies, the Student Animal Welfare Society (SAWS) and the Student American Veterinary Medicine Association (SAVMA) to clear up the campus, Hawkshead Lane, the Line path and surrounding areas to improve and enhance the local area.
These litter picks will continue on a regular basis - even socially distanced!
RVC Pet First Aid Events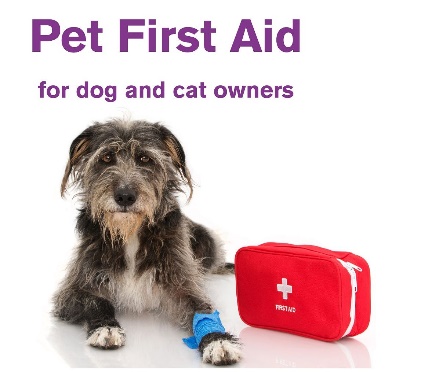 We organise and run Pet first aid events on each campus for cat and dog owners.
These events cover two main areas – basic first aid and poisons and toxins.
Keep an eye out under our news and events section for the next Pet First Aid course.
Equine Lecture Series
The RVC Equine team organise a series of popular talks for all horse riders and owners.
These insightful forums provide information, discussion and advice on horse diseases and conditions such as laminitis, gastric ulcers, headshaking, poor performance and yard biosecurity. The events are supported by the British Horse Society who recently awarded the events with CPD accreditation status.
Due to COVID-19, these events are currently available online rather than as "attendance" events. For further details visit our Equine Hospital pages.
Potters Bar Carnival
In June 2019 we participated, for the first time, in the local Potters Bar Carnival. RVC students and staff came together to decorate a float and coach, donated by Lantern and South Mimms Travel. Peter, one of the South Mimms coach drivers, transported us around and joined the procession.
Together the RVC and South Mimms Travel put on a great show – students had the chance to meet local residents and our Widening Participation teams had a stall at the showground after the procession.
Unfortunately the 2020 event has had to be cancelled but we look forward to getting involved again in 2021.
Game Fair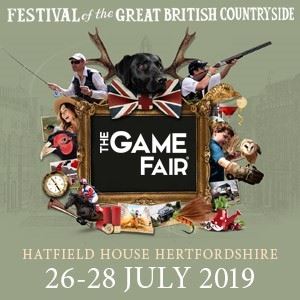 Last July, we joined Welwyn Hatfield Council on their stand at the Game Fair which took place in the very large grounds of Hatfield House. The Fair boasts over 120,000 visitors over one weekend and we spent the weekend promoting the RVC Blood Donor Scheme alongside our Blood Transfusion Nurses and Student Ambassadors, who demonstrated and sold our Pet First Aid Kits, whilst promoting the RVC to a very wide audience - some visitors travelled from as far as The Netherlands just to attend the event.
Thanks to Welwyn Hatfield Council for their invitation to join them.
Our Work with local schools and colleges
The Community relations team offer the chance for KS2 pupils from local primary schools to come for an education farm visit and our student ambassadors can come to local primary schools to talk about a range of science or veterinary careers. Our Widening Participation and Outreach teams host a whole range of events and initiatives for school and further information on what is available can be found here.
Foodbanks - Trussell Trust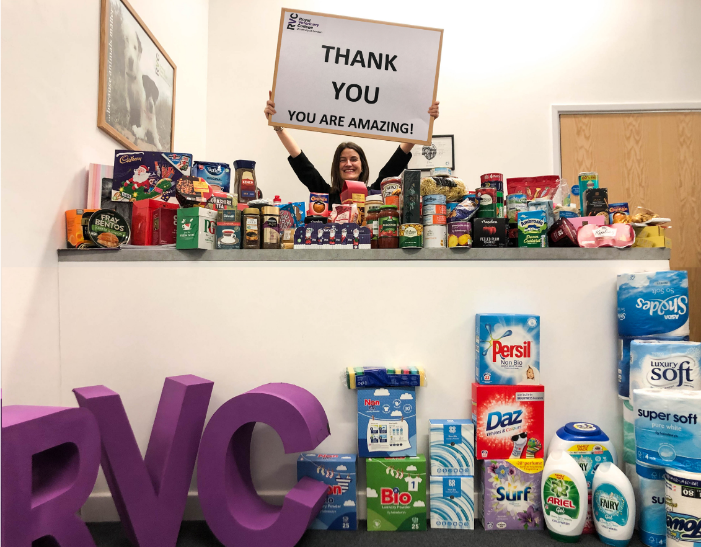 We currently support the Trussell Trust and in particular their Hatfield and Potters Bar Branches.
In December 2019 our staff and students donated over 272kg of food and to help those in need.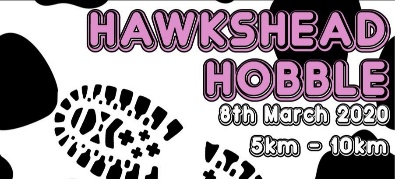 The RVC's Students Union Triathlon Club organise an annual run for local running clubs, community members and students known as the Hawkshead Hobble in March each year. The club raised over £1,500 this year for the Potters Bar Foodbank.
The RVC's working farm covers over 200 hectares of Hertfordshire countryside and has been an essential part of the RVC's activities for over 50 years.
Our farm teams work closely with our students and the local community. The farm team host meetings and advise local landowners and farmers clubs, sell produce to the local residents and host school visits and the annual Open Farm Sunday event where the local community are invited to come and learn about all of the activities on a working farm including the life of a dairy cow
Our dairy herd produce milk that is sold to Arla Foods and will find its way to your local supermarket or corner shop. We are hoping soon to get a milk vending machine which will pasturise the milk we produce ready for sale to the local community.
Did you know we produce between 18,000-19,000 litres of milk at the farm every week? Now that is a lot of milk our cows are busy producing!
The farm has also participated in Care Farm projects to promote the importance of farming and accessibility to people of all backgrounds, from those experiencing social or educational exclusion, with learning difficulties, with mental or physical health issues or those recovering from drug addiction. The benefits include improving and boosting self-esteem, motivation and personal development.
Primary School Visits to the Farm.
The Community Relations team offer educational farm visits for KS2 pupils from local Primary Schools

If you are interested in your school coming to visit our farm, contact Nicola Butler, Community Relations Executive on 01707 669642 or email communityrelations@rvc.ac.uk.
RVC for All
At the Royal Veterinary College, we believe that participation in higher education for budding scientists, veterinarians and veterinary nurses is essential. Giving young people a taster of what each of course area is like, and experiencing student life at university is a key step to nurturing educational and career curiosity.
Learn more about the exciting events we run, the RVC attends and how our Outreach and Widening Participation teams work in the communities we serve.