New review on antimicrobial resistance in livestock highlights knowledge gaps which threaten global health
Researchers at the Royal Veterinary College (RVC) have highlighted substantial research gaps in the field of antimicrobial resistance which need to be addressed to tackle serious global health threats.
Antimicrobial resistance (AMR) in humans and animals is a major issue of global public health importance. AMR can have an adverse impact on animal health and welfare, and consequently on food security and the livelihoods of farmers, as antimicrobials play a crucial role in treatment of diseases in livestock around the world.
Given increasing concern in the global community over the use of antimicrobials in agriculture, a number of important questions have been raised by scientists and policy-makers. How does resistance emerge in food animals? Does AMR spread through the food chain from animals to humans? And if so, how important is this pathway compared with human sources of AMR? How important is the spread of AMR from livestock into the environment for spread to other animals and humans?
These and other critical questions are the focus of the new review by a team of researchers led by Professor Dirk Pfeiffer from the Veterinary Epidemiology, Economics and Public Health (VEEPH) Group at the RVC and experts from the Food and Agriculture Organisation of the United Nations (FAO). The findings have been published by the FAO as a technical paper on the epidemiology of antimicrobial resistance in animal production, intended to inform veterinarians, farmers and other stakeholders worldwide.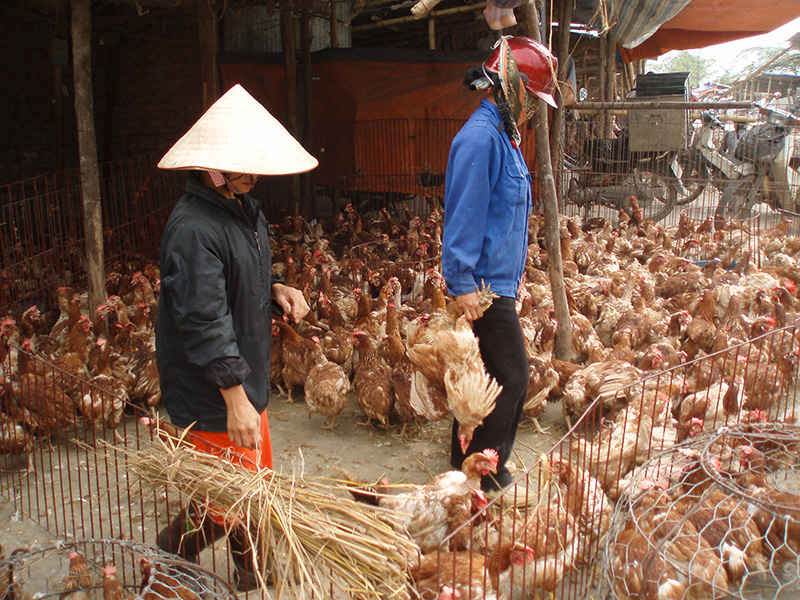 Professor Pfeiffer, Professor of Veterinary Epidemiology at the RVC and Professor of One Health Hong Kong's City University, said: "It has been a major success that political leaders from around the world have now recognised the enormous threat for the global community associated with AMR and the challenge that it represents for all stakeholders. We are only just beginning to recognise the immense complexity of the eco-social system within which antimicrobial resistance emerges, and rather than one sector blaming the other, a truly integrated perspective based on a One Health approach is required to have a chance to deal effectively with this threat. The findings from our review very much confirm that antimicrobial usage in food production undoubtedly needs to be reduced, while acknowledging that current knowledge suggests that the vast majority of AMR affecting humans is associated with antimicrobial usage in humans."
Ben Wall, the paper's first author and a researcher in the VEEPH Group, said: "It was really exciting to have the opportunity to work on this review paper as AMR is such a dynamic area of research at the moment, as well as it being a huge issue for all of us working with production animals.
"We discovered that there are still a lot of unknowns regarding the spread of AMR between animals and humans. Antimicrobial usage in livestock has been associated with AMR in food-producing animals. However there is limited evidence at present concerning the number of infections in humans caused by resistant bacteria of food animal origin, or indirectly through the environment.
"Nevertheless, the prudent use of antimicrobials is still of utmost importance in mitigating the emergence of AMR in the first place, and this is true in human health, companion animal health and food production systems.
"Due to the complexity of AMR epidemiology, filling the knowledge gaps will require a collaborative, multidisciplinary approach." Detailed recommendations for future research are included in the FAO paper.".
Several experts in the VEEPH Group are involved in research in antimicrobial resistance. For more information please see VEEPH or contact Ben Wall: bwall@rvc.ac.uk
View the FAO news story: Giant research leap is needed to rein in farm-driven antimicrobial resistance
Download the full technical paper here: Drivers, Dynamics and Epidemiology of Antimicrobial Resistance in Animal Production
---
Press Office Contact
Uche Graves / Zoe White
T: 0800 368 9520
E: uche.graves@plmr.co.uk / zoe.white@plmr.co.uk
Notes to Editors
The Royal Veterinary College (RVC) is the UK's largest and longest established independent veterinary school and is a constituent College of the University of London. The RVC offers undergraduate, postgraduate and CPD programmes in veterinary medicine, veterinary nursing and biological sciences, being ranked in the top 10 universities nationally for biosciences degrees. It is currently the only veterinary school in the world to hold full accreditation from AVMA, EAEVE, RCVS and AVBC.
A research-led institution, in the most recent Research Excellence Framework (REF2014) the RVC maintained its position as the top HEFCE funded veterinary focused research institution.
The RVC also provides animal owners and the veterinary profession with access to expert veterinary care and advice through its teaching hospitals; the Beaumont Sainsbury Animal Hospital in central London, the Queen Mother Hospital for Animals (Europe's largest small animal referral centre), the Equine Referral Hospital, and the Farm Animal Clinical Centre located at the Hertfordshire campus.
RVC Press Release 22 December 2016
See other Press Releases.
---
You may also be interested in:
Our VEEPH group was well represented at ISVEE 16 (International Symposium on Veterinary …