It's a bird, it's a plane!
As part of this year's Royal Society's Summer Science, researchers from the Royal Veterinary College (RVC) and the University of Bristol have been selected to share their ground-breaking research on aerodynamics in birds and how this could inform the development of future aircraft design.
Running online from Thursday 8 July to Sunday 11 July 2021, the Royal Society is welcoming its visitors to meet the researchers behind some of the leading science in the UK. Across the four days, visitors will have access to cutting-edge science and will be able to take part in online workshops, lectures, interactive activities and games, free-of-charge.
During the event, a team from the RVC and University of Bristol will showcase the significant discoveries they have made over the past five years, examining how birds fly and what we can learn from their clever aerodynamic tricks. This research includes various experiments, including creating a bespoke gust generator and wind tunnel to assess movement and flight of owls and eagles in gusty conditions, revealing how their wings and muscles act as a 'suspension system', smoothing the path of the body. The team also flew the birds through a cloud of helium-filled soap bubbles to capture the 'aerodynamic footprints' of their wakes and discovered their tails both produce lift and reduce drag. These studies will help inform the design of safer and more energy efficient drones and unmanned aircraft.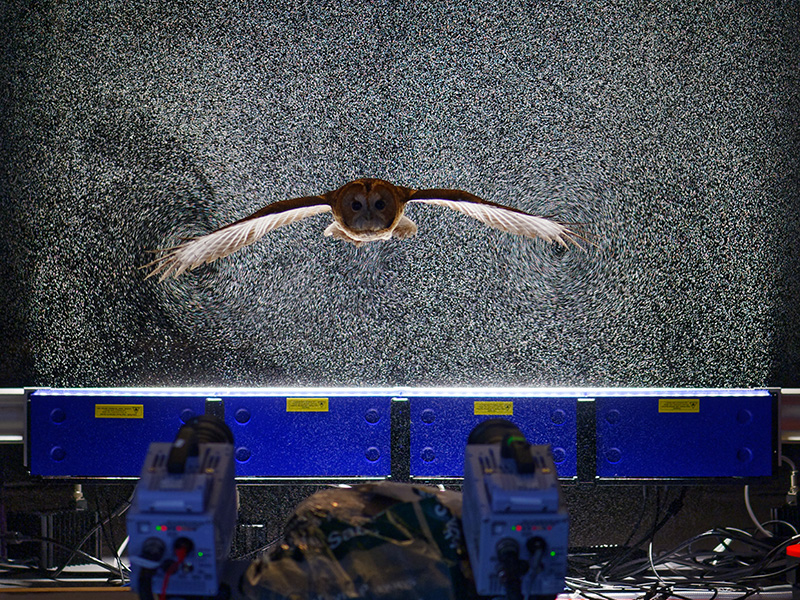 To bring this suspension mechanism to life and give visitors a flavour of the fascinating science undertaken by the researchers, the team have created an interactive game, "It's a Breeze". The game challenges users to navigate Lily the barn own through certain scenarios and learn how birds deal with strong gusts. Visitors can also take part in the team's brand-new augmented reality experience, OwlAR (click on a mobile device), which allows users to recreate the wind gust experiment in any location. The research behind this fun and interactive content is significant because it begins to solve two of the major problems facing aerial vehicles – smoothness of flight and fuel economy.
Professor Richard Bomphrey, Interim Vice Principal for Research and Professor of Comparative Biomechanics at the RVC said:
"We try to understand the natural world from an engineering perspective, then flip it around to use our biological knowledge to improve engineering design. It has been a privilege to exhibit our work on the engineering applications of bird flight at the Royal Society Summer Science event.
"Our virtual visitors can see how observing birds of prey has helped us to develop hinged-wing aircraft for a smoother ride and reduce the drag of future small aircraft with bird-like tails. On top of that, we have brought a slice of science directly to our audience whereby they can experiment by flying our favourite barn owl, Lily, around their home using our augmented reality experience, OwlAR.
"The all-digital format this year has been a fun challenge and a great way to communicate our scientific research to the world - we hope we have made engaging interactive content with an enduring appeal."
Professor Jim Usherwood, Wellcome Trust Senior Research Fellow, said:
"The Royal Society Summer Exhibition lives on! Interesting, beautiful and useful science and a chance to chat to those involved. We get to show off owls, eagles, helium bubbles, air jets and Augmented Reality that puts a flying barn owl in your living room as well as explaining some of the tricks used by birds, and how they might improve aircraft design."
Jonathan Stevenson, PhD, Research Associate in Bird-inspired Aerodynamics from the University of Bristol's Department of Aerospace Engineering, said:
"It has been tremendous fun curating our research for the public via the Royal Society. We aim to get everyone thinking (and dreaming!) about the future of aircraft and to inspire the scientists of tomorrow."
Dr Shane Windsor, Senior Lecturer in Aerodynamics in Bristol's Department of Aerospace Engineering, said:
"Future aircraft and aerial robots may operate in very different ways from current technologies. By studying bird flight, we can get inspiration for new ways of solving challenges such as saving energy and dealing with gusty wind conditions.
"It's been amazing working with the RVC to study how birds are adapted to fly so efficiently and robustly."
---
Notes to Editors
For more information please contact:
About the RVC
The Royal Veterinary College (RVC) is the UK's largest and longest established independent veterinary school and is a Member Institution of the University of London. It was the first in the world to hold full accreditation from AVMA, EAEVE, RCVS and AVBC.
The RVC is ranked as the top veterinary school in the world in line with the QS World University Rankings by subject, 2021.
The RVC offers undergraduate and postgraduate programmes in veterinary medicine, veterinary nursing and biological sciences.
In 2017, the RVC received a Gold award from the Teaching Excellence Framework (TEF) – the highest rating a university can receive.
A research led institution with 79% of its research rated as internationally excellent or world class in the Research Excellence Framework 2014.
The RVC provides animal owners and the veterinary profession with access to expert veterinary care and advice through its teaching hospitals and first opinion practices in London and Hertfordshire.
---
You may also be interested in:
Steven Portugal has an article in Outside JEB about work undertaken by Rick Shine and his team at …