Research Podcasts – Veterinary Science on the Move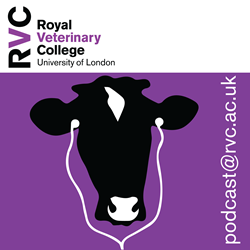 After a seven-year hiatus, the RVC podcast returns with Dominic Barfield taking the reins and talking to the researchers at all stages in their careers about the work that they are doing at the UK's oldest veterinary school. Continuing from the back catalogue from Dr Mattias Kleinz (episode 1 to 20) and Dr Mark Cleasby (episode 20-50) Dom with the help of Brian Cox will get you back up to speed with how the Royal Veterinary College, the University of London's veterinary school, is pushing the frontiers in veterinary medicine and basic science. We will provide you with an insight to the current research being undertaken and those dedicated researchers in the pursuit of answering those questions to benefit animal health and welfare, today, tomorrow and beyond. We hope that you enjoy.
Tue, 22 Sep 2009

Author: Mark Cleasby

Duration: 00:32:10

Endothelial cells line all the blood vessels in our bodies and disease processes culminating in heart attack and stroke start with problems in these cells. Prof Caroline Wheeler-Jones explains her work examining the importance of particular enzymes and signalling pathways in the function of endothelial cells, and how these go wrong or may be protective against cardiovascular diseases.

Fri, 14 Aug 2009

Author: Mark Cleasby

Duration: 00:31:13

Maximising milk yield without sacrificing fertility is a key objective of research in the dairy industry. Here, Dr Geoff Pollott describes his methods for analysing herd productivity and discusses the implications of his findings for future cattle breeding strategies.

Fri, 24 Jul 2009

Author: Mark Cleasby

Duration: 00:34:25

In this podcast Professor Quintin McKellar, the Principal of the Royal Veterinary College, gives his perspective on the current and projected future changes taking place in veterinary education and in the profession as a whole and their potential impact in a variety of spheres of interest.

Mon, 22 Jun 2009

Author: Mark Cleasby

Duration: 00:21:07

Epilepsy is a common condition in dogs and cats and is distressing for pet and owner alike. In this podcast, Dr Holger Volk describes the best treatments currently available for epilepsy and also gives an insight into some promising new alternatives.

Tue, 26 May 2009

Author: Mark Cleasby

Duration: 00:23:40

Intensive care has long been an important facility in human hospitals. In our latest podcast, Karen Humm describes how facilities and knowledge in this area are also now being developed for our animal patients.

Wed, 6 May 2009

Author: Mark Cleasby

Duration: 00:39:24

In our latest podcast, Veterinary Radiologist Chris Lamb describes the application of MRI and CT scanning to veterinary practice. In particular he relates the results of two of his studies which emphasise the cost-benefit analysis of their use versus more traditional diagnostic modalities.

Fri, 20 Mar 2009

Author: Mark Cleasby

Duration: 00:24:06

In this podcast, Dr Richard Piercy explains the pathology, diagnosis and management of exertional rhabdomyolysis, a common and debilitating muscular disease of working horses.

Fri, 6 Mar 2009

Author: Mark Cleasby

Duration: 00:37:10

In this podcast, Adrian Boswood of the RVC's Small Animal Cardiac referral service reviews mitral valve disease, the commonest cause of heart failure in small breed dogs, and describes the latest advances in methods of diagnosis and treatment of heart failure.

Tue, 27 Jan 2009

Author: Mark Cleasby

Duration: 00:28:19

Professor Peter Chantler describes the protein structures that make up the skeleton of living cells and how they ingeniously combine to provide the means for movement of structures at the cellular and sub-cellular level.

Tue, 9 Dec 2008

Author: Mark Cleasby

Duration: 00:34:02

In our latest podcast, Dr Kim Whittlestone and Jeff Bullock describe the role of the Lifelong Independent Veterinary Education (LIVE) Centre at the RVC and their VetConnect project - a high tech means of improving case-based clinical learning experiences for students and vets.