Research Podcasts – Veterinary Science on the Move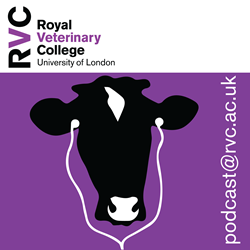 After a seven-year hiatus, the RVC podcast returns with Dominic Barfield taking the reins and talking to the researchers at all stages in their careers about the work that they are doing at the UK's oldest veterinary school. Continuing from the back catalogue from Dr Mattias Kleinz (episode 1 to 20) and Dr Mark Cleasby (episode 20-50) Dom with the help of Brian Cox will get you back up to speed with how the Royal Veterinary College, the University of London's veterinary school, is pushing the frontiers in veterinary medicine and basic science. We will provide you with an insight to the current research being undertaken and those dedicated researchers in the pursuit of answering those questions to benefit animal health and welfare, today, tomorrow and beyond. We hope that you enjoy.
Wed, 28 Jul 2010

Author: Mark Cleasby

Duration: 00:33:36

Anal furunculosis is a particularly unpleasant disease of the rear end that particularly affects German Shepherd dogs. Here Dr Brian Catchpole and Prof Susan Gregory outline the traditional way the disease is identified and treated, their recent findings on how it may be caused, and how these findings inform current best treatment practices.

Wed, 30 Jun 2010

Author: Mark Cleasby

Duration: 00:16:53

Methods of locomotion vary greatly across the animal kingdom according to size, number of legs and evolutionary niche. However, it seems that there are a great many common themes between species. Here Dr Andrew Spence discusses the latest ideas in locomotion research, with particular reference to the dog... and the cockroach!

Fri, 11 Jun 2010

Author: Mark Cleasby

Duration: 00:20:32

A foetus presents an immunological, as well as a nutritional, challenge to its mother. Here Dr Mandi de Mestre describes how the equine placenta, hormonal and immune systems interact to handle these challenges and how her research is revealing the mechanisms involved.

Wed, 21 Apr 2010

Author: Mark Cleasby

Duration: 00:26:26

Diseases caused by parasitic worms are a common problem in humans and animals, especially in the developing world. Here Dr Rachel Lawrence describes how filarial infections occur and manage to evade the immune response of the host.

Wed, 17 Mar 2010

Author: Mark Cleasby

Duration: 00:29:53

Heart murmurs in young dogs are a fairly frequent finding in small animal practice, but in some cases they may reflect severe congenital abnormalities. Here, Professor Dan Brockman describes the treatments available for these dogs, with particular reference to the surgical repair of pulmonic stenosis.

Tue, 9 Feb 2010

Author: Mark Cleasby

Duration: 00:21:55

Dr Claire Russell discusses the molecular basis and the clinical impact of a series of inherited degenerative neurological diseases – the neuronal ceroid lipofuscinoses (NCLs) - of humans and dogs, with particular reference to her studies aimed at identifying the genetic defects implicated and ameliorating their effects.

Tue, 12 Jan 2010

Author: Mark Cleasby

Duration: 00:22:51

Badgers are often blamed for the persistence of tuberculosis in cattle herds in parts of the UK. Here Dr Julian Drewe describes his research on the dynamics of UK badger populations and meerkat communities in Africa and the potential importance of this for the spread of TB within and between species.

Fri, 11 Dec 2009

Author: Mark Cleasby

Duration: 00:30:40

The prevalence of tuberculosis in cattle is increasing again in the UK. Here, Dr Steven Van Winden discusses the nature of the disease, its epidemiology and current methods of control.

Fri, 13 Nov 2009

Author: Mark Cleasby

Duration: 00:28:48

In our second recording on the subject of Swine Flu, Prof Colin Howard describes the nature of the influenza virus, how new strains arise so frequently and how we can ameliorate the impact of new strains through vaccination and antiviral therapy (recorded 10 September 2009).

Wed, 21 Oct 2009

Author: Mark Cleasby

Duration: 00:23:44

The latest influenza strain, Swine Flu, has been making headlines around the world in 2009. Professor Katharina Staerk explains the nature of the pandemic and the threat it poses (recorded 01 September 2009).