World Tortoise and Turtle Day: Research from the Royal Veterinary College reveals risk factors to tortoises during brumation in UK
Marking World Tortoise and Turtle Day, new research from the Royal Veterinary College (RVC) has revealed the factors contributing to sickness and mortality in captive tortoises in the United Kingdom during and post brumation. Tortoise brumation occurring in gardens, and uncontrolled temperatures prior to brumation are significant risk factors contributing to tortoise ill-health and mortality. Using these findings, vets can now be aware of these risk factors to ensure they target husbandry and brumation advice to owners of tortoises to reduce these risks.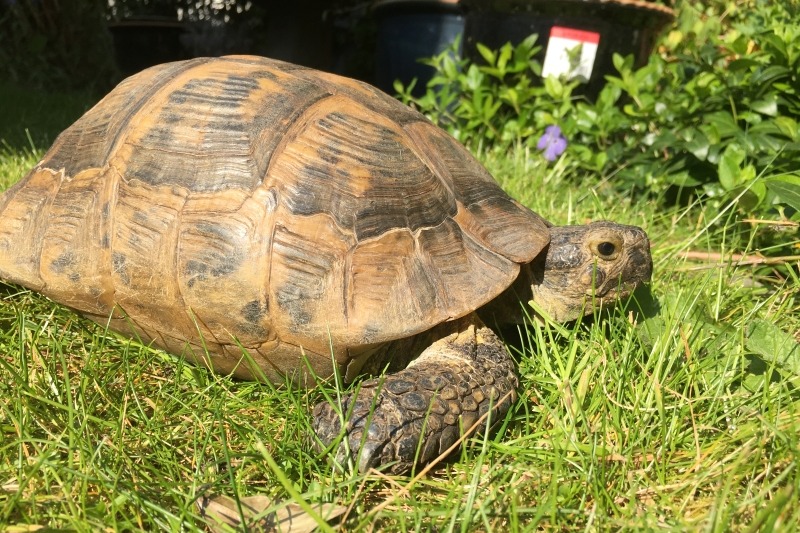 Brumation is akin to hibernation and is a natural part of many reptiles' annual cycle, but it is also the time of year most likely to be associated with health problems. These include immunosuppression, dehydration, freezing, rodent attack or other trauma. However, hibernation does have advantages even in captive reptiles, slowing growth and allowing natural annual hormonal fluctuations.
Before this study, there were almost no studies in the UK regarding the hibernation of pet tortoises and the understanding of this process was very limited. The RVC's new research, therefore, provides vital insights that will allow pet owners and the vet community to better support safe tortoise brumation.
Led by Dr Joanna Hedley and Dr Vicki Baldrey, Lecturers in Exotic Species and Small Mammal Medicine and Surgery at the RVC, the researchers gathered information on 270 tortoises, from 252 completed surveys. The team then used binary logistic regression and multivariate modelling to evaluate the potential predictors associated with brumation-related death and post-brumation problems.
The study found a 7.78% mortality rate during brumation and that 7.22% of surviving tortoises were reported as having post-brumation health concerns. It also found that brumation in a garden and an uncontrolled reduction of temperature prior to brumation were the main risk factors for morbidity and mortality in tortoises.
This research supports previous findings and advice1 from the RVC and emphasises the importance of carefully monitoring elements such as temperature and environment for brumation. For example, during the cold winter months, vigilant checking is required to protect tortoises' safety. Heat sources should be guarded or kept at a height to prevent thermal burns and temperatures should never allow fall below 15°C.
Dr Joanna Hedley, Lecturer in Exotic Species and Small Mammal Medicine and Surgery at the RVC said:
"Unfortunately, little is known about brumation in tortoises in the UK. We hope this research provides much-needed insight into the safekeeping of tortoises during this important period of their annual cycle and will support both vets and pet owners to best look after these delicate creatures."
---
Notes to Editors
1https://rvc.uk.com/tortoise-factsheets
Reference
Baldrey et al. (2022) "Risk factors influencing brumation success in captive tortoises in the United Kingdom", Vet Record.
The full paper is available here: https://doi.org/10.1002/vetr.1377
Media enquiries
For media enquiries, please contact:
About the RVC
The Royal Veterinary College (RVC) is the UK's largest and longest established independent veterinary school and is a Member Institution of the University of London.
It is one of the few veterinary schools in the world that hold accreditations from the RCVS in the UK (with reciprocal recognition from the AVBC for Australasia, the VCI for Ireland and the SAVC for South Africa), the EAEVE in the EU, and the AVMA in the USA and Canada.
The RVC is ranked as the top veterinary school in the world in line QS World University Rankings by subject, 2022.
The RVC offers undergraduate and postgraduate programmes in veterinary medicine, veterinary nursing and biological sciences.
A research led institution with 88% of its research rated as internationally excellent or world class in the Research Excellence Framework 2021.
The RVC provides animal owners and the veterinary profession with access to expert veterinary care and advice through its teaching hospitals and first opinion practices in London and Hertfordshire.