RVC Researcher awarded a Winn Feline Foundation grant to study the genetics of phosphate control in cats with chronic kidney disease
Dr Rebecca Geddes has been awarded a research grant by the Winn Feline Foundation as part of their recent call for proposals focused on "Feline Kidney Health and the Impact of Dietary Phosphorus and Calcium", co-sponsored by Nestle Purina Petcare and Mars Petcare.
Rebecca, Clinical Scientist Fellow, in collaboration with colleagues Professor Lucy Davison, Professor Jonathan Elliott and Associate Professor Rosanne Jepson, will be exploring why some cats with chronic kidney disease quickly lose the ability to regulate their total body phosphate concentrations and others do not.
Phosphate is an important mineral in the body and is stored and used in every cell. Control of total body phosphate levels involves the co-ordination of a number of hormones and phosphate transporters found in the gut and the kidney. These two organs are key for total body phosphate control, because phosphate is absorbed in the gut and leaves the body via the kidney. Too much phosphate can result in kidney damage, which in turn leads to further increase in phosphate levels.
Chronic kidney disease (CKD) is very common in older cats and we already know that high phosphate levels are associated with quicker disease progression. In humans, genetic variants in the phosphate transporters affect they way the body handles phosphate, but these have not been explored previously in cats. Some cats handle excess dietary phosphate very well, and continue to regulate phosphate even when their kidneys start to fail, but others do not and their lifespan is shortened. We think that this individual variation might be contributed to by a genetic difference in their phosphate transport genes.
The aim of this study is to use new genome sequencing technologies to identify genetic variants that may be responsible for cats with early CKD developing high phosphate levels. Identification of these variants will allow future studies to explore the optimal methods of preventing phosphate overload for each individual cat with CKD, to improve their quality of life and survival time. This study will use data collated over a number of years from the RVC Geriatric Cat Clinic, which has helped to manage thousands of older cats with CKD, including the patient below?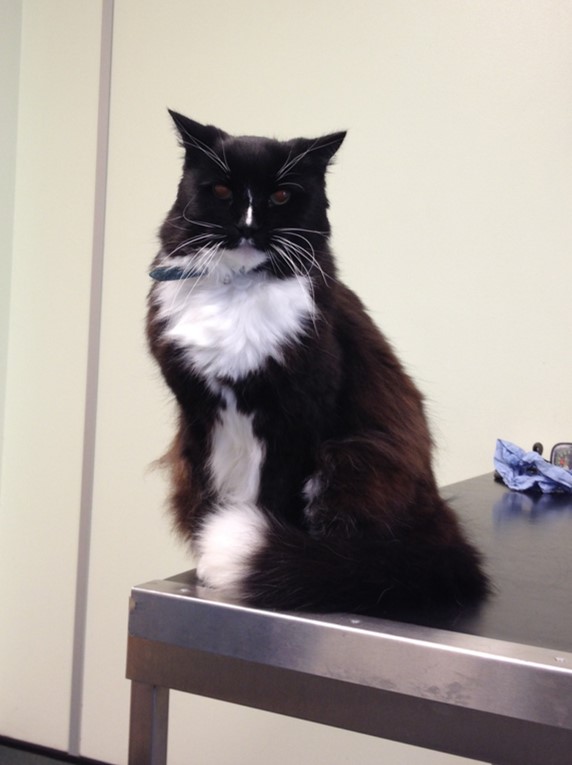 ---
You may also be interested in:
Laboratory rats have better welfare when picked up using methods that support their weight, …