The Animal Care Trust was founded in 1982 when senior staff at the Royal Veterinary College realised that the way in which care for small animals was delivered in the UK had to change.
It was recognised that whilst in human medicine complex cases were handled in referral hospitals, no similar structure existed for veterinary care. Moreover the pace at which specialist veterinary clinical skills were being developed meant that there was an opportunity to bring together a range of disciplines so that more complex cases could benefit from the cross-disciplinary expertise that could be brought together in hospital surroundings.
Early years of the RVC
1791 – The Royal Veterinary College is established at the current site of the RVC's Camden campus.
1875 – The College received its first Charter of Incorporation from Queen Victoria.
1937 - Her Majesty Queen Elizabeth The Queen Mother accompanies King George VI to open the new College building in Camden.
1949 – The RVC becomes a full part of the University of London.
The Animal Care Trust is born.....
1982 – The Royal Veterinary College Animal Care Trust is founded and registered as a UK charity. Her Majesty Queen Elizabeth The Queen Mother agrees to be the charities' patron.
1986 – The RVC's Queen Mother Hospital for Animals is opened at the RVC's Hawkshead campus by Her Majesty the Queen Mother.
2005 - The Duchess of Cornwall takes over as Patron of The Royal Veterinary College Animal Care Trust.
2008 - The Duchess returns to open the completed £8m extension and redevelopment project that upgraded the Queen Mother Hospital's facilities to make it the largest veterinary teaching hospital in Europe.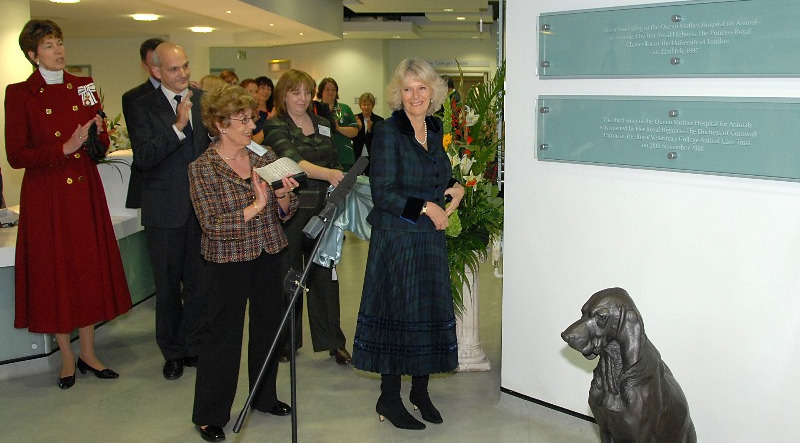 2011 – The Beaumont Animal Hospital in Camden is officially reopened as the Beaumont Sainsbury Animal Hospital after an extensive refurbishment generously supported by the Jean Sainsbury Animal Welfare Trust.
2016 - The Queen Mother Hospital for Animals celebrates its 30th birthday.