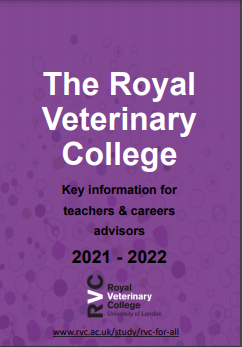 Schools outreach at the RVC aims to provide opportunities and support for under-represented young people: to experience higher education, develop their interests and learn skills for their future.
Find all the key info you need to support students interested in animal science, in our Teacher and Advisor Support Pack

Check if your school or college meets our Widening Participation eligibility criteria, then view the programmes we have available in the menu on the left. Please note, due to the COVID-19 pandemic, we are currently unable to invite any school groups to campus or visit you in person, however, there are a number of online opportunities available for your students.

Find out if your school is considered as an RVC Contextual School here. If so, your pupils may be eligible for lower grade offers for some of our courses
Be the first to hear about opportunities and support from RVC: join our Teacher and Advisor Newsletter for termly updates and reminders tailored to you.