The RVC Small Animal Internship is a world-renowned rotating internship programme for veterinary surgeons.
The qualification of Post Graduate Diploma in Veterinary Clinical Practice (PG Dip VCP) has been aligned to the RVC internship programme. All small animal interns (post graduate students) will be enrolled in the PG Dip VCP and will be expected to complete the course during their internship year. The internship programme is based at the Queen Mother Hospital for Animals - the RVC's referral teaching hospital at the Hawkshead campus, Hertfordshire.
The programme is designed for highly motivated recent veterinary graduates (typically less than five years) who wish to expand their clinical knowledge, skills and experience in all aspects of small animal practice, working under supervision in a multidisciplinary referral hospital, and participating in the provision of an emergency out-of-hours service. It is a suitable foundation (and often necessary step) for you if you wish to pursue specialist post graduate clinical training in a specific discipline (Residency), and also provides excellent experience for those wishing to return to general practice.
If you are interested in discovering how the programme works, meeting the team and having the opportunity to ask any questions about either the application process or the internship, we have organised some open days (online or on-site) here at the RVC for prospective applicants. For details regarding the open days please refer to the "Further information" tab above.
Dates for 2023 Small Animal Internship applications
Applications for Small Animal Internships to start in 2023 are now closed.
Interviews will be held at the beginning of February 2023 - exact dates to be confirmed.

The Internships will start on 12th June 2023.
Sign up to be informed about the next round of applications
To apply for the Small Animal Internship programme you must meet the following requirements:
Member of the Royal College of Veterinary Surgeons (or eligible) RCVS.
You must be eligible for full Membership of the Royal College of Veterinary Surgeons (RCVS). All applicants must be an MRCVS by the date the internship starts, and ideally by the date of application and interview. It is the applicant's responsibility to organise and pay for the annual membership fee.
Meet English language requirement
You must be able to communicate clearly in English, both verbally and in writing. If you are not exempt from proving your English language proficiency, you must take an IELTS (Academic) test (or equivalent).
We require an overall IELTS (Academic) score of 7.0, with no element below 6.5. A certified copy of your IELTS test result should be submitted with your application. The test result must have been obtained within 2 years of the start date of the course. Applications that do not satisfy these criteria will not be considered for shortlisting.
Please see a list of English qualifications we will accept as alternatives to IELTS.
Foreign language applicants are encouraged to practice as a veterinary surgeon in the UK for at least one year prior to application.
Twelve months experience as a qualified veterinarian (desirable)
A minimum of twelve months experience as a qualified veterinary surgeon in small animal practice in the UK is desirable. Exceptional new graduates will be considered, though grades and references must indicate that you are likely to graduate, and you must have received confirmation of passing your finals in good time prior to start date of the programme.
Overseas Students
Students classifed as "Overseas" with regards to tuition fees are very welcome to apply for the internship. We are keen to find the best candidates regardless of their nationality and have had occasional Overseas interns. Candidates should note that funding models for this programme are weighted towards "Home" fee candidates, so when candidates are equal, internships will be offered to applicants eligible for "Home" fees. To help determine whether you would be eligible for "Home" fees please see the UKCISA's 'Who pays 'home' fees for higher education in England?' guide found here.
What essential personal attributes do you need to join the programme?
Be a highly motivated recently qualified veterinary surgeon

Keen to develop your veterinary skills, experience and knowledge

Willing to work hard

Ability to cope under pressure

Positive attitude at all times

Great teamwork skills

Work effectively and efficiently with a range of people from support staff, veterinary students to experienced veterinarians

Patience to teach and guide veterinary undergraduate students
Admissions Policy & Procedures
Further information on the recruitment procedure can be found here.
The programme begins with an introduction and orientation week, followed by a week shadowing the previous year's interns. There is also a week over the Christmas / New Year holiday period working solely in out-of-hours emergency care (first opinion). The remainder of the year is divided into 14 clinical rotations (10x four week-long and 4x three week-long), which are organised as follows:
Eight rotations assigned to small animal referral services:

Anaesthesia and analgesia
Diagnostic Imaging
Emergency and Critical Care
Internal Medicine
Neurology and Neurosurgery
Orthopaedic Surgery
Soft Tissue Surgery
Oncology
A choice of optional other services such as Dermatology, Cardiology, Ophthalmology & Exotic Animals

Four rotations on Out-Of-Hours Emergency Care
Two rotations are assigned to annual leave and scholarly activities, such as completing an externship or a research project.
Visiting the RVC QMHA
The Internship open days will consist of information about the programme, a tour (virtual for the online days) of the facilities and some team-work activities to get to know fellow potential applicants. A brief description of, and guidance on, completing the application process, alongside frequently asked questions will be discussed. We hope that participation in the day and these activities will be useful, but they are not essential for a successful application. The day will run from 9am-4pm and will be at Hawkshead campus or online via Zoom. We recommend that visitors who are currently based in the UK should attend the designated on-site visiting day in November if they wish to have a tour of the hospital.
The Open Day dates for Internships commencing on 12th June 2023 are:
Tuesday 1st November 2022 (to be held online)
Friday 11th November 2022 - (to be held on-site subject to government restrictions and Covid-19 guidelines)
If you would like to book onto an online open day please email Suzy Lake (slake@rvc.ac.uk) with your preferred date. There will be a limit to the number of places per day and they will be allocated on a first come first served basis. You can only apply for one date and it is expected that you will attend on the date you have chosen.
Please note that any on-site visiting/on-site open days will be subject to change at short notice depending on the current Covid-19 pandemic situation and local or institutional rules regarding visitors and traveling.
We are very sorry but we cannot accommodate any visitors outside the dates listed.
If you are a graduated veterinarian living outside the UK who is planning to apply for the small animal internship, and wish to visit please contact: Dr Dominic Barfield (dbarfield@rvc.ac.uk). If you are unable to visit you are still encouraged to apply to the programme. You will be able to visit the facilities if you are invited for interview.
General
If you would like to know more, the following links may be useful:
Postgraduate study options at the RVC
If you have any specific queries, please contact one of the directors of the Small Animal Internships:
For general Internship application enquiries, please contact the Admissions Team (admissions@rvc.ac.uk).
Annual Leave
The total annual leave entitlement is 20 days inclusive of bank holidays. You may only take annual leave in the two elective rotation blocks. Further details can be found in the Code of Practice (see below).
Assessment
The Post Graduate Diploma in Veterinary Clinical Practice (PG Dip VCP) has been aligned to the internship programme. There are four modules to complete in the year; anaesthesia, diagnostic imaging, internal medicine and surgery. Each module will be assessed by a case report and work placed based assessments (WPBA). The WPBA are designed to support your clinical development and provide direction to your clinical training. The WPBA will be both formative and summative and occur in the clinical environment at your discretion. In addition, feedback will be given at the end of each of your clinical rotations and will contribute to your academic portfolio which will be the basis of your academic progress review (appraisal) around 6 months into the programme. Further information can be found in Course Assessment and Award Regulations 2021/22: PGDip in Veterinary Clinical Practice.
Accommodation
Information on accommodation can be found under Funding Options.
Code of Practice
All interns must adhere and abide by the Royal Veterinary College's Code of Practice for Interns & Residents and can be found under Essential Information in the Graduate School.
Stipend
Information on the current stipend can be found under Funding Options.
FAQS
You may find these FAQs helpful.
We now offer 14 Small Animal Internships each year. Internships usually commence in June, and run for 54 weeks.
Dates for 2023 Small Animal Internship applications
Applications for Small Animal Internships to start in 2023 are now closed.
Interviews will be held at the beginning of February

2023 - exact dates to be confirmed.

The Internships will start on 12th June 2023.
Shortlisted candidates will be invited to attend interviews during the above dates. We endeavour to inform those who have been short listed for interview within 2 weeks before the interview date. The interview typically lasts 20-30 minutes. It is designed to test the applicant's understanding of the role and function of an intern, and their motivation for pursuing an internship.
For an informal discussion about these internships, please contact:
Dr Stefano Cortellini (scortellini@rvc.ac.uk) or Dr Joe Fenn (jfenn@rvc.ac.uk)
Please see How to Apply for more details on the application process, but if you have a specific query you should contact the Admissions Team.
Only online application forms submitted through our system will be considered
Please ensure that your English qualification meets our requirements in time for applying.
Where are they now?
Between 2002 and 2018 there have been 192 interns.
59% residencies (pie chart shows where previous interns have gone into residencies)

16% PhD

11% both residency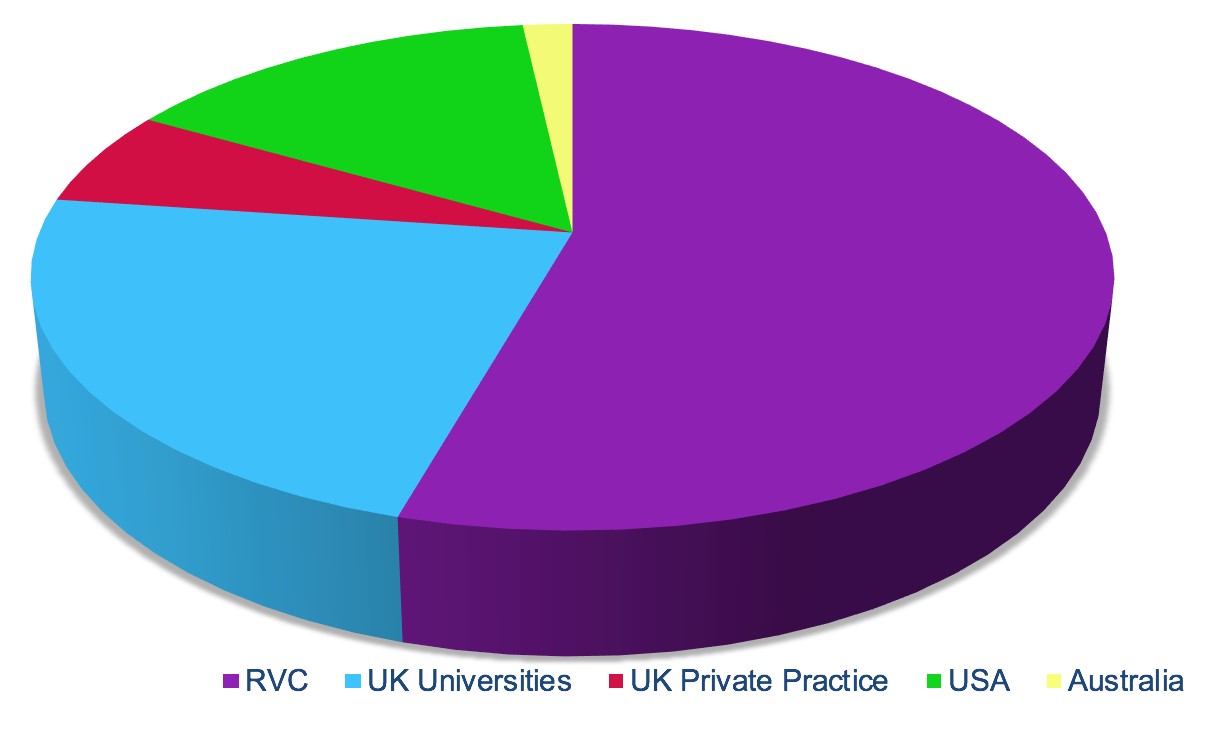 Tuition Fees
The tuition fees are as follows:
| Year commencing course | Home Tuition Fees including Island Fees (Channel Islands & Isle of Man) | International Fees |
| --- | --- | --- |
| 2022/23 | £9,000 | £28,750 |
| 2023/24 | £9,000 | £30,910 |
Tuition fee amounts are subject to increase each academic year.
EU/EEA and Swiss national students starting studies in the 2021/22 academic year or later academic years may no longer be eligible to pay the "home" rate of tuition fees nor claim any financial support for their studies - but this depends on your personal circumstances (including immigration status and residence history in the UK). To help determine whether you would be eligible for home fees please see the UKCISA's 'Who pays 'home' fees for higher education in England?' guide found here.
Clinical Training Internships
All Clinical Training Internships are fully funded.
As an intern you will be awarded a scholarship for your fees.
A stipend will be paid monthly in arrears. Currently the stipend is £17,200 per annum (subject to review)

A single occupancy room in a shared (with others interns) house on-site is available for the duration of the internship for RVC based interns. No pets are allowed in the accommodation.