New research identifies possible control strategies for Middle East Respiratory Syndrome Coronavirus (MERS-CoV)
Potential strategies for the control of Middle East Respiratory Syndrome Coronavirus (MERS-CoV) have been identified among the virus' natural host reservoir, dromedary camels.
Researchers from the Royal Veterinary College in London (RVC) working with the London School of Hygiene & Tropical Medicine (LSHTM), Rocky Mountain Laboratories (NIH, NIAID, US), Jordan University of Science and Technology (JUST), Yarmouk University and the Jordanian government, have recently published their findings in the journal Emerging Infectious Diseases (https://wwwnc.cdc.gov/eid/article/27/9/20-3508_article). These findings identify key management practices that can help in creating disease-free herds and identify camel groups to prioritize for vaccination.
MERS-CoV in humans is one of three deadly zoonotic betacoronaviruses to have arisen over the past two decades, along with Severe Acute Respiratory Syndrome Coronavirus 1 (SARS-CoV-1), the cause of the original SARS outbreak in 2002-2003, and SARS-CoV-2, causing the current Covid-19 pandemic. The first known outbreaks of MERS occurred in hospitals in Jordan and Saudi Arabia in 2012, though over 2500 cases have been identified across almost 30 countries since that time – with more than a third of these individuals subsequently dying from the disease.
Like other zoonotic betacoronaviruses, MERS-CoV, is thought to have originated among bat populations before subsequently jumping species to infect camels. However, while infection in humans can be fatal, symptoms in camels are typically mild (if any), similar to the common cold. The virus is widespread among camel populations in Africa, the Middle East and South Asia, however clinical infection in humans due to camel exposure has only been observed within the Arabian Peninsula – likely due to viral strains circulating in the region.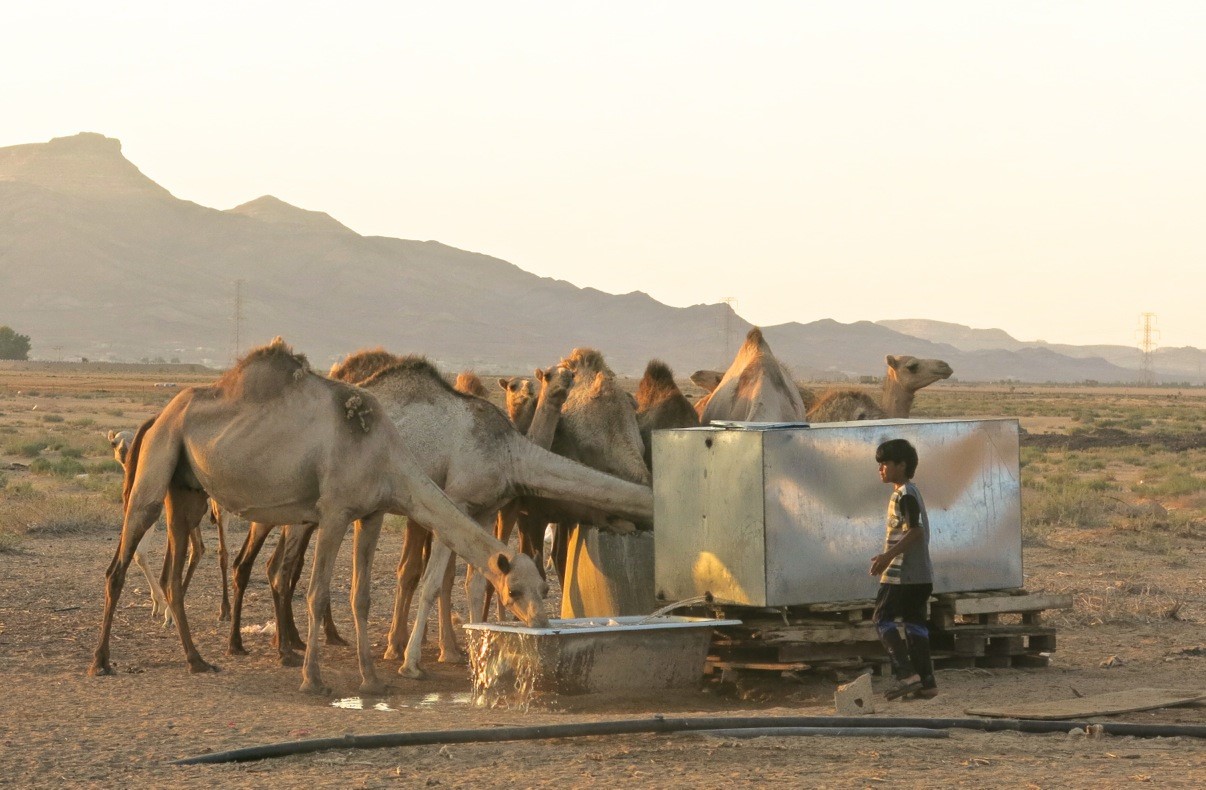 Study findings pave the way for the development and testing of interventions aimed at reducing the risk of MERS-CoV infection among high-risk communities in the region, an objective that the team is currently pursuing as part of a new project funded by the UK Medical Research Council (MRC). This work builds upon the long-standing relationship that exists between the RVC and partners at LSHTM, NIH and JUST – the relationship with JUST being first initiated through a World Organisation for Animal Health (OIE) twinning initiative, with support from the UK Defence, Science and Technology Laboratory (DSTL) and British Embassy in Jordan.
Professor Javier Guitian, project leader and Professor of Veterinary Public Health at the RVC, said:
"We are very grateful for all the support we've received from project partners and funders. This has allowed us to establish a multidisciplinary research team and build a relationship of trust with communities in Southern Jordan, which are central in confronting the global challenge posed by MERS-CoV."
Professor Punam Mangtani, from the London School of Hygiene and Tropical Medicine, added:
"This is a disease of epidemic potential posing a serious public health risk and one of WHO's Blueprint priority diseases for research and development."
---
Notes to Editors
Reference
Guitian et al. (2021), "Risk Factors for Middle East Respiratory Syndrome Coronavirus Infection among Camel Populations, Southern Jordan, 2014–2018", Emerging Infectious Diseases.
The full paper can be accessed here: https://wwwnc.cdc.gov/eid/article/27/9/20-3508_article
For media enquiries, please contact:
Jasmin De Vivo (jasmin.devivo@plmr.co.uk) or rvc@plmr.co.uk
Press Line: 0800 368 9520
About the RVC
The Royal Veterinary College (RVC) is the UK's largest and longest established independent veterinary school and is a Member Institution of the University of London. It was the first in the world to hold full accreditation from AVMA, EAEVE, RCVS and AVBC.
The RVC is ranked as the top veterinary school in the world in line with the QS World University Rankings by subject, 2021.
The RVC offers undergraduate and postgraduate programmes in veterinary medicine, veterinary nursing and biological sciences.
In 2017, the RVC received a Gold award from the Teaching Excellence Framework (TEF) – the highest rating a university can receive.
A research led institution with 79% of its research rated as internationally excellent or world class in the Research Excellence Framework 2014.
The RVC provides animal owners and the veterinary profession with access to expert veterinary care and advice through its teaching hospitals and first opinion practices in London and Hertfordshire.
---
You may also be interested in:
Our VEEPH group was well represented at ISVEE 16 (International Symposium on Veterinary …