RVC visits the British Racing School
The Royal Veterinary College visit the British Racing School to deliver feedback on research into the influence of experience on jockey technique.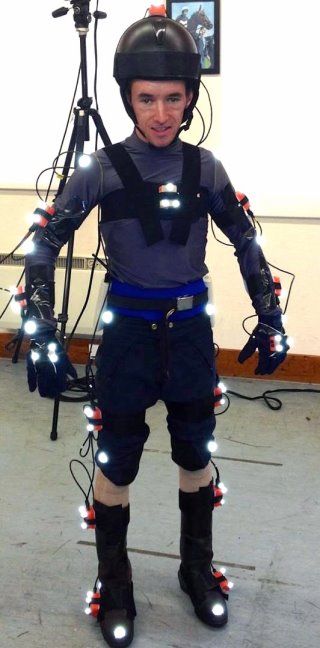 A research team from the RVC, led by Dr Thomas Witte, have been working alongside the British Racing School (BRS) on the project entitled Apprentice to Journeyman: the influence of jockey technique on thoroughbred racehorse locomotion. Funded by the Horserace Betting Levy Board (HBLB), the research priority is to enhance the safety, health and well-being of racehorses and jockeys.
For the past year Dr Witte, a Senior Lecturer in Equine Surgery at the RVC, and Dr Anna Walker have been collecting data by analysing jockeys on a racehorse simulator in the lab. They visited the BRS to discuss their findings for the first stage of this research.
Data was collected through inertial measurement units attached to both the jockey and the simulator. These recorded the jockey and the simulator movement from stride to stride. Particular attention was given to the foot and pelvis positions of the riders.
In this initial phase of the research, Dr Witte and Dr Walker were interested in how the body of the rider is displaced by the movement of the simulator. They were keen to identify how, if at all, the movement, stability and positioning of a novice rider differed from an experienced jockey.
The visit was a chance to share information and ideas with the BRS. This was the first step in identifying an optimal riding position that might later be incorporated by the School with the aim of enhancing the performance of racehorses and reducing the risk of injury to both horse and jockey.
The next phase of the research is to collect data 'in field' by measuring the relative movement of jockeys when riding real horses on the gallops at the BRS.
---
You may also be interested in:
John Hutchinson, Professor of Evolutionary Biomechanics at the Royal Veterinary College (RVC), has …