RVC engages public with ostrich anatomy at Norwich Science Festival
The Royal Veterinary College's (RVC) Professor John Hutchinson and his team dissected an ostrich in front of a rapt audience as part of Norwich Science Festival on Monday 21st October, in order to explain the amazing anatomy of animals.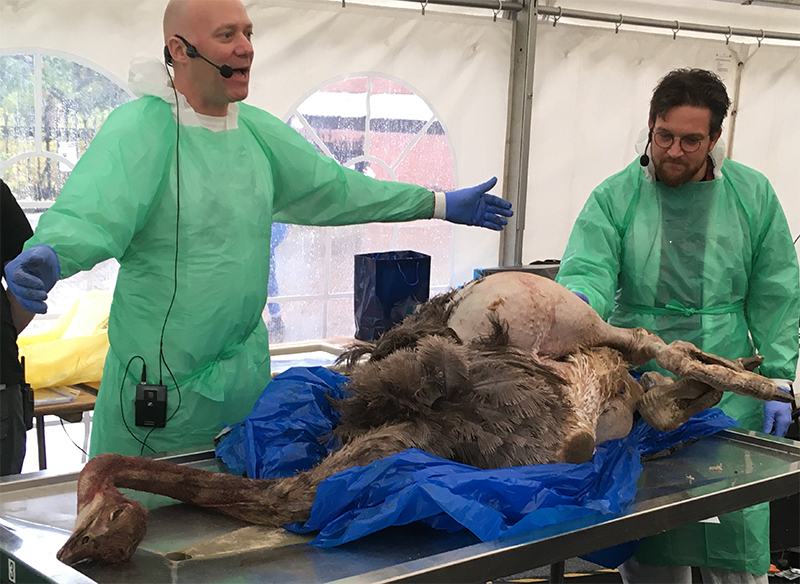 Norwich Science Festival occurs annually in the October half-term and offers a wide variety of exciting talks, exhibitions and hands-on activities for all ages that explore different areas of scientific research. Organised by The Forum, a key public building in Norwich dedicated to events and exhibitions for all, the festival this year took place between 18th-26th October in various venues across the city, with the support of a number of partners.
Professor Hutchinson, who specialises in evolutionary biomechanics, carried out the whole-cadaver dissection live before the audience, with Professor Ben Garrod from the University of East Anglia. They used the demonstration to show the entire internal and external anatomy of the ostrich, from head to tail, to their audience. Features such as how the ostrich feeds and digests, breathes, manages heat, circulates blood, and attains rapid running speeds were emphasised. Data obtained from the specimen are also being used in a new research project with Google DeepMind to produce 3D computer simulations of how ostriches move.
Commenting on the event, Professor Hutchinson said: "The RVC is dedicated to inspiring people to pursue careers in veterinary medicine and science as well as furthering research in a number of areas related to animal and human health and welfare. It was therefore a great pleasure to be involved in this year's Norwich Science Festival. Events such as these are hugely important for showcasing, in an accessible way, the wealth of scientific discoveries made so far, as well as cultivating the next generation of scientists who will build upon those discoveries. This was a rare opportunity for the public to see how a spectacular animal like an ostrich is built and how form relates to function throughout its body, in an evolutionary context."
---
Notes to Editors
For more information please contact:
About the RVC
The RVC is ranked as the world's number one veterinary school in the QS World University Rankings 2019.
The RVC offers undergraduate, postgraduate and CPD programmes in veterinary medicine, veterinary nursing and biological sciences.
RVC was the first veterinary school in the world to hold full accreditation from AVMA, EAEVE, RCVS and AVBC. RVC currently holds full accreditation from RCVS, AVBC and AVMA and conditional from EAEVE.
In 2017, the RVC received a Gold award from the Teaching Excellence Framework (TEF) – the highest rating a university can receive.
RVC is a research led institution with 79% of its research rated as internationally excellent or world class in the Research Excellence Framework 2014.
The RVC also provides animal owners and the veterinary profession with access to expert veterinary care and advice through its teaching hospitals; the Beaumont Sainsbury Animal Hospital (a first opinion teaching hospital) in central London, and the Queen Mother Hospital for Animals (Europe's largest small animal referral centre) and the Equine Referral Hospital, both located at the Hertfordshire campus.
---
You may also be interested in:
John Hutchinson, Professor of Evolutionary Biomechanics at the Royal Veterinary College (RVC), has …