Professor John Hutchinson performs dissection on big cat at Science Festival
The Royal Veterinary College's Structure & Motion Laboratory brought modern knowledge of animal anatomy, evolution and health to a public audience at the world-famous Cheltenham Science Festival this June.
Well-known researcher in the fields of vertebrate biomechanics and evolutionary anatomy, Professor John Hutchinson, led the event – taking his audience on an evolutionary journey through changes in animal movement abilities, from the beginnings of vertebrate life on land through to the appearance of some modern day specialists such as fast-running mammals. This event, including an exhibit of modern and ancient fossil bones of animals and their evolutionary context, showcased some of the most ground-breaking research unfolding in the Structure & Motion Laboratory at the Royal Veterinary College and offered a novel insight to the science of animal locomotion.
Through a live dissection, Professor John Hutchinson brought the focus to modern cats, their anatomy, mechanics and evolution. Despite ranging in size from small wild cats up to Siberian tigers, the cat lineage demonstrates an unusual anatomical and biomechanical conservatism which makes them a key study group for Hutchinson's research team. Their characteristic body plan, with powerful limbs tucked under the body, contrasts with the sprawling gait of the early tetrapods (four-legged vertebrates) and modern crocodiles and is found throughout the cats, though additional adaptations in different species suit different functions.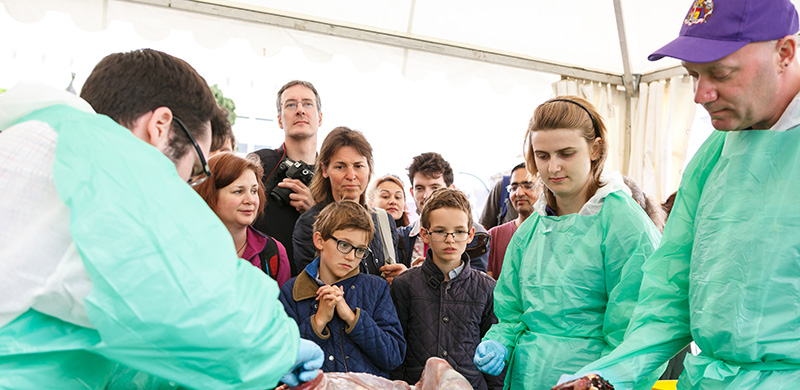 This dissection took a closer look at one of the extreme specialists, the cheetah, which is adapted for high speed and agility. With the help of famed documentary presenter Ben Garrod (e.g. "Secrets of Bones"), fellow researchers and a veterinary pathologist, Hutchinson guided the audience through the dissection, highlighting not only the remarkable anatomical features of the body and their roles in the lifestyle of cheetahs, but taking a comprehensive look at feline biology, discussing the effects of millions of years of modification to the ancestral tetrapod form, and even investigating possible causes of death. The dissection team uncovered not only the strong evidence of kidney disease that they'd expected, but also surprise evidence of lung, liver and spleen cancer as well as a healed lower leg fracture in this one cheetah, telling a compelling tale of this animal's struggle to survive in captivity.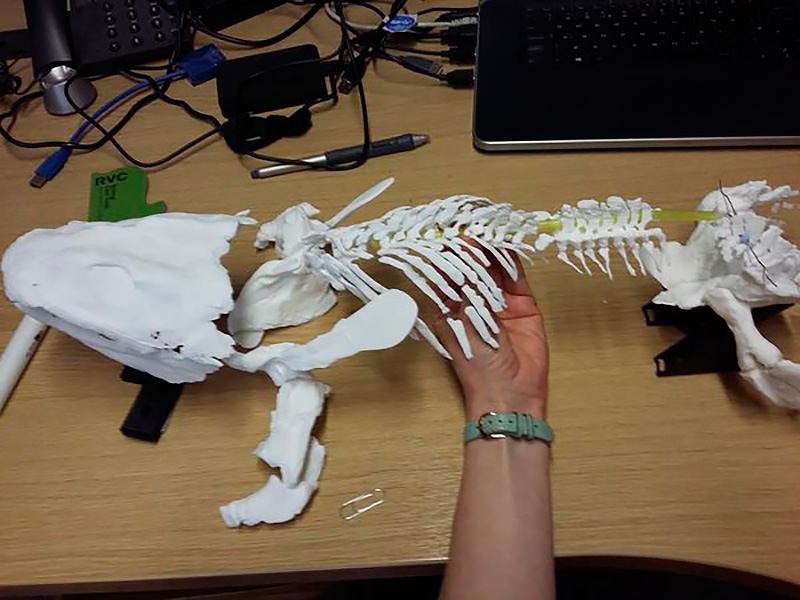 Through the week of the Cheltenham Festival, Professor John Hutchinson and his team also led activities at an exhibit of early tetrapod evolution. The team showed how our distant fish-like ancestors, featuring the iconic fossil Ichthyostega among others, moved onto land more than 350 million years ago and demonstrated the cutting edge research techniques used by his collaborative team to piece together this pivotal moment in the history of animals.
Using the fossilised remains of early tetrapods, the team conducted x-ray scans of the skeletons and digitally reassembled them, virtually resurrecting these long-extinct animals to examine their body structure. From their studies of living species, they could then deduce how the anatomy of the fossils would have affected their locomotion, and link their limb structure to function, ecology and even behaviour. This was brought to life in a multimedia exhibit, with participants following our ancient ancestors' evolutionary journey onto land by engaging with fossils, 3D printed models, activities, 3D videos and interactive media.
Professor John Hutchinson said: "We shared a once-in-a-lifetime experience with our audience, to survey the adaptations that animals have evolved over 370 million years of life on land, in hands-on and in virtual reality environments. This was also an opportunity for our audience to see what a post-mortem study of a modern animal is like, and the surprises from this that bring you closer to understanding the life story of one incredible animal and its hardships.
"It's easy to take our evolutionary history for granted and forget how numerous our adaptations are, and the prolonged, gradual accumulation of features that our ancestors have passed on to us all by surviving the vast challenges imposed by life on land. Hearing from children and adult audience members alike that this was one of the most amazing things they'd ever seen was a fantastic outcome from our event at the science festival."
Press Office Contact
Uche Graves / Zoe White
T: 0800 368 9520
E: uche.graves@plmr.co.uk / zoe.white@plmr.co.uk
Notes to Editors
The Royal Veterinary College (RVC) is the UK's largest and longest established independent veterinary school and is a constituent College of the University of London. The RVC offers undergraduate, postgraduate and CPD programmes in veterinary medicine, veterinary nursing and biological sciences, being ranked in the top 10 universities nationally for biosciences degrees. It is currently the only veterinary school in the world to hold full accreditation from AVMA, EAEVE, RCVS and AVBC.
A research-led institution, in the most recent Research Excellence Framework (REF2014) the RVC maintained its position as the top HEFCE funded veterinary focused research institution.
The RVC also provides animal owners and the veterinary profession with access to expert veterinary care and advice through its teaching hospitals; the Beaumont Sainsbury Animal Hospital in central London, the Queen Mother Hospital for Animals (Europe's largest small animal referral centre), the Equine Referral Hospital, and the Farm Animal Clinical Centre located at the Hertfordshire campus.
RVC Press Release 21 June 2016
See other Press Releases.
---
You may also be interested in:
John Hutchinson, Professor of Evolutionary Biomechanics at the Royal Veterinary College (RVC), has …