Open source bone biology software benefits industry and academia
Open source image analysis software BoneJ, developed during BBSRC-funded biomechanics research at the Royal Veterinary College, is being used in fields as diverse as volcanology, marine biology, soils science, battery design, and food science.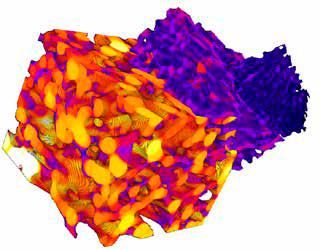 The software has been downloaded more than 28,000 times by users in 56 countries.
The research from which the software arose also led to a collaboration between the researchers and London- based architecture firm Foster + Partners, who are interested in using knowledge about bone structure and its ability to self-repair to develop biologically- inspired building materials.
Scan data from the research has also been used by digital film-makers and animators, including Weta Digital, in the design of CGI characters.
Professor John Hutchinson was the RVC's Principal Investigator on the initial work and Dr. Michael Doube was originally the postdoc who came up with the BoneJ tool and then was later hired as a Lecturer at RVC.
Read more on the BBSRC website at Open source bone biology software benefits industry and academia
---
You may also be interested in:
Novel research from the Royal Veterinary College (RVC) examining the human walk has been able to …