RVC researchers win Marjorie (Sandiford) Whittingham Prize
Dr Nur Hidayu Mazlan, Dr Noelia Lopez-Salesansky, Dr Charlotte Burn and Professor Dominic Wells have been awarded the 2014 Majorie (Sandiford) Whittingham Journal Article prize, from the specialist journal Animal Technology and Welfare. The prize was awarded for a combination of readability and applicability to practice. The prize was awarded at the recent Institute of Animal Technology Congress.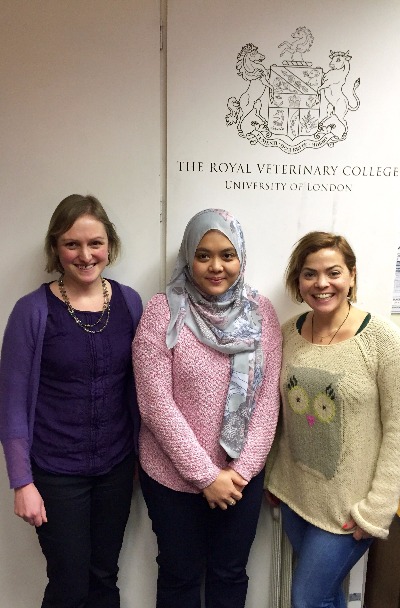 The paper describes a survey where it was investigated how laboratory mice are identification-marked in the UK. It was found that of 53 responding UK animal research institutions, there was considerable variation in methods used for individually identifying mice. Ear punching (clipping a small hole into the ear pinna; 85%) and applying marker pen to the tail (63%) were most common, but eight other methods were also used. Many respondents expressed concerns about animal welfare and research standardisation regarding certain methods.
FULL ABSTRACT: Marking mice to identify individuals is routine practice in laboratory animal facilities, but little is known about the current methods of choice or their perceived animal welfare, logistical or experimental design consequences. The survey link was sent to 83 recipients, generating 62 responses from 54 animal establishments. Most establishments were academic (61%) and over 50% of the responses were from unit managers and/or named animal care and welfare officers. The two most commonly used identification methods were ear punch or ear notch (85%) and marker pen application (63%). The use of microchips had been discontinued by 20% of institutions. Toe clip, was considered to be severely stressful or/and painful by 53% of the respondent while microchips (45%) and tail tattoo (35%) were regarded as being moderately stressful or/and painful. Ear punch or ear notch was the most commonly used method for tissue collection for genotyping. Potential welfare issues associated with each identification method are discussed in the context of the survey results.
Mazlan, NH; Lopez-Salesanksy, N; Burn, CC; Wells, DJ.
Mouse identification methods and potential welfare issues: a survey of current practice in the UK. (2014)
ANIMAL TECHNOLOGY AND WELFARE, 13: 1-10.