Love is blind? Many owners of short-muzzled dogs are strongly bonded to their pets but unaware of health problems
The largest study to date on the owners of short-muzzled dogs reveals close bonds between them and their pets, particularly between pugs and their owners, female owners and their dogs or owners without children in the home.
The research, which was led by the Royal Veterinary College (RVC) in collaboration with the University of Edinburgh and Nottingham Trent University, also revealed they had skewed perceptions of their dogs' health, which may explain the popularity of such health-challenged breeds.
Short-muzzled, or 'brachycephalic,' dog breeds such as the pug and French and English bulldog, are typically more prone to health issues relating to their body shape.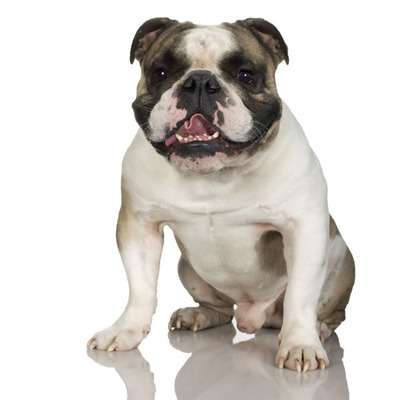 Despite the heightened risk of such health problems though, which are often painful and distressing, short-muzzled breeds have dramatically increased in popularity over the last decade. This new study included owners of over 2,000 pugs, French and English bulldogs, and these canines had a youthful average age of 2.17 years, suggesting a particularly steep and recent increase in ownership. The French bulldog is now the UK's most popular breed, but the reasons for this are poorly understood.
Worryingly, the academics found that while one fifth of short muzzled dogs in this study had undergone at least one corrective surgery, only 6.8% of owners consider their dog to be less healthy than average for their breed.
Other common diagnoses amongst these breeds included allergies (27%); corneal ulcers (15.4%); skin fold infections (15%) and airway obstruction (11.8%). Owners were to some extent aware of such health problems in their own dog, with 17.9% reporting breathing problems and 36.5% reporting overheating. Yet, 70.9% of owners still considered their dog to be in 'very good health' or 'the best health possible.'
This suggests that owners attempt to rationalise problems with their own dogs, despite being aware of the significant problems with brachycephalic breeds in general. This perception may fuel the rising popularity of short-muzzled dogs.
Alarmingly, given that the disorders that affect brachycephalic breeds worsen in frequency as dogs age, an impending health crisis for these breeds is due.
Furthermore, the study revealed that the dog-owner relationship is influenced by expectations in advance of owning a short-muzzled dog. Dogs whose behaviour, maintenance and veterinary costs were worse than expected prior to ownership led to owners reporting ownership of their dog to be a greater burden. With more brachycephalic dogs being relinquished to rescue centres across the UK, realistic expectations of ownership are crucial to maintaining long-lasting relationships between owners and short-muzzled dogs.
Dr Rowena Packer, Research Fellow at the Royal Veterinary College and leader of the study, said: "With the UK experiencing a brachycephalic crisis, a greater understanding of the relationships between owners and dogs of these breeds is vital. Emotional forces may trump rationality, with owners clearly loving their dogs but considering high levels of disease as healthy for these breeds. With the welfare of many thousands of dogs at stake, along with emotional and financial burdens on their owners, research that unravels these complex relationships is much needed."
Dr Dan O'Neill, Senior Lecturer at the Royal Veterinary College and Chairman of the UK Brachycephalic Working Group, said: "After almost a decade working on brachycephalic dogs, I have come to realise that the issue is as much a human problem as it is a dog problem. As humans, we design, breed and choose the dogs we own but our dogs have to live, for better or worse, with those outcomes. With such great power comes great responsibility. Deeper understanding of the human reasons for our choices can help us make better decisions and to improve the welfare of our 'best friend'."
Bill Lambert, Senior Health and Welfare Manager at the Kennel Club, said: "Brachycephalic dogs are some of the most popular in the UK, especially now they're often seen on TV and social media, or owned by celebrities. This surge has sadly led to an increase in indiscriminate breeding and certain exaggerations, that are perceived to look or sound 'cute', being seen as normal by many who don't fully understand the potential health implications, as this paper shows.
"By contrasting perception and reality, this research provides vital insights which can help advance practical tools and resources to enable better understanding of the health conditions these popular breeds can suffer from and inform puppy buyers' and owners' decisions. Similarly, it highlights how crucial it is that all those who care about dog welfare continue to work collaboratively to raise awareness of brachycephalic-related conditions, and encourage puppy buyers to do thorough research and go to a responsible breeder who prioritises health. This is the remit of the Brachycephalic Working Group, made up of vets, welfare organisations and breed clubs, who will no doubt use the insight from this paper to inform future work."
Research Reference
Packer RMA; O'Neill DG; Fletcher F; Farnworth MJ (2019). 'Great expectations, inconvenient truths, and the paradoxes of the dog-owner relationship for owners of brachycephalic dogs.' PLoS ONE. http://journals.plos.org/plosone/article?id=10.1371/journal.pone.0219918
---
Notes to Editors
For more information please contact:
About the RVC
The Royal Veterinary College (RVC) is the UK's largest and longest established independent veterinary school and is a constituent College of the University of London.
The RVC is ranked as the world's number one veterinary school in the QS World University Rankings 2019.
The College offers undergraduate, postgraduate and CPD programmes in veterinary medicine, veterinary nursing and biological sciences.
The RVC was the first veterinary school in the world to hold full accreditation from AVMA, EAEVE, RCVS and AVBC, and currently holds full accreditation from RCVS, AVBC and AVMA and conditional from EAEVE.
In 2017, the RVC received a Gold award from the Teaching Excellence Framework (TEF) – the highest rating a university can receive.
A research-led institution, the RVC maintained its position as the top veterinary institution in the Research Excellence Framework (2014), with 79% of its submission being rated as world-class or internationally excellent.
The College also provides animal owners and the veterinary profession with access to expert veterinary care and advice through its teaching hospitals: the Beaumont Sainsbury Animal Hospital, in central London, and the Queen Mother Hospital for Animals (Europe's largest small animal referral centre) and Equine Referral Hospital, both located at the Hertfordshire campus.