Lop-eared rabbits more likely to suffer from ear and dental problems, study confirms for first time
It has been scientifically confirmed for the first time, by the Royal Veterinary College (RVC), that lop-eared rabbits are more prone to ear and dental problems than their erect-eared counterparts.
Given the welfare concerns these conditions cause, the findings call into question the ethics of breeding and buying one of the most popular breed groups of pet rabbit.
Lop-eared rabbits are typically more prone to health issues such as narrowed ear canals, excess wax build up, and ear pain. It is not only their ears that are affected though; their associated skull shape causes dental issues, such as misaligned and overgrown incisors, molar overgrowth and molar spurs. Although there has long been an assumption amongst many professionals that lop ears and the related skull shape causes the frequent ear and dental issues in lops, there has never been a scientific study conducted to confirm or refute this, until now.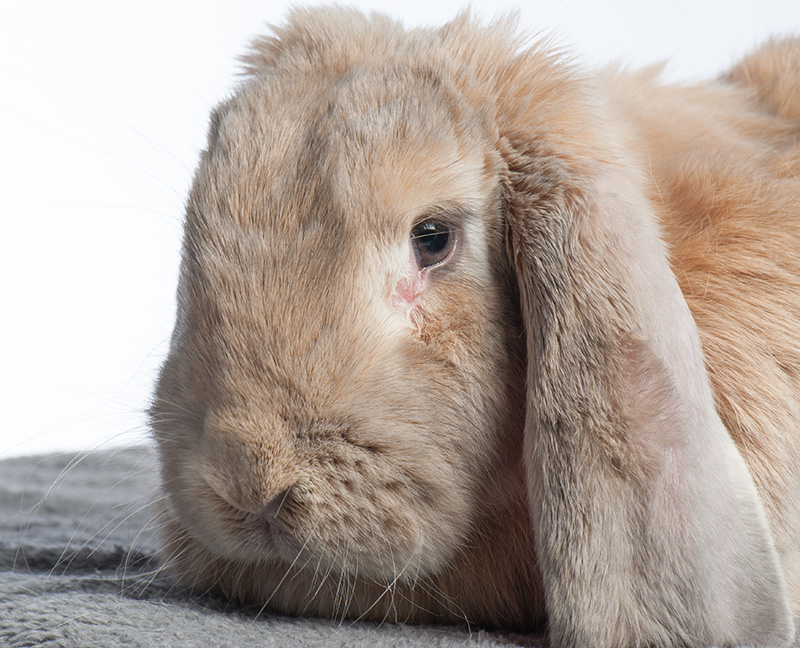 RVC researchers sought to rectify this gap in knowledge by studying 15 lop-eared and 15 erect-eared rabbits from a rescue shelter. They examined the rabbits' ear health by observing relevant behaviour, taking samples and inspecting ear canals with an otoscope and analysing medical records. They studied dental health by performing full dental examinations and analysing medical records. The results from studying the two groups means the RVC is able to confirm that the breed characteristics of lop-eared rabbits makes them more prone to ear and dental problems.
The conditions in question are often long-lasting and have the potential to cause pain, deafness or difficulty eating. They also mean that lop-eared rabbits can require frequent veterinary attention for ear-cleaning and dental treatment. By linking these welfare issues to lop-ears, a trait which breeders have historically bred for, the study's findings help contribute to a wider debate on the ethics of breeding and buying animals with extreme traits.
Dr Charlotte Burn, Senior Lecturer in Animal Welfare and Behaviour Science at the RVC, who led the study said: "People now need to weigh up whether those cute floppy ears are worth the risk of pain, deafness, and difficulty eating for the rabbit, not to mention the extra vet bills.
"This study shows that it's healthier for rabbits to have more natural ear-shapes. The findings are concerning because recent surveys suggest that over half of pet rabbits in the UK have lop-ears."
Jade Johnson, the final year RVC Veterinary Medicine student who conducted the study, said: "Collecting the data revealed the extent of the ear and teeth pathologies present in lop-eared rabbits. They commonly had a high degree of narrowing of the ear canal, such that it was difficult to even insert the otoscope into the canal for examination. Attempting to examine inflamed and narrowed canals showed that this condition was painful for rabbits, and in this case the examination was shortened."
The paper is currently under peer-review, and a draft is available online at BioRxiv, the preprint server for biology:
Johnson JC, Burn CC. Lop-eared rabbits have more aural and dental problems than erect-eared rabbits: a rescue population study. bioRxiv. 2019:671859. www.biorxiv.org/content/10.1101/671859v1.full
---
Notes to Editors
For more information please contact:
About the RVC
The Royal Veterinary College (RVC) is the UK's largest and longest established independent veterinary school and is a constituent College of the University of London.
The RVC is ranked as the world's number one veterinary school in the QS World University Rankings 2019.
The College offers undergraduate, postgraduate and CPD programmes in veterinary medicine, veterinary nursing and biological sciences.
The RVC was the first veterinary school in the world to hold full accreditation from AVMA, EAEVE, RCVS and AVBC, and currently holds full accreditation from RCVS, AVBC and AVMA and conditional from EAEVE.
In 2017, the RVC received a Gold award from the Teaching Excellence Framework (TEF) – the highest rating a university can receive.
A research-led institution, the RVC maintained its position as the top veterinary institution in the Research Excellence Framework (2014), with 79% of its submission being rated as world-class or internationally excellent.
The College also provides animal owners and the veterinary profession with access to expert veterinary care and advice through its teaching hospitals: the Beaumont Sainsbury Animal Hospital, in central London, and the Queen Mother Hospital for Animals (Europe's largest small animal referral centre) and Equine Referral Hospital, both located at the Hertfordshire campus.
About the Rabbit Residence Rescue
The Rabbit Residence Rescue (Registered Charity 1148016) cares for around a hundred unwanted or neglected pet rabbits at its site in Great Chishill on the Herts/Cambs borders. www.rabbitresidence.org.uk
We are a non-euthanasia shelter and never put a happy rabbit down and have many long-term rabbits with additional needs some of whom are available to sponsor via our sponsor scheme.
Each year we rescue, rehabilitate and rehome over 100 rabbits to loving forever homes meeting or exceeding RWAF guidelines.
We pride ourselves on being a high welfare rescue providing our rabbits with individual diets and care plans and 24/7 access to large enclosures with lots of enrichment as well an excellent veterinary care from an exotics specialist.
We also offer holiday boarding, with many of our enclosures exceeding RWAF guidelines, and a bonding service if you adopt a rabbit from us.