Dr. Charlotte Burn and RVC student Ria Popat - Winners of the Animal Technology and Welfare 2021 Journal prize
Congratulations to Dr Charlotte Burn and Ms Ria Popat, who have won the Animal Technology and Welfare 2021 journal prize. The prize was awarded for their publication entitled
'A tunnel is not enough: mice benefit from in-cage provision of a communal shelter as well as a handling tunnel'. The research found that laboratory mice sheltered three times more when they had a dome-shaped shelter large enough to huddle together inside, compared with when they only had a tunnel shelter in their cage.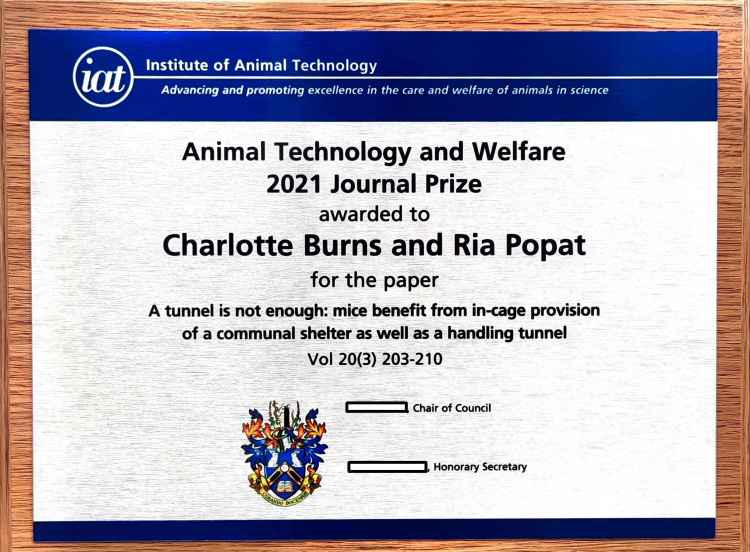 The prize is awarded annually to the author of the 'best original peer-reviewed paper' in the journal Animal Technology and Welfare. It commemorates Marjorie (Sandiford) Whittingham, who served on the Institute of Animal Technology council for 11 years, making exceptional contributions to the organisation's work.
The paper has been published in the free, open access journal Animal Technology and Welfare, which covers animal science and technology, management and education, and promotes best practice for animal welfare in research.
The research described in the paper was funded via a vacation scholarship awarded to Ria Popat by the Universities Federation for Animal Welfare during her BSc Bioveterinary Sciences degree at Royal Veterinary College, and was supervised by Dr Burn.